Do not judge a book by its cover is an adage yacht-ified by Oceanco's groundbreaking Tuhura superyacht concept. At first glance, it looks like a gigantic canoe, but it is a 377ft megayacht based on designs of outrigger canoes used by Polynesian people for centuries. Oceanco collaborated with Lobanov design studio, interior designer Achille Salvagni, and BMT Nigel Gee to make a yacht inspired by the most straightforward nautical designs ever to create a futuristic vessel. Tuhura is a Maori word for exploring and discovering, which is apt for a ship. Other than the external silhouette, every other aspect of Tuhura is advanced, featuring state-of-the-art elements.



"Tuhura is a simple idea," explained Igor Lobanov. "The thought was to take a natural shape similar to those seen in the earliest canoe-type craft and augment it on a larger scale, using modern technology." The name Tuhura reflects this inspiration, as it is derived from the Maori word for 'discover.' Her massive windows blend seamlessly into the hull, and a technologically advanced system monitors the behavior of passengers and adjusts lighting and music.

The designer dubs the interior a brushed teak habitat influenced by East Asian elements, witnessed on floors, walls, and ceilings with the thin reveal in gunmetal and natural bronze with tatami floors.

Tuhura's' hull is undoubtedly her most captivating element, inspired by the simplicity and ability of a canoe. The form enables the superyacht to lead with low resistance, good seakeeping, and superb maneuverability. The windows on the lower deck comprise state-of-the-art glass, which appears transparent from the inside, opaque from the outside, and blends seamlessly with the hull. The glass features in the impressive black superstructure made up of flat glass panels give the vessel a dynamic appearance.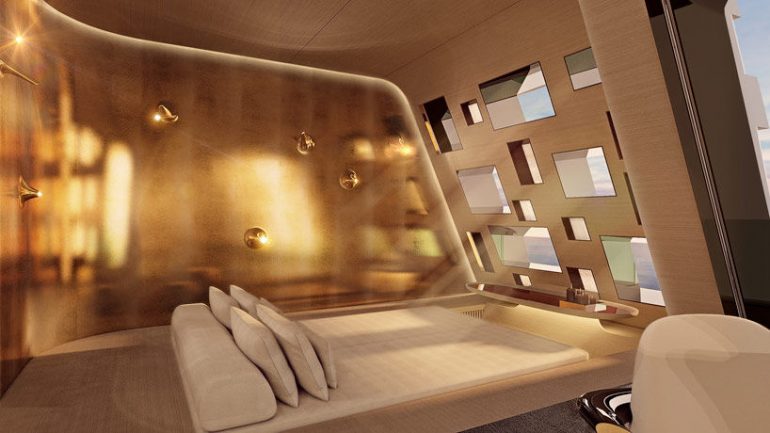 'Tuhura is a megayacht conceived for a dynamic owner; nevertheless, the timeless sense of peace and calmness are the main characteristics,' explained Salvagni. He continued, 'this softness and dynamicity are reflected in the humble elegance and sensuality of the primitive organic shapes echoed throughout.'

The 377-footer will flaunt a 360-degree cinema room, a foredeck hammock, and a spa pool on the sundeck. The skylounge impresses onlookers with never-seen-before additions like teak stalactites and stalagmites dividing the central fireplace from the intimate dining area.

The futuristic Oceanco ship will be powered by a hybrid, contra-rotating Azipod system from ABB, giving her a top speed of 18 knots. Oceanco suggests the concept could suit any length from 250 to 400 feet. The project was unveiled at the Dubai International Boat Show (DIBS) by His Excellency Saeed Hareb, secretary general of Dubai Sports Council and Chairman of Dubai International Marine Club in 2018.