The 911 (pronounced as nine eleven) is a sports car made by Porsche AG of Stuttgart, Germany. With effect from October; Porsche will be launching the new 911 GT3 RS in the European market. The GT3 RS is distinguished by its performance capability and the complete driving experience enjoyed with a racing car, but also meets all requirements for road-legal sports cars. The all-new Porsche 911 GT3 RS sports a 3.6L engine that generates a whopping 415 bhp @ 7600rpm, boosting it from 0-60 in just 4.2 seconds. Despite its specialized body, the "RS" is 20 kg lighter than the GT3, weighing in at just 1375 kg. The available finishes are Arctic Silver metallic or black; as an option, the GT3 can also be obtained in orange or green. All vehicle insignia and the wheels themselves are styled in orange or black to contrast with the body paintwork.

The 911 GT3 RS is a homologation model intended to serve as a basis for motorsport activities in accordance with the new international GT rules. Porsche will build at least 200 cars of this type for its patrons.
The basic price for the 911 GT3 RS is €111,600 ($144,000). The GT3 RS will also be available for sale on the North American market from March 2007.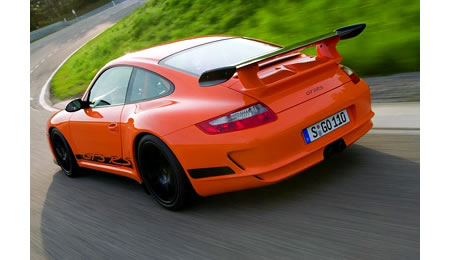 Source