You might remember that in February this year Rolls Royce had previewed a special edition car based on its most expensive car, the Phantom Drophead Coupe, named the 'Phantom Drophead Coupe Bespoke Waterspeed Collection.' Back then, Rolls Royce had only divulged limited information along with design sketches, but the luxury carmaker has finally unveiled the special edition Phantom Drophead Coupe which has been built to honor the triumph of Sir Malcolm Campbell in his Rolls-Royce-powered Bluebird K3 boat in setting the world waterspeed record back in 1937. It will be previewed today at a private event to selected UK press and customers on the site of the original Bluebird Motor Company – now the Bluebird Restaurant – on the King's Road, London.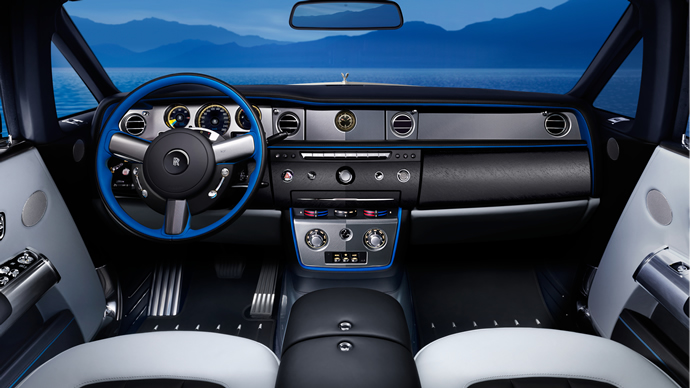 The exterior of the car is features a specially developed Maggiore Blue paintjob which is named after the lake where the record was set and inspired by Bluebird's original color scheme. To give it immaculate sheen, nine layers of paint are applied before an exhaustive process of hand-sanding and the application of a special powdered lacquer.

It is also for the first time in Rolls-Royce history that the exterior paint has been extended to the engine and the wheels. The brushed-steel rear decking is individually panel-beaten by hand for 70 hours after the initial mechanical pressing.

On the inside, the two-tone steering wheel features the same Magiorre Blue accents that augment the traditional black leather. The dashboard sports blue and brushed metal highlights that complement the 'Windchill Grey' interior leather. There are also hand-engraved door sills and armrest accents, Abachi wood dash accents, and a hand-embroidered panel for the glove box expressing the records Campbell achieved.

Phantom Drophead Coupe Waterspeed Collection has been approved by Campbell's grandson (Donald) and great grandson (Joe), and will be built in a limited run of just 35 examples with each carrying a starting price of £450,000 ($760,000 approximately).