To understand how rich Russian Oligarch Roman Abramovich truly is, take a look at his ultra-expensive toys! We are giving our readers a blow-by-blow account of the Russian businessman's nearly 550 feet long Eclipse superyacht which continues to be one of the world's largest superyachts. The Chelsea F.C. owner boasts an envious collection of rich-boy things like an $80 million private jet with gold fittings, a banquet hall, an anti-missile system, and more. Then there is the $610 million megayacht, Solaris, which also flaunts state-of-the-art security, including a radar-controlled missile detection system, bulletproof windows, and armored protection. The Eclipse mega yacht, however, will always be known for unparalleled elegance, best-in-class features, and robust design features:

Eclipse yacht:
It is safe to say the Eclipse yacht is so grand and impressive that it does eclipse other similar sea-farers. Designed by Terry Disdale over four and half years, the only brief given was enough space for helicopters, large windows, and a big pool. Other than these guidelines, the designer was given free rein.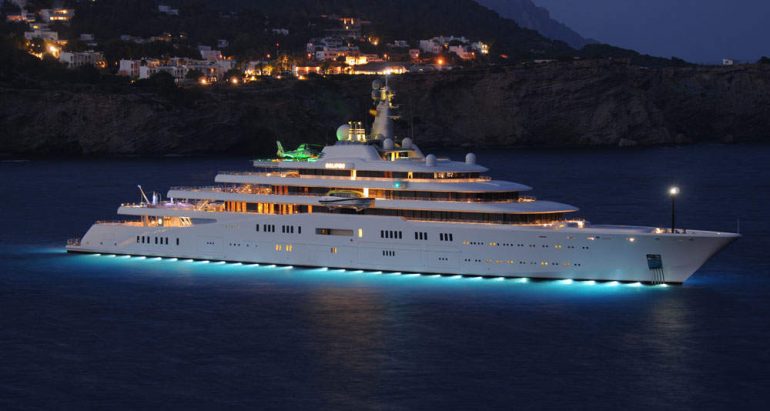 The designer planned the area onboard meticulously and primarily built the vessel around helicopter usage. This clean piece of architecture worth more than $590 million is divided into nine decks and holds one main helipad on the front. This mammoth-of-a-ship houses the swimming pool and sundeck on level eight.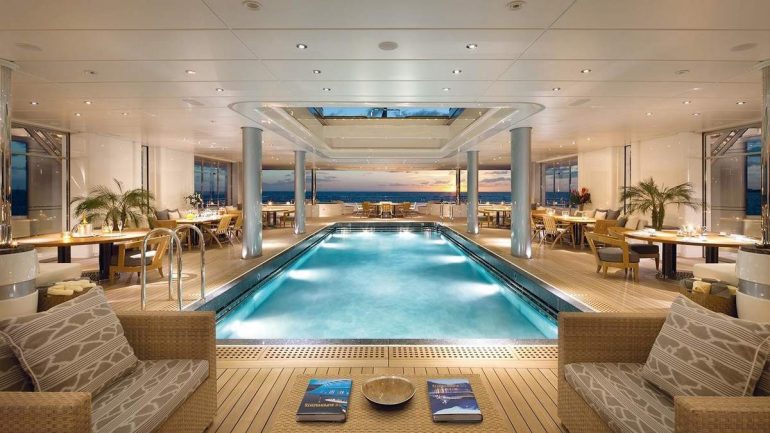 The pool can be left open to the sides or closed off with glass panels. The blue granite floor of the pool rises to sit flush with the deck to form a dance floor. Eclipse consists of a 77 square meter gym, beach club, beauty salon, tender garage, and deck Jacuzzi. On level seven, guests will find an atrium and an open patio to revel in panoramic views.

The salon, the main dining hall, is located on the sixth level. The entrance of this grand vessel is located on the fourth floor, while the lower levels are home to lavish cabins, owner's suite, and the crew quarters. In addition to the engine room and machinery, level one also includes a small disco club. With nine sprawling decks, there is space and opportunity to have every possible amenity, and Eclipse doesn't disappoint.

This opulent motor yacht can easily accommodate three helicopters, two on both helipads and the third in a storage hangar located below the foredeck. To maintain the great boat its features and 18 decked guest cabins, a crew of 100 is present onboard at the service of 30 guests. The interiors are the epitome of elegance, proving how design can be timeless.

"Eclipse is a handsome boat, and it looks like a boat. It doesn't make any pretense," Disdale said to Boat International. "The keyword is elegance. Very few boats can make that claim anymore. Modern boats are purposeful, aggressive, macho, which has led to them all having snub noses. They look angry. You could paint them grey and stick a cannon on the front, and it wouldn't upset their stance at all. Eclipse is not like that," he said.

In order to decipher between the nine decks, a different artist was tasked with creating unique works to give each lobby its own personality and avoid confusion about what tier you're on. Eclipse is powered by a diesel-electric, dual propulsion system with four MTU 20V 1163 TB93 marine diesel engines.

It gives the yacht a maximum speed of 25 knots and a cruise speed of 22 knots. The enormous Eclipse can contain 1,000,000 liters of fuel tanks and about 150,000 liters of freshwater abroad.

High tech anti-paparazzi systems –
Built by world-renowned German shipyard Blohm & Voss in 2009, Eclipse is one of the most technologically advanced ships ever. Eclipse has an anti-paparazzi system that detects the use of digital cameras to click photographs of the boat. Using lasers, the system detects digital cameras and disrupts a potential picture as those infrared lights can make it unstable. It's an ideal mechanism to have when privacy is pivotal, which it certainly is when you're a VIP.

According to The Guardian, what makes Eclipse's system unique is that it can detect any digital camera, whether it's using a flash or not, and before the first shot. But Abramovich's shield can't see the presence of an old-fashioned analog or mechanical camera.

About Roman Abramovich:
55-year-old Roman Arkadyevich Abramovich is a Russian businessman and politician with a $13.3 billion net worth. Other than U.K.'s Chelsea FC soccer team, the billionaire owns stakes in steel giant Evraz, Norilsk Nickel. The man who is a confidante of former Russian president Boris Yeltsin and current Russian leader Vladimir Putin started as a street-trader and then a mechanic at a local factory. In 1988 he owned a company that made dolls. His wealth flared from oil conglomerates to pig farms a few years later. He has traded in timber, sugar, foodstuffs, and other products. Abramovich truly flourished in the years following the collapse of the Soviet Union, obtaining Russian state-owned assets for peanuts.