You might've heard about megayachts, then now make way for the SuperYacht! Presenting the brand new Azimut Leonardo 100, touted to be innovative, revolutionary, and spacious! Launched at the sixth DeLuxe Porto Cervo Rhapsody, the other display included brands like La Perla, Lamborghini, and Bulgari. The Leonardo 100 is not only amazing to look at and offers a luxurious high-seas experience; it also offers breathtaking views while onboard. It ensures complete privacy as the routes between the guests and crew members hardly cross paths.

The main deck of the yacht measures30 meters from bow to stern and is devoid of traditional designs. The aft deck has a large u-shaped seating arrangement, which switches into a comfortable sun-bed and provides an alfresco dining option if completely opened. A flybridge above has a dining area, sun pads, and a Jacuzzi, which spots a hardtop in fiberglass and crystal glass.
The bow area offers a third lounging area for breakfast or sunbathing. The lower deck is located near the master suite set in the yacht center. It offers several luxury options, such as spacious wardrobes, a vanity area, and a bathroom with a large whirlpool shower.
The yacht interiors are all made of teak wood and are designed so that they do not obstruct any view or light falling inside. The furnishings made from mahogany-tinted Zebrano wood furniture inside the main salon can be rearranged as per convenience.
The paneling has been covered in light beaded Alcantara fabric for golden reflections. This stark contrast provided by the dark wood and the cream, an ivory and yellow surface gives a stunning feel to the interiors.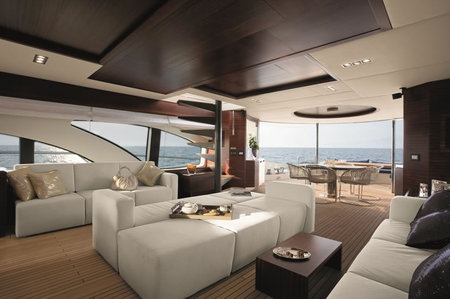 [SuperYachtTimes]