After years of teasing, the long-awaited Volkswagen ID.Buzz is finally here. The iconic VW Microbus has been resurrected in the form of a modern, all-new EV, which thankfully features plenty of design nods to the German manufacturer's classic vans of the 1960s and '70s. The modern reinterpretation of the legendary Type 2 Microbus was revealed by VW at a virtual event on Wednesday alongside its commercial version, the ID.Buzz Cargo. The design of the production variant of the electric bus is not very different from that of the concept version that debuted in 2017. It also, more or less, gets the same proportions, which makes it almost as tall as the Cadillac Escalade and much wider than the T.3 Vanagon.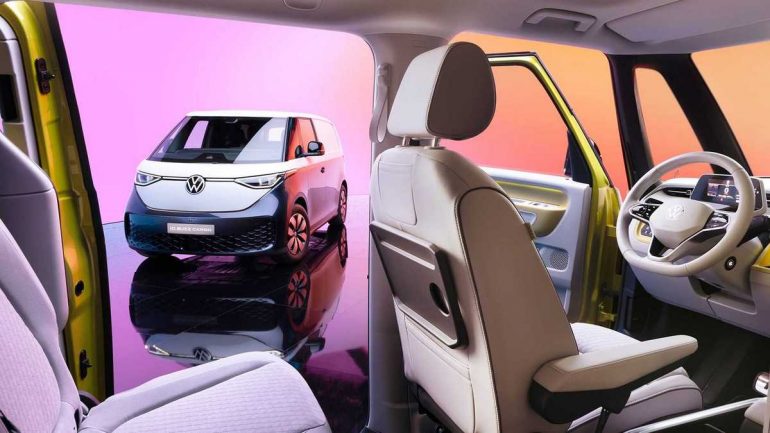 It's commendable how VW managed to preserve the retro feel of the Microbus while giving the ID.Buzz some properly future-forward design attributes, which includes VW's distinct design DNA for its EVs. The VW ID.Buzz is built on the same MEB platform that underpins the likes of VW ID.4 and the Audi Q4 e-tron. The European-spec version has a 117.6-inch wheelbase and will come with two rows of seating as standard. Although, customers will also be able to choose a three-row option with a 2-2-2 seating layout. The regular-wheelbase ID.Buzz will come with an 82.0-kWh battery pack, which will power a 201-hp electric motor driving the rear wheels. The range has not been officially revealed by the company, but it is believed to be close to 250 miles on a single charge.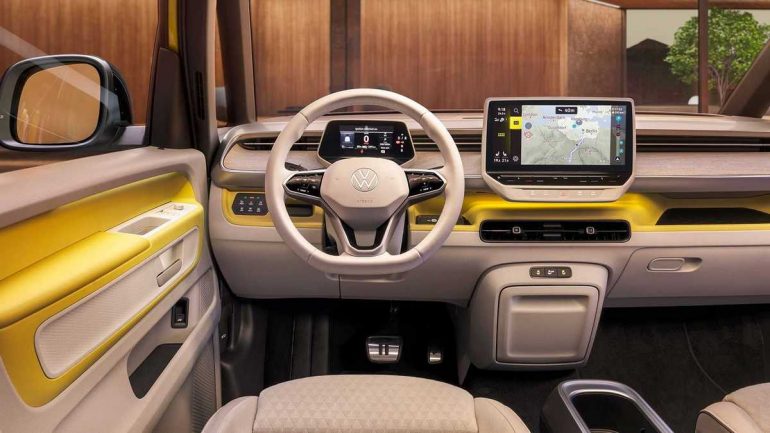 However, the standard-wheelbase version won't make it to the other side of the pond. VW says there will be a US-market version that will have a slightly longer wheelbase and offer proper three-row seating. The US version reportedly will also come with a bigger battery pack and get all-wheel-drive thanks to two electric motors. None of the figures for the US version have been revealed as of yet. The standard-wheelbase ID.Buzz and its cargo version will go on sale in Europe in the third quarter of 2022. Those in the United States will have to wait much longer as the extended-wheelbase version won't arrive anytime before 2024. VW is yet to reveal the pricing, which is expected to be released closer to the time when they start reaching the dealerships.