Thankfully people are becoming more interested in environmental issues. Everything around us is trying to turn green. Every new day we see umpteen environment-friendly things mushrooming all around the globe. Even sports cars are trying to keep up with this fight to save nature. Are you looking for some environmentally friendly sports cars that can have you not only living green but driving green? Check out the Greenest sports cars –
1) Tesla Roadster – Tesla has taken the most radical approach to be green by replacing the internal combustion engine with a small 70-pound electric motor. As it's uncommon to hear about bio-fueled cars boasting about their gas mileage credits, the Tesla can proudly say it gets 135 miles per gallon equivalent.
Roll over for five more green cars…….

2) Toyota FT HS – The Toyota FT-HS finishes out the line up of environmentally friendly sports cars and is the only prototype in the line up because it will be the first hybrid sports car. The FT HS promises to be a real performer with help from an electric motor and a 3.5-liter V6 engine. The combination electric motor and V6 are said to produce around 400 bhp and accelerate to 60 mph in under 4 seconds all while producing ultra low emissions.


3) Lotus Exige 265E – British make, Lotus Exige 265E is special from other Lotus as it is able to run E85 ethanol and 95-octane unleaded fuel. The boosted 1.8-liter Toyota 4-cylinder inline engine makes 46 more horsepower than its non-ethanol counter part. It is the fastest car ever to leave the Lotus grounds and the first Lotus to promote the use of renewable energy sources at the same time.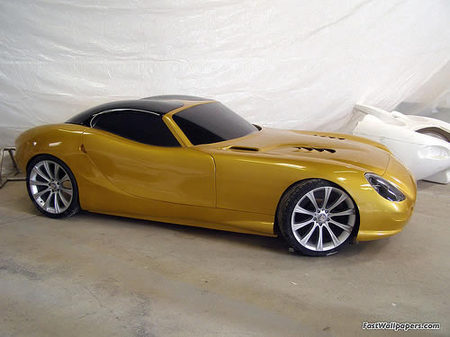 4) Trident Iceni – A small British company called Trident has produced a two-seater sports car called the Iceni. The Trident Iceni is the only Diesel fueled car that made it into the line up and is powered by none other than a GM sourced 6.6-liter V8 turbo diesel engine.


5) Porsche Cayman – Porsche has proved that sports cars can be just as fuel-efficient as the common car, if not more so with the Cayman. The Cayman is Porsche's greenest car ever with a 2.7-liter, 241 horsepower, and boxer-engine. The Cayman starts at $49,400, which is cheap for a Porsche.


6) Koenigsegg CCXR – Like Lotus, Koenigsegg has found the use of bio-fuels like E85 ethanol can add substantial performance to their already powerful engine. This is a car that uses Green technology to increase performance.
Finally, it's the Tesla Roadster that takes the cake as it highlights technology that all sports car manufacturers should take a look at.
Source