A private jet symbolizes the very best of modern luxury, but Embraer is bringing a dose of retro to the skies with their Art Deco inspired bespoke jets. The two jets are called the Manhattan Airship and the Hollywood Airship and both are packed with luxe design details from the 1920s and 1930s that will transport you back to the Prohibition era.



The Manhattan Airship features mahogany interiors with gold and brass accents as well as a metallic entry mural that pays tribute to the Leif Neandross-designed work in the lobby of the Empire State Building. The jet also has a bar that takes design cues from the Chrysler Building and a large window that indicates a tip of the hat to designer Jean-Michel Frank.


Meanwhile, the Hollywood Airship was inspired by old Hollywood films and flaunts backlit crystal structures, marble detailing, and 3D sculpted leather reliefs depicting Sunset Tower, Howard Hughes' flying boat (from the Spruce Goose), and head-turning cars from the 1930s.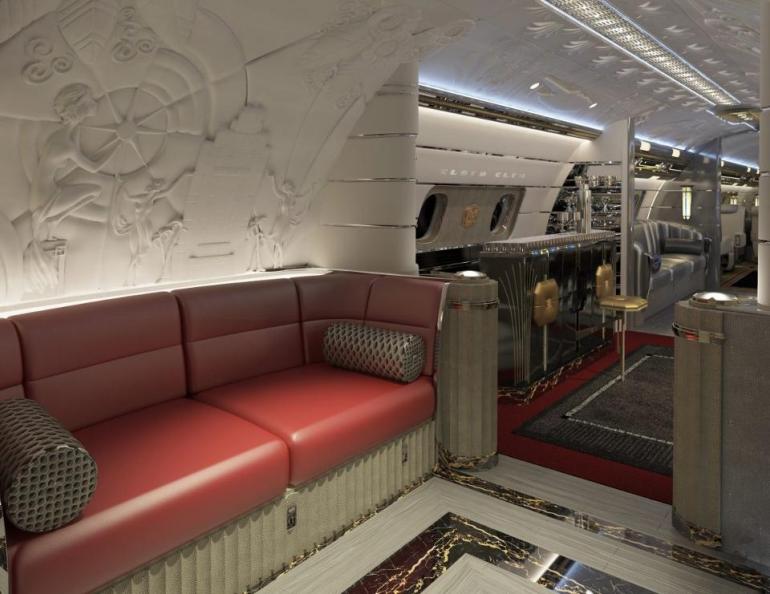 The aircraft have been proposed as charter jets and are comprised of five cabin zones. Three of these zone are intended as common spaces for passengers to mingle and relax, while a fourth forms a salon for more private meetings. The fifth cabin is a dining space called the Crystal Room featuring Embraer's Upper Technology Panel, which provides clients with flight information at a glance.


The jets can accommodate up to 19 passengers and boast the largest in-flight accessible baggage compartment in business aviation, not to mention global Internet access, and an optional master suite with a stand-up, two-person shower and bed.


Designed by Embraer's vice president of interior design, Jay Beever and Eddie Sotto, each of the jets will cost around $80 million.
[Via:Forbes]