With pristine Japanese gardens and shrines, Kyoto is one of the most historic and scenic cities of the nation. Paying an ode to its legacy and presenting you with a unique chance to travel to and from it is the Kyotrain Garaku – a new train that takes you from Osaka to Kyoto on the Hankyu Kyoto Line in less than 45 minutes.



The iconic train comes with carriages covered in traditional lacquer and golden embellishments on the outside with the whole ride designed to ape a traditional Kyoto house.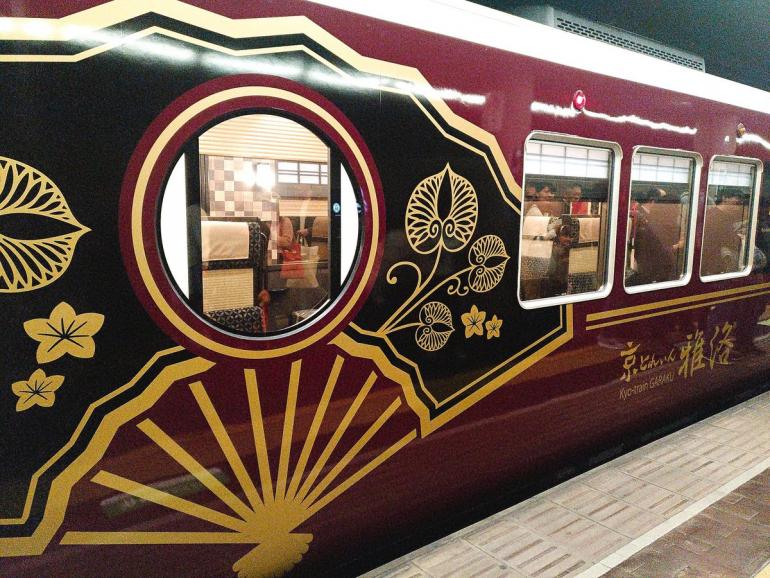 A work of Hankyu Railways, the train is just as elegance on the inside with tatami mats, noren curtains, decorative gardens and a range of other Japanese elements adorning its interiors.


Each carriage is designed to carry its own seasonal theme -each of which highlight the changing scenery of Kyoto throughout the year. While Car 1 features maple-leaf motifs to signify autumn, Car 2 comes decorated in bamboo motifs to represent the winter season.


Car 3 further comes embellished with sakura cherry blossoms of spring along with Car 4 adorned in geraniums from summer. Cars 5 and 6, the last in the lot come covered in autumn pampas grass, and the plum blossoms to depict early spring.


The Kyotrain Garaku currently runs seven times a week (for a full ticket costing $3.50) between Kyoto and Osaka with stops at Karasuma, Katsura, Awaji, and Juso. All said, this probably is one of the most fulfilling ways of experiencing Japan!
[Via:Soranews24]