Gulf Craft has been around for 30 years now and is the largest manufacturer of luxury yachts in the Middle East and Asia. At the recently held Dubai International Show, the company launched the 32.5 meters 105 that house 5 luxurious guest staterooms, in addition to 3 three crew cabins, 8 bathrooms, and a day-head. The Majesty 105 superyacht is a perfectly tailored fit in an outstanding tradition with three decks and reflects a firm image of sportiveness externally.

When it is made in the Middle East, it ought to be luxurious. With a Mediterranean-inspired ambiance, the yacht's interiors spotlights on soft modern curves, smooth shapes, refined materials, and a color palette consisting of off-whites, light teak, and chocolate tints all swirls together into an atmosphere of classic softness. The main saloon is designed symmetrically with the yacht's central axis; the rooms include lounging sofas and large armchairs, all softly shaped, upholstered in crisp clean white, and invitingly sized. The large oval windows that add to refreshing images from the outside assure ample natural light and frame the interior design with befitting surrounding views.


A flat-screen TV over a cabinet with a rounded, glass-top dining table surrounded by informal wooden chairs with white cushion seating venerates the dining area. The owner's suite needs to be lavish and consists of a private office and lobby, full beam cabin, spacious bathroom, a large bathtub, a central shower area, and a separate washroom. With contemporary and colorful design schemes, all guest cabins form a comfortable luxury accommodation for companies of up to 10 guests, including the owners.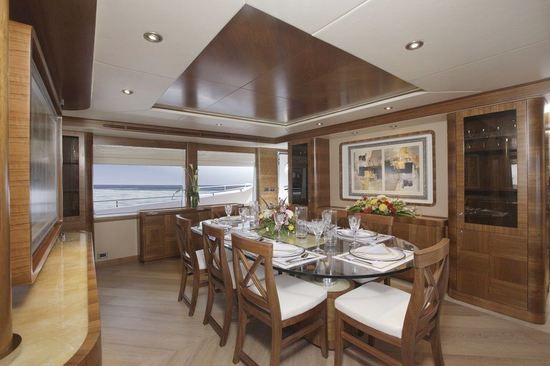 No yacht is complete without a sundeck. A sundeck on the Majesty 105 features A Jacuzzi, comfortable U-shaped sofas, a wet bar, fridge, and BBQ. Yachts are meant to take time off from the urban life and just go into the ocean and let go of all the worldly predicaments, and with Majesty 105, you would be doing exactly that.


[Superyachttimes]