Malls have now turned out to be an inherent part of our lifestyle. It's normal to see a mall crowded with visitors and customers alike. We see new malls popping up in every corner of this planet. All of them turning into inevitable destinations for serious shoppers, window shoppers as well as tourists. What's it that makes these the best? How is it that we could rate them? I took the liberty of ranking these down based on their area – the Top 10 Biggest Malls in 2010. And what I came across was astounding! China is the destination to four malls from the list, and why not, for a country taking the huge leaps to be known as the world's largest luxury goods market, this was bound to be.
1. South China Mall – China
The South China Mall tops the list of course. Though a recent entrant (in 2005), the mall boasts 6.46 million sq. ft. of gross leasable area, with most retail space still reported vacant. The South China Mall has seven separate zones modeled for international cities, nations, and regions, including Amsterdam, Paris, Rome, Venice, Egypt, the Caribbean, and California.



2) Golden Resources Mall – China
The second runner is also from China – the Golden Resources Mall, also known as the 'Great Mall of China'. Spread over 6 million sq.ft. of gross leasable area, the mall houses 230 escalators, a skating rink, over 1,000 shops, and huge spaces for restaurants.

3) The Dubai Mall – Dubai
This marvel in the Middle East is touted to be the largest based on its total area, a whopping 12.1 million sq.ft. However, only 6 million sq ft. of it is gross leasable area. The mall houses a skating rink, a water world, and gold souk. It is known to have set a record back in 2008 by opening up with 600 retailers.

4) West Edmonton Mall – Canada
Located in Canada, this former world's largest mall is the largest in North America. It retained the title of the world's largest for two decades from 1981 till 2004 with gross leasable area of 3.77 million sq. ft.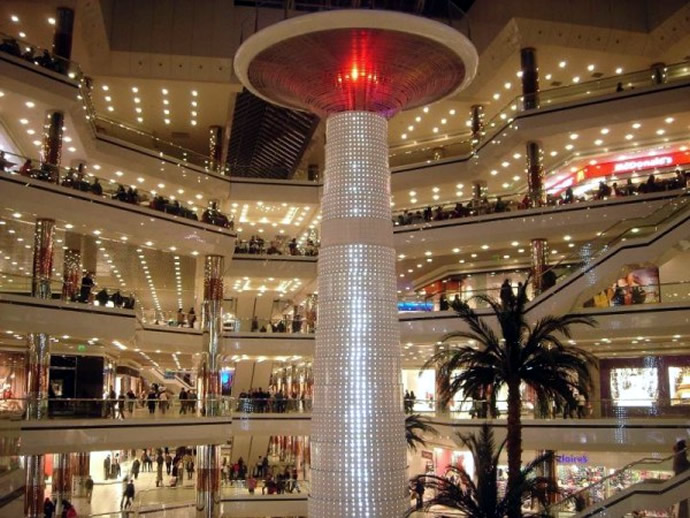 5) Istanbul Cevahir – Turkey
It is reported that the Istanbul Cevahir is the largest shopping center in Europe. Located in Istanbul, Turkey, it brings 343 shops, about 50 restaurants, 12 cinemas including a private theatre, a bowling hall, a roller coaster ride and a glass roof with the second biggest clock in the world under one roof. It claims the 5th spot with 3.47 million sq. ft of gross leasable area.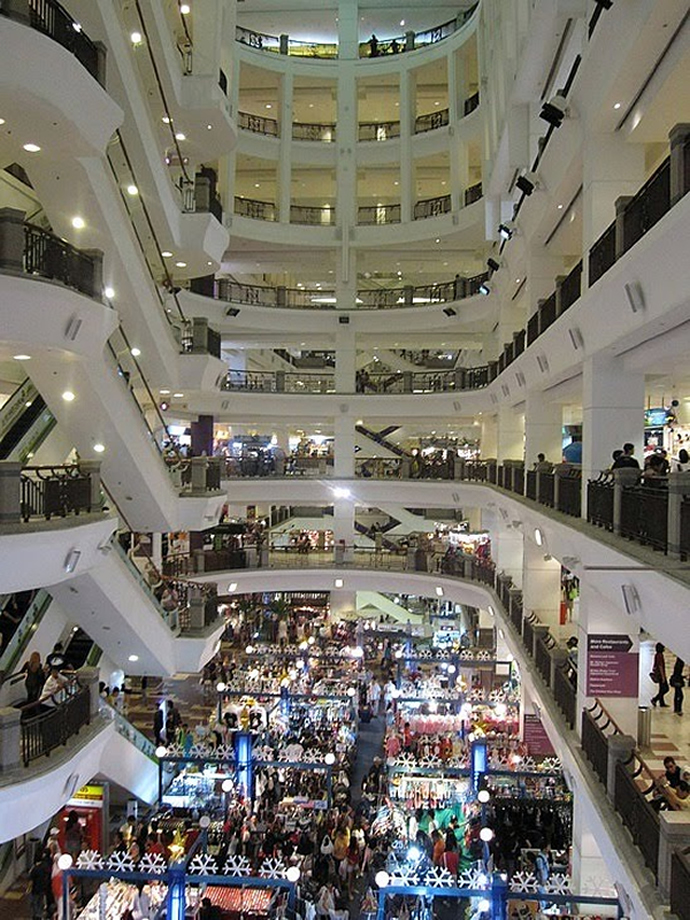 6) Berjaya Times Square – Malaysia
This twin tower complex in Kuala Lumpur, Malaysia houses a shopping center and two five star hotels. The 48-storeyed building stands tall at 666ft. and includes Asia's largest indoor theme park – Cosmo's World, and Malaysia's first-ever IMAX 2D & 3D theatre. Berjaya Times Square is listed with a gross leasable area of 3.44 million sq. ft.

7) Beijing Mall – China
Not only has this mall made it to the world's top 10 largest mall, but it also holds a slot in the top 10 luxurious malls of Beijing with a gross leasable area of 3.4 million sq. ft.

8) Eastwood Mall – USA
Located in Ohia, Eastwood Mall is one of the largest and most diverse shopping center, which opened up more than four decades ago. Including a 6,300-seater stadium, exposition center, hotels and theatres, Eastwood Mall is one of the largest in the United States. Its gross leasable area is 3.2 million sq. ft.

9) Grandview Mall – China
With an ice skating rink, an amusement park, a five-star cinema, fashion stores and beautiful musical fountains, the Grandview Mall in Guangzhou, China, made it to the top ten list with a gross leasable area of 3.0 million sq. ft.

10) King of Prussia Mall – USA
Last but not the least is the King of Prussia Mall in Philadelphia, USA that opened in 1963, almost five decades back when malls were only meant for the best heeled. It is a popular Philadelphia tourist attraction and tourists comprise 20 per cent of the mall's shoppers. It has a gross leasable area of 2.79 million sq. ft.
HAPPY SHOPPING!