Construction and architecture have risen to a new level altogether with great minds working vigorously towards building a world with breathtaking structures that were a far cry from even imagining forget seeing them for real. But seeing is believing and these top 5 structures are for everyone to see. They are great examples of the power of the human brain and talent. Lets take it one at a time starting from top Unique structure no.
5: Regatta hotel, Jakarta –
Taking the form of ten apartment towers, a five-star hotel and an Aqua Park in a complex spawning over 11 hectares of reclaimed land, the Regatta project is certainly one of the best structures you will come across. Regatta's development follows a nautical theme, the centrepiece of which being an aerodynamically shaped hotel bound to be one of the most striking landscape features overlooking the Java Sea. I would kill to live in some place like the Regatta, with sea as your backyard an a spellbinding view.

4: Cctv headquarters, China –
Speaking of unique, the Cctv headquarters in China, personifies that word in every way. It is so amazingly shaped in the 'Z-zig zag' manner and looks super stunning. It may not be the tallest structure or the largest but it is very impressive in terms of design and treatment. The Main Building, with a total floor space of about 380,000 square meters, is divided into five sections: the administration section, the comprehensive business section, the news production and broadcasting section, the broadcasting section and the program production section. The planned new CCTV building can not only represent the new image of Beijing, but also express, in the language of architecture, the importance and the cultural nature of the TV industry. In one word is it 'Symbolic' and 'stylish' at no.4.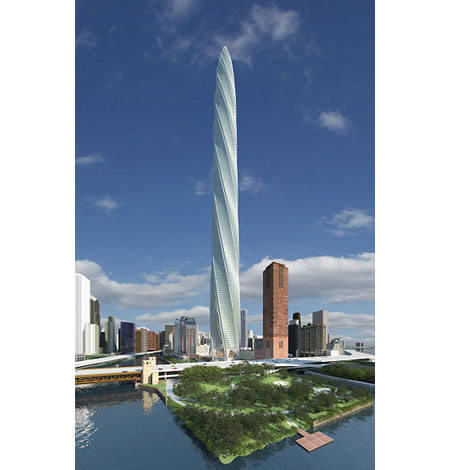 3: Chicago spire, USA –
The Chicago spire stands tall at no.3 and literally so as it is touted as one of the most significant residential developments in the world and also the tallest. A simple inspiration and a great result that is there for everyone to see by the year 2010. It is inspired by nature and its complexities and beauty. This 609m structure will dominate the Chicago skyline and our hearts too.


2: Residence Antilia, India –
Designed by SITE and called Residence Antilia, the scheme is being developed by Indian tycoon Mukesh Ambani, chairman of Reliance Industries. Rising to 245 metres the building has only 40 floors, and yet manages to reach the height it does. Residence Antilia will be mixed use serving partly as the headquarters for the Reliance Industries on the lowest floors plus parking for workers with the upper levels being the private dwelling of Ambani and his family. In-between will be levels of apartments for guests, a kitchen and laundry floor, and several leisure floors creating what is in-effect a new home for a very rich man and one of the most impressive private residences in the world with building facilities. That's what I call living life king-size at no.2.


1: Aqua, USA –
This surely deserves to be on the no.1 spot. With enthralling design and innovative concept Aqua surely manages to be the biggest show stealer ever. The fluid contour of Aqua's exterior creates distinctive floor plans with most residences having their own unique balcony design. Aqua's balconies not only create the stunning exterior shape of the building, they bring individuality to each home. With no two balconies alike, for the first time ever, each unique owner has a unique condo. you gotta hold your breath as floor to ceiling buildings will take your breath away with that beautiful view right outside.
It makes me wonder what the world will look like 50 years from now if the scene today is so advanced and creative. With such awesome structures being erected it wouldn't be wrong to quote that 'nothing is impossible'.