Elizabeth Taylor's wrist-watch collection is currently being exhibited at the Christie's Rockefeller Center headquarters in New York. There are fourteen of these glimmering beauties, which are estimated at $ 4000 to $500 000. The inclusions from both Vacheron Constantin and Patek Philippe definitely steal the limelight.
Diamond and gold Lord Kalla bracelet watch, signed Vacheron Constantin –.
Estimated at $300,000-$500,000, covered in "flame-cut" diamonds from dial to strap, the Kalla Haute Couture à Pampilles bracelet watch was gifted to Taylor by Michael Jackson. Made in 1989; it has been inspired from the Vacheron Constantin Kalla line from wherein originated their gold and diamond "Kallista."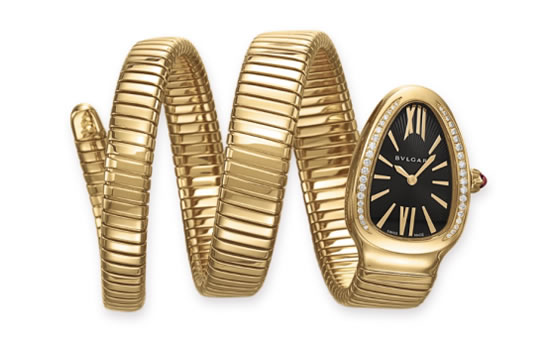 Diamond and pink gold Serpenti wristwatch, signed BVLGARI –.
With a stunning black opaline dial ornamented with circular-cut diamonds in the the18k pink gold bezel, this watch is estimated to be priced at $8,000-$12,000. It was gifted to Taylor while Cleopatra's shooting by Bulgari with a special inscription, "To Dame Elizabeth, with gratitude, Paolo Bulgari, 2010".


Diamond and gold ladies' Nautilus, signed Patek Philippe –
This pave-diamond studded bezel watch worth $4,000-$6,000 also carries with it a tale of a hidden romance. Taylor was already celebrated by other watch manufacturers and gifted several watches. Again this coincides with the time period of the filming of Cleopatra when Burton gifted her this gold Patek near the start of their relationship, although they were both still married to other people.


Diamond and onyx wristwatch, signed Cartier –
A 1925 creation and estimated at $4,000-$6,000, the deity is mounted in platinum and gold. The nickel-finished, 19-jewel lever movement comes with a bi-metallic compensation balance and is housed in a tonneau-shaped silver case. What stands out is its rose-cut diamond bezel, joined by onyx and rose-cut diamonds. What doesn't is the black silk strap as it seems just a wee little bit worn out .
The full collection is on display at Christie's December 3-12 for a ticket price of $ 30 plus sales tax. The auction, however, only begins on December 13th, with a simultaneous online-only auction of 1,000-plus other items.
[Hodinkee]