RJ- Romain Jerome is famous for their unique watches be it their Pac Man watch or one of their many DNA collections, such as Moon dust DNA, DeLorean DNA or Titanic DNA. The only thing lacking for Titanic DNA explorers was that this unique watch wasn't a divers watch. To ensure complete client satisfaction, RJ- Romaine Jerome took it upon themselves to create a unique addition to the Titanic DNA collection, which is the first diver's watch by the brand dubbed, the Octopus. The Octopus is that unique ocean giant that first entered our imaginations through Jules Verne's novel Twenty Thousand Leagues under the Sea. This RJ Octopus is equipped with an exclusive internal unidirectional rotating sapphire bezel system featuring an engraved five-minute graduation and two crowns, one at 9 o'clock and one at 3 o'clock.

The hands of the watch as well as the chapter rings are enhanced with Superluminova "blue emission" so as to ensure visibility under water. The collection remains faithful to it's parent Titanic collection and carries oxidized and stabilized steel from the Titanic in it's notched bezel.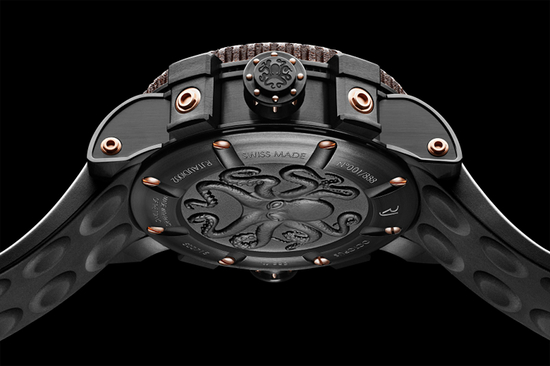 The Octopus echoes the number eight throughout it's design, with 8 octagonal head screws on the 45 mm case, water resistant to exactly 888 feet and each model is limited to 888 pieces. Finally the watch is finished with the traditional Romain Jerome X shaped intersection on the dial.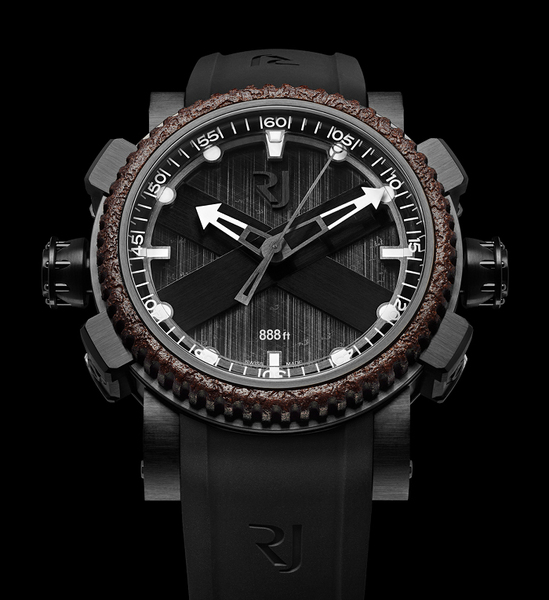 The Metal and Black Octopus is available for $13,750 while the Red Octopus is up for $14,900.


[Romainjerome]