While there are plenty of Hollywood actors who love glamming up with luxurious Rolex watches, like Mark Wahlberg, only a handful of celebs in history have brought attention to certain limited editions and special models – and had the honour of the timepiece getting named after them in return.



From million-dollar Hollywood director James Cameron to the legendary Clint Eastwood and the late Sean Connery, here are four stars who have their names stamped on different types of Rolex editions and how these historic moments came to be …

1. James Cameron: Rolex Sea-Dweller Deepsea "Cameron" D-Blue
The famous Oscar-winning Avatar director has a great love for ocean exploration and even once mentioned that he made Titanic so he could use the movie production to fund his dive into the actual wreckage of the famous ship, per British Media.
In 2012, he took his love for the sea an extra mile further and set out on an expedition for a record-breaking dive into the deepest part of the Mariana Trench.

To help with his almost sci-fi-like mission, Rolex specially designed a watch for Cameron that was built to handle the massive pressure of the ocean, per Swisswatch Expo.
After Cameron successfully resurfaced from his solo dive, Rolex released the special edition into the market the same year, naming it the Rolex Sea-Dweller Deepsea "Cameron" D-Blue Watch in honour of his expedition.
The timepiece's dial is a symbolic dark blue-to-black gradient mimicking the depth of the ocean. The "Deepsea" is written in bright green, which refers to the colour of Cameron's submarine, states the article.
The watch is engineered with large luminescent hour markers, is waterproof and can withstand a depth of 3,900 metres, per Rolex's website.

2. Paul Newman: Rolex "Paul Newman" Daytona
Immediately recognisable for its distinguished Art Deco style, this particular Rolex Daytona is considered a unique piece that was made ahead of its time. Actor Paul Newman wore this particular watch after his wife, actress Joanne Woodward, gifted him the special model, per Swisswatch Expo.

While the "Paul Newman" Daytona (PND) is now considered the Holy Grail of watches among horologists, this Rolex Daytona was a design that was initially unpopular and left unsold until Newman decided to strap it onto his wrist.
He brought attention to the watch when he was photographed on the cover of an Italian magazine while wearing it, as per Esquire. This particular model of Rolex then went on to be called the "Paul Newman" Daytona.

Newman's 1968 Daytona went on to make history when it was sold for US$17.8 million at an auction, setting the record for the most expensive wristwatch ever sold at auction, per Forbes.

3. Sean Connery's James Bond: Rolex "James Bond" Submariner
While the watch is named Rolex "James Bond" Submariner and there have been many Bonds over the years who have worn it in the famous spy movie franchise, it was actually the late actor Sean Connery who put the dial on the screen and shone a light on it for the first time in 1962, when he appeared in the classic Dr. No – the first Bond movie ever to be made, per Wind Vintage.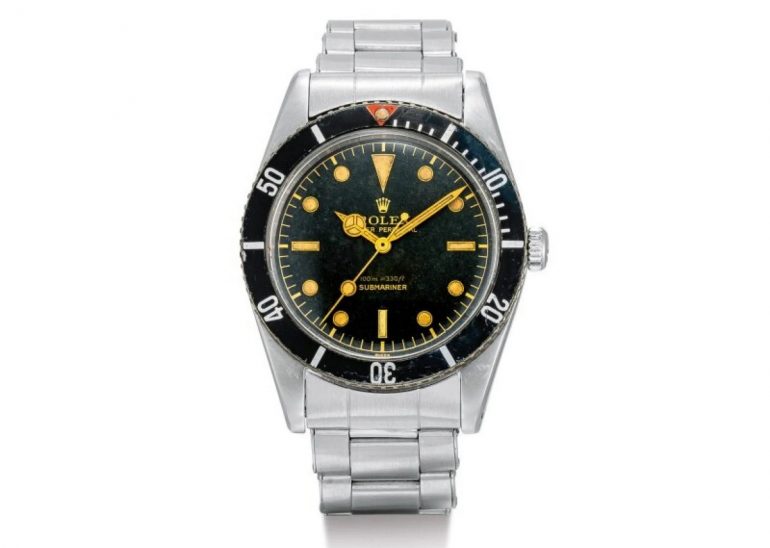 The Rolex Submariner 6538 then became known as the "James Bond" Rolex by watch enthusiasts and collectors alike. After Connery started this trend, many other Bonds who followed had a Rolex accessorising their wrist on screen, though not all of them were a Submariner and none of them were nicknamed "the Bond watch".

4. Clint Eastwood: Rolex GMT Master
When legendary actor Clint Eastwood was at the height of international fame, he received a gift from T. Walker Loyd, who worked as a long-time executive of Rolex. The gift was the famous Rolex "Root Beer" GMT Master, as per Crown Caliber.

Distinguished by its two-tone brown and gold bezel, this particular watch was then worn by Eastwood both on and off-screen. This favourite timepiece of Eastwood made many shimmering appearances on a lot of his blockbuster flicks including Firefox, Tightrope and In The Line of Fire, almost becoming synonymous with the iconic star.
With how often he was seen and photographed wearing the watch, the Rolex GMT Master became nicknamed as the "Clint Eastwood" Rolex, per Swisswatch Expo.
Note: This story was originally published on SCMP and has been republished on this website.