Based in LA, Scott Devon is the man behind the Devon brand as a designer, creative director, and conceptual artist. He started his journey by designing the exclusive Devon GTX supercar that set a one-lap record at Laguna Seca. This was followed by the invention of the Tread 1 watch, which is fitted with a patented system of Interwoven Time Belts. Recently he took time out to share his insight and vision on Luxurylaunches.

Tell us about the inspiration and the process involved in materializing your vision.
At Devon Works Lab, our design inspirations come from a variety of influences. As designers, we usually have multiple design studies around a particular project. And some of those ancillary designs become products we actually develop. This is exactly how the Devon Tread 1 came into existence.
While Jason Wilbur was presenting a new car concept to Honda, he showed the design team members a number of concepts that influenced his car design, with one of them being Tread 1. One of the design team members said, "forget the car, make the watch!"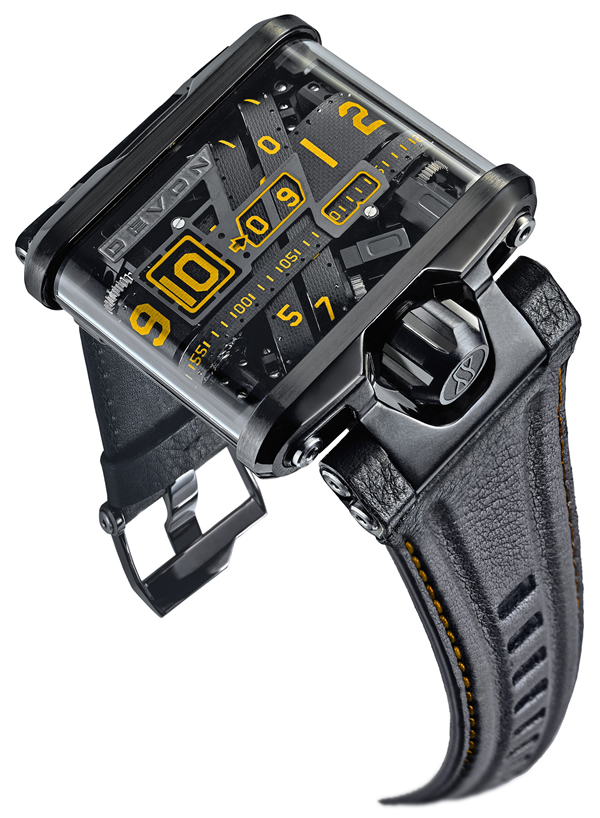 Is designing a team effort or a concept born in one man's mind?
Jason's concept was inspired by the conveyor belts of the industrial revolution but more specifically when he saw a custom motorcycle with numbers on the exposed belts of the bikes drive system.
Our design process generally begins with an idea or concept then we do some raw sketches or discuss the conceptual merit of the idea. Our Chief of Engineering, Jeff Stephenson is involved earlier in the process along with our Managing Director, Ehren Bragg. I am working with a new designer at Devon, Marko Petrovic, from Serbia, who is extremely talented. Marko's computer imaging ability is the best I've seen, and our final designs look exactly like the renders.
We just invested in a state-of-the-art prototype machine at the lab that Jeff is working with that we are excited to have. This will enable us to create one-offs and expedite our product development abilities.
At Devon, design concepts have started with either Jason, myself, or Marko as designers. Still, Jeff is also on the original patent for Tread 1 because he needed to design the watch's inner workings. We are somewhat unique in how we view advanced engineering as equal too if not more important, than conceptual design. I am amazed at how we can replicate and materialize initial conceptual designs without compromising the original design intent.
I prefer a lot of feedback on our design concepts. This is somewhat different than in the past, where designs were guarded in close secrecy. I have a network of personal friends in the design world whose opinions I hold in high regard. There are also industry experts, collectors, bloggers, and retailers whom we run concepts by.
And I'm also not opposed to posting some preliminary concepts on Facebook to get reactions. My thought process is this feedback can gauge responses before we commit hard dollars to production. Our designs and movement also have a global patent, so that offers us protection as well.
So if we work hard on the egg, we don't have to worry about the chicken!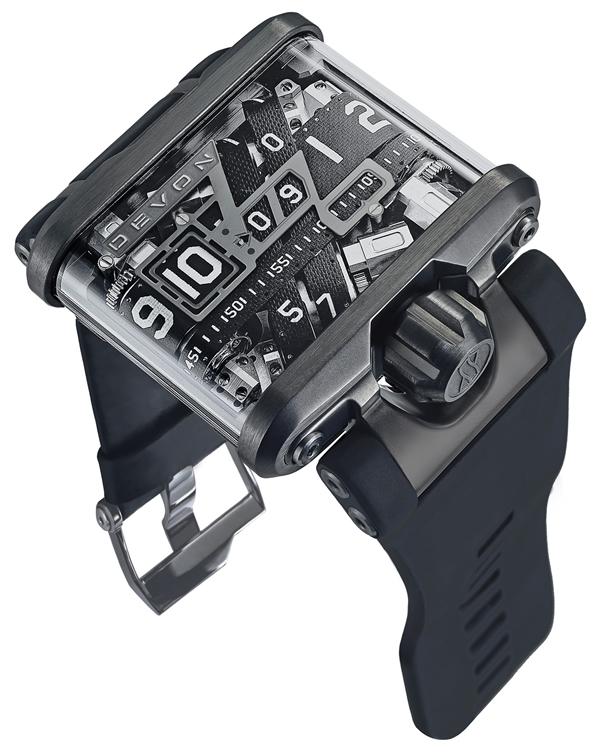 Scott, what inspired you to venture into designing lifestyle products after shaping a Devon GTX supercar?
Without the Devon GTX Super Car project, I would have never met Jason Wilbur, and most likely, the Tread 1 would never have been made. While working on my car, Clive Hawkins, the owner of Aria in Newport Beach, California, a renowned builder of concept cars, introduced me to Jason, who was working for Honda. Clive knew of my desire to develop luxury products and thought I'd be interested in talking to Jason about his watch concepts. I was traveling at the time, and Jason sent me his designs. I immediately thought one of his watch designs was a masterpiece and told Clive I don't even have to meet this guy; I need to make this watch! However, I didn't know that everyone in the watch industry already said it couldn't be made!
I told Jason I wasn't interested in making a few mechanical watches that would cost 500k anyway. So my thought was to look into the hybrid concept of electro/mechanical movement to power the watch and make it "somewhat" affordable.
Hybrids, of course, were all the rage at the time in automotive, and Henrik Fisker was also working on his Fisker Karma at Aria at the same time I was working on the Devon GTX and Jason was at Honda. So the cross-pollination of design ideas was in play.
Our big break came when we found a small boutique aerospace electronics company north of LA willing to do a feasibility study for us on the movement.
We formed a partnership with them, and I have to say the US Aerospace Industry is more challenged to make the impossible possible than most. So we were fortunate to find them.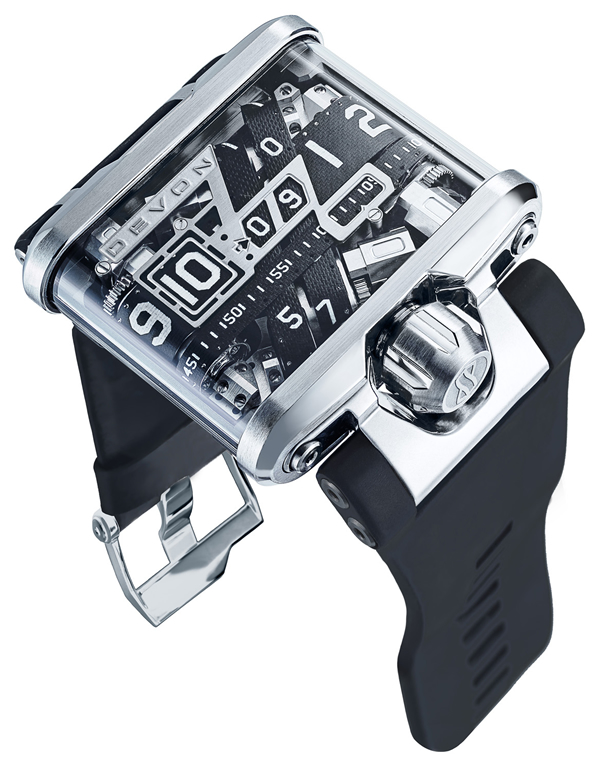 What has been the common factor between designing a speciality vehicle like GTX super car and the cutting-edge Tread 1 watch?
The common or "uncommon" thread at Devon Works Lab is that we view advanced engineering as important as design. And that's what creates breakthrough products. We are willing to take on more complexity than most design companies.
The same business model or theory enabled the Devon GTX to set world lap speed records at the famed Laguna Seca and Willow Springs race tracks.
For the GTX team, we had a famous University of Michigan solar car team, a retired top Ford engineer, a leading aerodynamics professor, and a former Le Man's champion driver.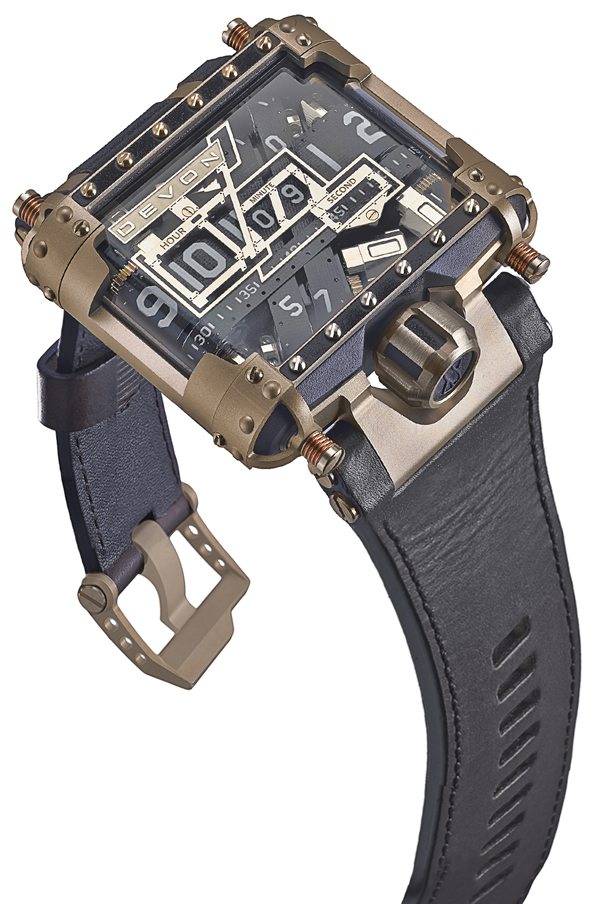 While creating the Tread 1 what did you enjoy the most? And what was the most challenging?
The biggest challenge in taking on complex projects is the development costs and time it takes to validate testing over and over. So you have to have a tolerance for risk and disappointment. However, my thought pattern is that there is always a solution to every problem, and when you can accomplish difficult tasks, the satisfaction and rewards are even greater.
Shortly after we debuted Tread 1, we were nominated for the prestigious Grande Prix Horlogerie de Geneve for watch concept. We remain the only American brand ever nominated.
Another break came early when one of the world's greatest collectors, bloggers, and historian Dr. Bernard Cheong of Singapore, reviewed our creation with such glowing terms as "historical, epic, and revolutionary."
The watch industry is filled with companies with long histories; how hard is it for a new company to break through into the tightly guarded circle?
Initially, we didn't expect traditional watch collectors to embrace our watch as a must-have collectible timepiece. Since we considered ourselves more of an Apple spinoff than, say, Patek Philippe. Many collectors wrote to us saying our watch gets the most attention in their collection, and they enjoy demonstrating the movement to the delight of amazed onlookers.
I think it would not be easy to compete against Historical Swiss brands without something revolutionary. Although controversial, we have been accepted by the establishment, mainly by the other avant-garde watchmakers who have shown respect for our efforts. I believe even among the traditionalists; we have added excitement and interest rather than direct competition.
Let us know more about your journey from a car to a watch and the direction you are headed after creating the two. In what other lifestyle fields are you planning to make a statement?
We continue to make new design studies in other luxury goods categories. But also some in technology. We are developing software for an iPhone and Android OS App that I am excited about. We also have some thoughts on luggage, eyewear, and accessories to develop internally or license our designs. But most of our current work is focused on new watch concepts.
We have been patient with Tread 2 and have made some nice improvements to the initial design. Production on 2 begins this June along with another special edition of Tread 1 called "Exoskeleton." Tread 2 is important for us as an entry-level to the brand. It will be around 10k US and a smaller, sleeker version of Tread 1. We have already begun design work on two new concepts for 2014/15, both of which I believe challenge what is possible for our movement.
As a designer, what has been by far the most challenging role for you
My most challenging personal role is remaining focused and disciplined. I tend to want to overreach and want 2015 designs today. Ehren does a great job of nurturing luxury brands primarily from his background working at Ferrari and Lamborghini.
Has being based in LA been an advantage?
Being based in LA has been a definite advantage for us. It is a creative melting pot of different cultures and ideas. We are obviously in the center of the film and entertainment industry. And the aerospace and computer industry isn't far away. We have a growing list of celebrities and athletes that are fans of the brand and help us promote our products as Ambassadors. We are even going to be in the new "Pitbull" video next month. His Youtube hits average over 200 million!
Your views on Luxurylaunches.
We view sites like Luxury launches as cutting edge to influential early adopters and vital to our global branding initiatives. And we are extremely pleased that you are including us on your site and are thankful to share our story with your influential audience.