While Buben & Zörweg are the trusted brand of many a watch connoisseurs and collectors when it comes to a safe for housing and displaying their precious collection of timepieces, there are many other manufacturers out there offering the same services. In fact, with Brown Safe Manufacturing debuting the Chronos safe, watch collectors are sure to change their loyalty towards Brown Safe Manufacturing. The manufacturer claims it is the most advanced safe to be ever produced by them. Offering optimum security, the Chronos features biometric fingerprint recognition, GPS anti-theft systems, multi-sensor alarms with home automation incorporation, and of course, automatic watch winders. What is more, the Chronos is the only safe in the world to be constructed of military-grade ballistic armor.

The safe also boasts of the first of its kind automatic Watch Winder Carousel, which groups the winders circularly to maximize the amount of space available. With a motorized stack, each watch is available in an attractive style.
The amazing safe's storage section rotates, adding yet another high-teach appeal to this already attractive creation. But that's not all; the safe is also available in various configurations, including a Lamborghini style one that is sure to be a favorite with the car enthusiast watch collector. The product page has listed two models for $58,750 and $74,500. I guess it is safe to say that the Chronos safe is one safe, safe.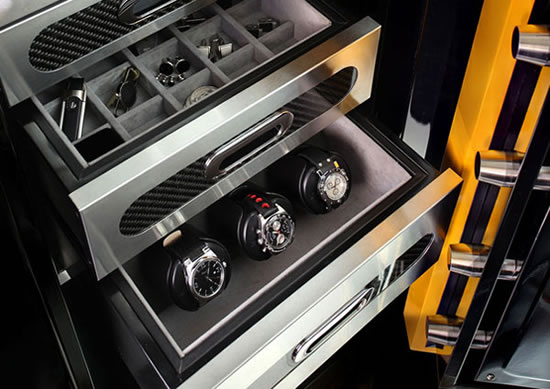 [Technabob And Yankodesign]