I tend to carry my whole world with me on my travels, and at times that isn't such a pretty sight. If you want your travelcases to be a bit classier too, Damien Finot and Julien Trossat of Paris based T.T. Trunks are out with some handcrafted trunks. And what they offer is well beyond choice of materials, colors, finishes and linings, personal stampings and embroideries as well. Their handmade Travel Watch Trunk also sports three watch winders and eight removable watch rolls.

The three programmable "swiss-kubik" winders, wind watches automatically and save energy. There is storage space behind the winders to keep important things like your wallet, key holders, passport, etc. On the lower level you can arrange three watches inside the first drawers, separated with detachable and leather lined boundaries.
The second drawer makes place for smaller objects like cufflinks or tiepins and the can hold eight removable watch rolls. The 423mm high, 434mm wide and 265mm deep trunk can be customized in over 300 material and color options.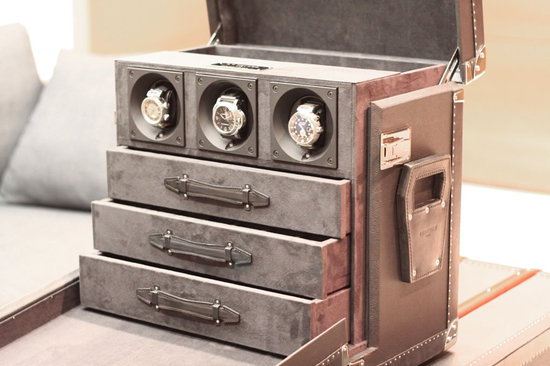 [Timezone]