World's most expensive burger is set with a diamond-studded gold toothpick
By kamakshi |
on May 28, 2012 8:22 am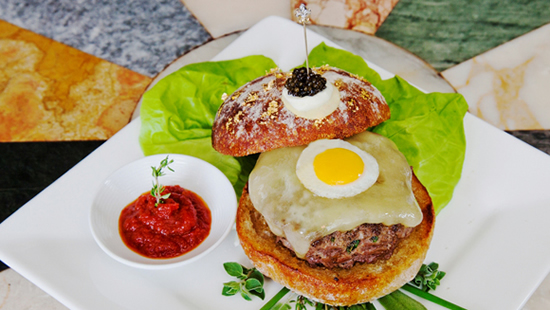 How much would the world's most expensive burger cost you wonder? It's not as cheap as $175, or even $200. It's worth; hold your breath, a massive $295! New York's Serendipity 3 restaurant added yet another expensive item to its menu, and this time the Guinness Book of World Records concur that it's the most expensive in its class. Invented for the National Hamburger Month (which is the month of May), the burger comes with a Japanese Waygu beef patty flavored with 10-herb white truffle butter and seasoned with Salish Alderwood smoked Pacific sea salt.
Topped with cheddar cheese, aged for 18 months by cheesemaker James Montgomery of Somerset, England, it also features shaved black truffles, a fried quail egg, a blini, creme fraiche, Kaluga caviar and a white truffle-buttered Campagna roll. The burger is finished with a solid gold "Fleur de Lis" toothpick, encrusted with diamonds, designed by jeweler Euphoria New York. Sale proceeds will go to the Bowery Mission, so you are spending for two good causes, fixing yourself a luxury meal and feeding the homeless and hungry New Yorkers.
Just add the
world's most expensive hot dog
, and the
world's most expensive dessert
, both available at the fancy restaurant and your tummy will have a truly happy and opulent lunch break!
[
Huffingtonpost
And
Guinnessworldrecords
]