They have done it before. And they are at it again! But if you haven't done it before (or even if you have, you, lucky you), here is your chance. Heritage Auctions and Moda Operandi are once again joining stylish hands for yet another trunk show! And you could now get just as stylish by bagging the arm candies they have in store (literally). Moda Operandi offers a piece of an elegant past with exquisitely curated Hermès classics.



Why save the best for last! Presenting to you, the pièce de résistance. This blue jean porosus, in all its crocodile glory, is a rare Constance containing 18K white gold. It features an eye-popping orange interior AND price tag. With 150 handset Hermes diamonds, it is a whopping $99,500 and can be whipped away from here.

Stunning leather and striking rose an almighty purse make. That's what Shakespeare said. Or at least he would've if he'd laid his eyes on this spectacular Scheherazade. Named for the Persian Queen Scheherazade, this Birkin marries the mighty porosus crocodile with a color so rich and reminiscent of the fine silks that were a favorite of the queen. With such a story to boast, the $84,500 price tag sure seems sufferable so suffer away here.

This much sought-after Beton Birkin is a subtle stunner in alligators. It fuses vintage heritage with modern matte to create some stylish chasms in the hearts of Hermes devotees and fashion enthusiasts alike. Bathed in the lightest ever shade created in crocodile, this rare find basks in a $79,500 brilliance, reflected here.

Futuristic but with a traditional twist! Those are the exact words that come to mind when settling your gaze on this gorgeous Birkin that oozes ultraviolet luxe. And lift that gaze you cannot. Crafted in shiny Nilo crocodile, this Hermes head-turner comes for $74,500 and is available here.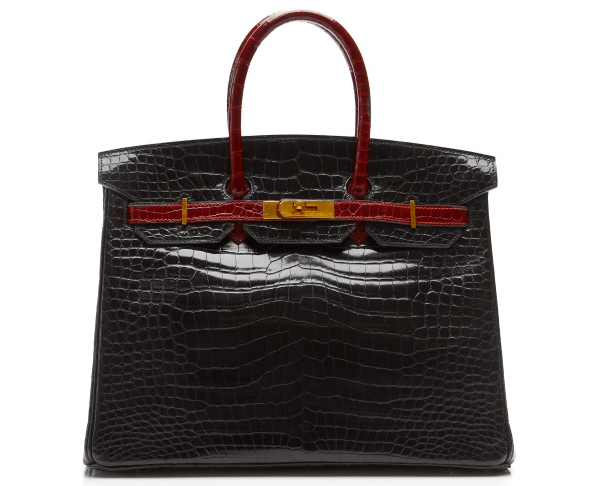 For those inclined towards a more classic charisma, this two-tone indulgence fulfills all your French fashion fantasies. Crafted in croc with hardware in gleaming gold, this bag in shiny black romances hints of rouge and comes priced at $64,500, here.
I needn't say more, except, trunk show ends September 3rd, after which you wouldn't see more. So, whisk away the vintages while you can!
[Available at Modaoperandi]