When one says 'dream home' what exactly is the accepted level of enchantment? We are still decades away from building a home on the clouds though it's certain that will happen one day, and beautiful homes are aplenty. Where's the magic in that right? What truly classifies a home as dreamlike then? This question can be answered by the man who is responsible for China's only floating hotel, albeit with minimal capacity. A Chinese entrepreneur dreamt of a home on the seas and with a good friend/ architect Dong Xinmeng he turned it into a stunning reality. The entrepreneur spent his early days fishing and sailing and developed an irreplaceable bond with the sea early on. The Floating Island is the result of this fondness which takes its inspiration from the floating rafts local fishermen use for extended stays on the water. Let's explore this man-made dream home that defies all obstacles:

The floating hotel, a first of its kind is located on Dongshan Island, Fujian province. It's literally a haven utterly secluded from the hustle, bustle, and chaos of the world about 500 meters (5,382 feet) away from shore.

The floating home is surrounded by water on all sides and is built on a buoyant base. It cost the entrepreneur roughly $61,000 to build and took more than a year of hard labor.

The structure houses sliding glass doors on all sides for panoramic views. On entering one first notices a generous living room that also incorporates the dining room and the kitchen.

The two ends of the home hold a large guest bedroom with its own ensuite which opens into large terraces- a perfect spot for fishing, tanning, and all sea-side activities.

This secluded retreat is made of materials like steel for the structure, aluminum-magnesium-manganese and teak, and plenty of glass to take in the breathtaking views. The roof is acid- and corrosion-resistant.

The deck comprises weather-resistant flooring and is flanked by comfortable seating areas which can become the best spot of the house to literally feel like you are floating on water.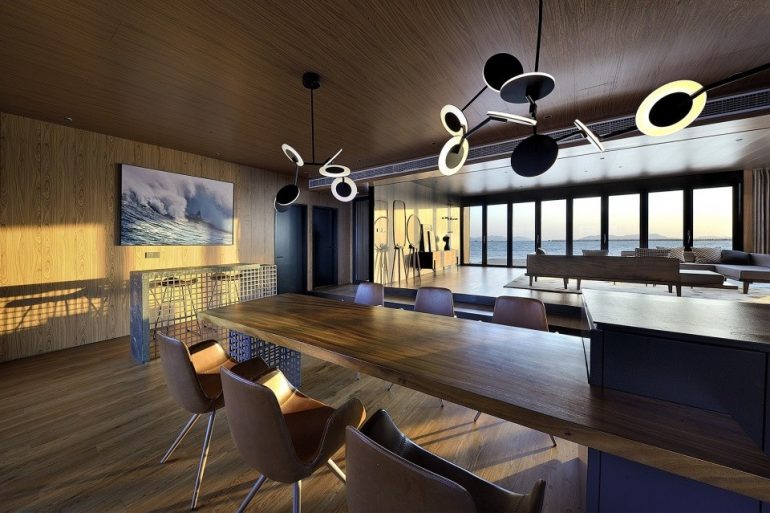 [Via: autoevolution]