You would expect Hollywood superstars to own some of the most expensive cars money can buy, and it won't be a wrong assumption in most cases. However, there are a few of them who prefer to live an austere lifestyle despite the abundance of wealth. One of the is Christian Bale who is famous for living way below his means. Known for his versatility and crazy physical transformations for his roles, the 48-year-old English actor has been in Hollywood since he was just thirteen years old. Starring in some of the biggest and most acclaimed Hollywood films, Bale has portrayed a wide range of characters earning him various accolades, including an Academy Award and two Golden Globe Awards. Yet, he is most famous for his role as the billionaire superhero Bruce Wayne in Christopher Nolan's

Batman trilogy, where he drives a Lamborghini Murcielago and the famous Tumbler Batmobile. On the other hand, the actor can be seen behind the wheel of a Ford GT40 in the highly acclaimed Ford v Ferrari movie, racing against Ferrari's iconic 330 P4 at Le Mans. However, in real life, Bale's personal car collection is not as extravagant. You'll be absolutely shocked to know that the Hollywood actor's daily driver is a 2003 Toyota Tacoma TRD Off-Road PreRunner V6.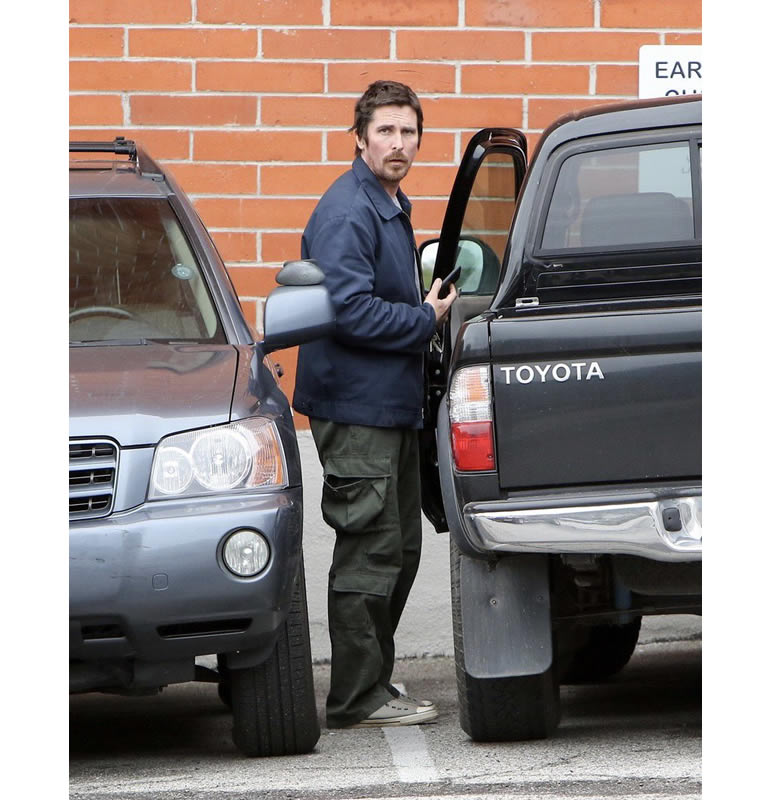 Why Christian Bale prefers to drive an old Toyota pickup rather than a flashy Ferrari
While Bale reportedly also owns a BMW 3 Series sedan, the Englishman is often seen driving the nearly two-decade-old Toyota Tacoma. The internet is full of paparazzi photos of Christian Bale in his under-the-radar pickup, accompanied by his wife Sibi Blažić and two kids. The banger is powered by a 3.4-liter V6 engine that produced up to 190 hp when new. The truck might not be fast or fuel efficient, but it definitely is practical for everyday use and nearly indestructible. These first-gen Tacoma models are historically reliable and noted for their longevity. However, no one expects a deep-pocketed Hollywood A-lister to really care about everyday practicality and reliability. Most probably, the actor likes the old truck's unremarkable looks which might help him in staying away from attracting unnecessary attention.

While speaking with The Daily Beast in 2016, Bale talked about why he still prefers to drive the Taco, saying "it's practical." Bale added, "All my friends need it for moving stuff." Surprisingly, the actor bought the Toyota truck second-hand and has had it with him for the last 10 years. He even went on to point out another benefit of owning the old, humble truck, claiming that he doesn't have to constantly worry about the Taco getting scratched or stolen as it's simply not worth the effort. Obviously, owning an exotic supercar like a Ferrari would be more of a headache for some like Bale. Interestingly, Bale's friend and co-actor Matt Damon revealed in an interview that he drives the old Tacoma with the dream of loading a motorcycle in the bed someday. If he parts with the truck, Bale will be "giving up on his dreams," Damon said. And it looks like he's in no mood to part ways with his trusted truck anytime soon. "It's who I am, it's what I come from," the actor said in another interview.

Bale's love for fast motorcycles
Bale might be happy and content in driving his slow and boring truck, but the acclaimed actor is a speed junkie and loves riding fast, sporty motorcycles. The actor owns a gorgeous MV Agusta F4 sport bike that was gifted to him by the manufacturer. Describing motorcycle racing as "hypnotizing," riding fast bikes is one of the things Bale is obsessed with. However, a motorcycle accident in 2012 left him with a bad injury that needed him to have his arm in a sling for months.

Talking about the incident, the English actor told Daily Mail that "I lost all my nerves in one arm." A couple of years later, Bale agreed to give up motorcycle racing on the insistence of his wife who was shaken up by the death of 'The Fast and the Furious' star Paul Walker in a road accident. Reportedly, Sibi always had a problem with Bale's obsession with fast motorcycles and wanted him to stop riding shortly after the birth of Emmaline. Since 2014, Bale has limited his motorcycle riding to the race track under very controlled conditions.

Christian Bale's net worth
Bale was born in the UK to Jenny, a circus performer, and David, an entrepreneur. At the age of 13, Bale landed a role in Steven Spielberg's 1987 war film Empire of the Sun that started his illustrious career in the movie-making business. While he has acted in several big-budget Hollywood movies over the last three decades, his biggest paychecks came from starring in the Batman movies.

Reportedly, Bale was paid $10 million, plus a $20 million bonus, for The Dark Knight, while The Dark Knight Rises earned him $15 million. He even famously turned down $50 million to appear in a fourth Batman movie. Although he loves to live his life in austerity, the actor's net worth is rather impressive. According to some reports, Christian Bale's current net worth is believed to be around $120 million. Yet he somehow chooses to drive a Toyota Tacoma truck!