If you're a diehard soccer fan, you might be aware that things are not quite good inside the locker room of Italian club Juventus and various reports suggest Cristiano Ronaldo's future at the club is uncertain. After the club's humiliating defeat to rival AC Milan, the 36-year-old soccer star skipped the training session to visit Ferrari's factory in Maranello. Ronaldo was accompanied by club chairman Andrea Agnelli and his cousin John Elkann, who is the CEO of Exor and Ferrari. Exor is the holding company run by the Agnelli family, which controls both Juventus and Ferrari. During his visit to the Ferrari factory, Ronaldo even met with Ferrari Formula One drivers Charles Leclerc and Carlos Sainz, who were both given a signed jersey of the Juventus forward. However, Italian newspaper Corriere Della Sera also reported that Ronaldo ended up picking up a red Ferrari Monza SP1.



The Ferrari Monza SP1 is a special edition supercar that was revealed back in 2018. The supercar is valued at $1.95 million and is only available to purchase by invitation. Based on the Ferrari 812 Superfast, the Monza SP1 has a single-seater layout and it is said to be inspired by Ferrari racecars of the 1950s.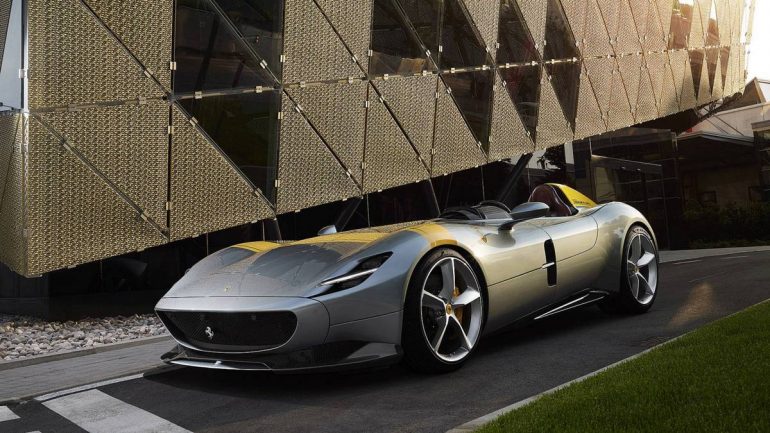 The roof-less supercar is powered by 800hp 6.5-liter V12 engine, which is paired to a seven-speed transmission. Ferrari claims that it can do the 0-60 mph sprint in just 2.9 seconds and reach a top speed in excess of 186 mph. Milan striker Zlatan Ibrahimovic reportedly is another soccer star who owns a Ferrari Monza SP1. Ronaldo's love for cars is quite well known and his collection has some of the rarest cars money can buy. The Monza SP1 will share Ronaldo's garage with the likes of a $10 million Bugatti Centodieci as well as a Chiron and a Veyron.