Women are natural badasses. Whether it is creating the perfect work-life balance or balancing a Harley Davidson, they do it with equal ease while looking like a million bucks. If you have always wanted to see a goddess, then you must catch the below-mentioned stunners not strutting in high heels but enjoying the manly beasts-of-a-bike like a gal! We have covered Hollywood's badasses who don't miss a chance to throw a leg over a motorcycle and go for a ride whenever they get the opportunity; the helmet gives them the much-needed privacy to fool paps and go for unadulterated thrilling fun. Check out the below gallery to see which star like to shine on a beautiful bike instead of barely posing against one in a magazine: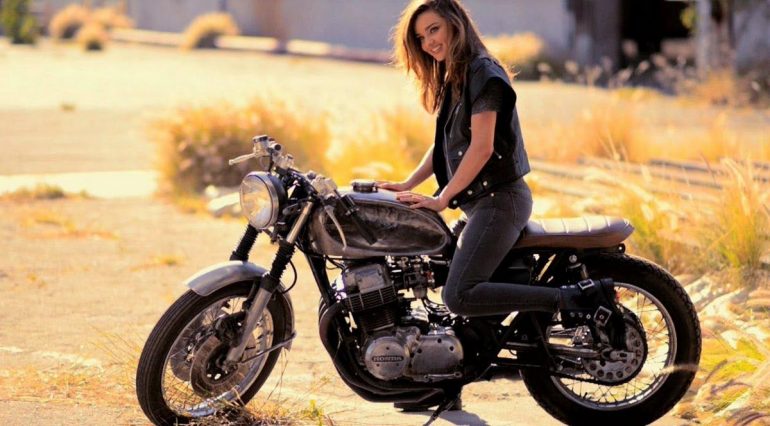 9. Miranda Kerr
A Victoria's Secret Angels behind the handlebars of a bike? Color us intrigued! Kerr is one of the most stunningly gorgeous supermodels to grace the covers of countless magazines, showing off her dainty figure in everything from bikinis to stunning gowns to even her birthday suit. It's hard to imagine a bombshell like her being involved in anything more than posing with a bike. As it happens, the reality is quite different; Kerr has been riding motorcycles since she was five years old. She loves riding them as much as she enjoys posing with them, hair-flip included.

8. Demi Lovato
A Disney starlet with the sweetest voice Demi Lovato comes across as a super-strong image of a woman in her music video of the song 'Confident'. The sight of Lovato on a Harley Night Rod truly put the words into action and showed her as the confident superstar that she truly is!

7. Michelle Rodriguez
The woman who chooses tough gal roles like a troubled boxer in the independent film Girlfight (2000) and later as Letty Ortiz in the blockbuster film franchise 'The Fast and the Furious' would, by her own admission, choose a bike over a car any day! The biker lady has been spotted riding Ducatis and Harleys in Los Angeles on multiple occasions.

6. Milla Jovovich
Films like The Fifth Element, the Three Musketeers, and the Ultraviolet and Resident Evil series made it pretty clear that Jovovich was born to be badass. Right from kicking butt to riding beasty bikes, Milla has done it all for her movie career. She even learned how to ride a BMW R9T for the film Survivor and really got into it.

5. Cher
Goddess of pop, goddess of badass, Cher truly is everything. Is there anything this woman can't do? The world acknowledges the American singer and actress for many iconic hits and legendary concerts. A true Cher fan would know her love for leather and zippers, especially when she goes out riding. She may not indulge in a thrilling ride as often, but Cher revealed that she has always been a big fan of bikes and bikers ever since her first ride at 14.

4. Gal Gadot
When a Hollywood actress stars in movies like Fast and Furious, Wonder Woman she prepares for an action-packed schedule that also includes riding motorcycles like a Ducati monster. She loves it to the extent that she continues to balance riding alongside her training for her super-heroine role.

3. Tina Turner
The queen of rock-n-roll is adored for her powerful 100 million records, her role as an action movie star. But what does Tina Turner enjoy? Apart from her love for singing and performing on stage, Turner loves to ride motorcycles in her downtime. Riding a motorcycle gave her mental peace and a much-needed break from her chaotic life. She even put a Harley-Davidson on the cover of her award-winning song Love Thing. Though Turner had multiple bikes, one of her favorites is a Harley Electra-Glide.

2. Miley Cyrus
Cyrus is known to be a huge motorcycling fan. For someone who has lived practically her whole life in the limelight, there's hardly any info online about her love for motorcycling. Cyrus owns quite a few of them including a 2013 Can-Am Spyder that her father gifted her in honor of her 21st birthday.

1. Pink
The original rock-chic of our planet, her inclusion in the list at number 1 spot, isn't surprising at all. Her love for bikes began early in life, having grown up around the Harleys, Triumphs, and Indian motorcycles her dad owned. She even married motocross racer Carey Hart and is one of the many celebrities with a wild bikes collection. Pink owns multiple motorcycles but is seen mostly on her Hinckley Triumph T100 Bonneville.