We hear Real Madrid Forwarder Cristiano Ronaldo has dropped a staggering $18.5 million on a swanky new apartment on Manhattan's Fifth Avenue. Trump Tower is where the Portuguese footballer has bought a plush new loft apartment! We're thinking Ronaldo's purchase of the New York pad might arouse the attention of New York Red Bulls and New York City FC. To be fair, this could purely be just another house for the footballer, I mean we're talking about estimated earnings of $80 million in only 2014!



1. With a stunning view of New York's skyline we are not surprised the chic apartment commands such a high price tag. Being an 'L-shaped' apartment, we're convinced it offers some unprecedented views!


2. Designer Juan Pablo Molyneux outfitted the spacious pad with black and white limestone flooring in the foyer, 18th century parquet de Versailles floors in the living room, burnished koa wood paneling with wainscoting, and an onyx master bath.


3. Granted the kitchen is a bit small, but we still think there is space for a small breakfast nook. What say?


4. We loved the family room! With its chic design, monochrome designed furniture and sophisticated layout, it definitely made it to our number one spot in the house! Notice the floor-to-ceiling windows that flood the room with sunshine.


5. In a district like Manhattan, 2,500 square feet is a lot of space! But when you're Ronaldo, its nothing but the best! Three classy bedrooms encompass the three bedroom apartment.


6. While the master bedroom and guest bedroom make up the living area, the third bedroom is ideal for a study or home office.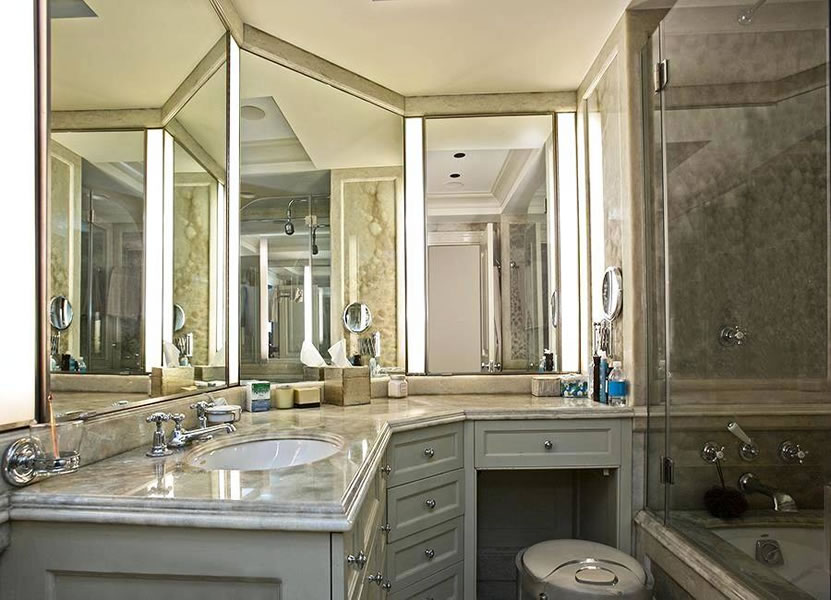 7. The massive marble-clad bathroom entails mirrors, mirrors and more mirrors! Dipped in pastel shades, the bathroom is nothing but classy!


8. So this we love! Even the shower offers beautiful views of New York! What say?! Start saving up on $18.5 million!
[Via – Businessinsider]