Kanye West is a man at work. After witnessing an adrenaline-pumping heavyweight fight between Tyson Fury and Francis Ngannou at the Battle of the Baddest boxing match in Saudi Arabia, the rapper is depending on the calm allure of the five-star Banyan Tree resort in AlUla to stir up his next musical masterpiece. collaborative album with Ty Dolla $ign. AlUla is serving as the backdrop for his upcoming music production and is home to a new studio. It isn't entirely surprising to see the American superstar opting to make this remarkable and quaint region in Saudi Arabia his new office.



Controversy, paps, and trolls almost constantly surround the 46-year-old. To let the creative juices flow, one needs to disconnect from the commotion and sometimes connect with nature. AlUla is located in a valley surrounded by sandstone mountains, and its dramatic rock formations and stark natural beauty make it a visually stunning place. It is home to Hegra, Saudi Arabia's first UNESCO World Heritage site, boasting well-preserved tombs with elaborate facades cut out of sandstone. In the past few years, Saudi Arabia's Crown Prince MBS has invested heavily in AlUla to boost its tourism sector.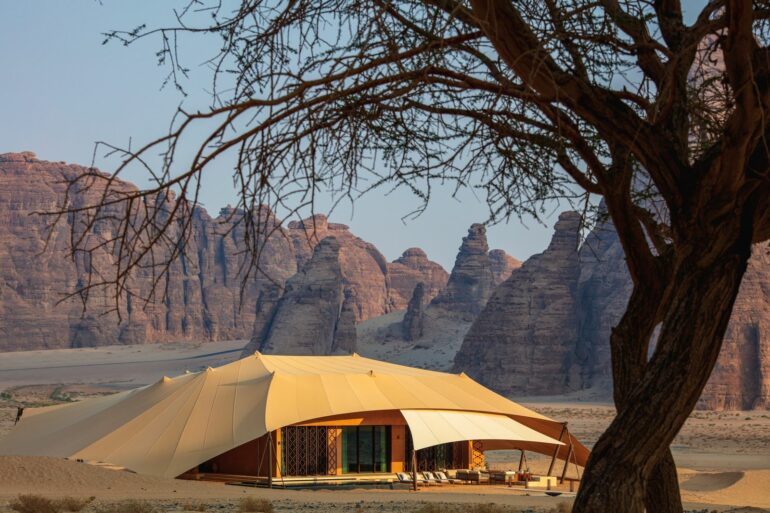 The five-star Banyan Tree resort is one of several luxury hotels in AlUla, a beacon of cultural events, such as art exhibitions and music concerts. Ye, as he is now called, will spend considerable time in one of the oldest cities in the Arabian Peninsula, complete with mobile studio equipment in his $2500 per night villa and luxe amenities.

The desert retreat is believed to include a well-appointed spa, an excellent gym, a rock pool sandwiched between Sandstone Mountains, a Bedouin tent, and a restaurant serving both local cuisine and Thai food, per Supercar Blondie. A short flight from either Riyadh or Jeddah, the Banyan Tree AlUla offers a multi-sensory experience amidst the natural surroundings of the Ashar Valley. Assuming Kanye West has opted for the best accommodation, the 240-SQM three bedroom pool villa is a wonderful space with a large living area, a ten seater dining table, a secluded terrace with private swimming pool facing with valley views.