Kim Kardashian's viral selfies and images usually benefit her and in millions of dollars. But for a change, her picture has helped the MET museum and uncovered an art fraud. Per Deadline, on the new episode of Last Week Tonight, John Oliver unveiled that Kim Kardashian aided solve an art fraud scheme unintentionally in 2018. "A few years back, at the Met Gala, the year 2018, Kim Kardashian made an appearance wearing head-to-toe Atelier Versace that was notably gold." The reality TV star posed next to the coffin of the Egyptian Nedjemankh, which the Met museum had just acquired for a hefty sum.



Kardashian clad in gold next to a revered golden casket was the photo-op the museum would've been pleased with. However, they benefitted a little more than just being happy as the viral photo alerted an anonymous informant who told international authorities that the coffin had been looted. The museum had been fooled into buying it for $4 million for the coffin stolen and sold with fake documentation. Not only was the museum thankful, but Matthew Bogdanos, the assistant district attorney in Manhattan and leader of the D.A.'s antiquities trafficking unit, owed this revelation to the power of Kim Kardashian, which runs the length and breadth of the world.

The backstory of the golden coffin-
Much like the stars who grace the MET Gala year after year, the coffin of the Egyptian high priest, Nedjemankh, was a tremendous score for the Metropolitan Museum of Art. It is said that nearly half a million people were herded to the museum to witness the historic coffin at the exhibition in July 2018. Once the MET learned the truth about the artifact, it was returned to Egypt and displayed at the Grand Egyptian Museum in Cairo.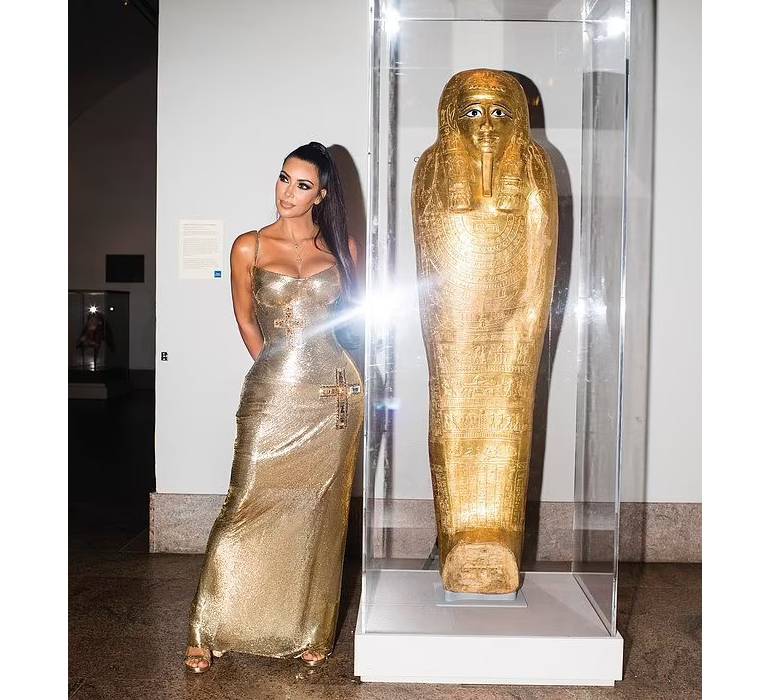 Richard Semper and his partner Christophe Kunicki, a French antiquities scholar and dealer, sold the coffin to the Met for a staggering $4 million. The duo had purchased the coffin from German dealer Roben Dib, manager of the Dionysos Gallery in Hamburg. According to The Sun, Semper and Kunicki claim innocence, but Dib was arrested in August 2020 on suspicion of art trafficking.