When we think of princesses, names like Meghan Markle, Kate Middleton and Charlene of Monaco probably spring to mind, but Princess Maria Chiara of Bourbon Two Sicilies has been in the limelight lately.

The duchess of Noto and Capri is a fashionista who wore Giorgio Armani to the Cannes Film Festival, and the internet went wild over a pic of her cosying up to Prince Christian at the Monaco Grand Prix Meghan, Kate, Charlene and co are among the world's most famous princesses today. But when a new royal steps into the public eye, making her graceful entrance to the world, it still often garners the attention of many.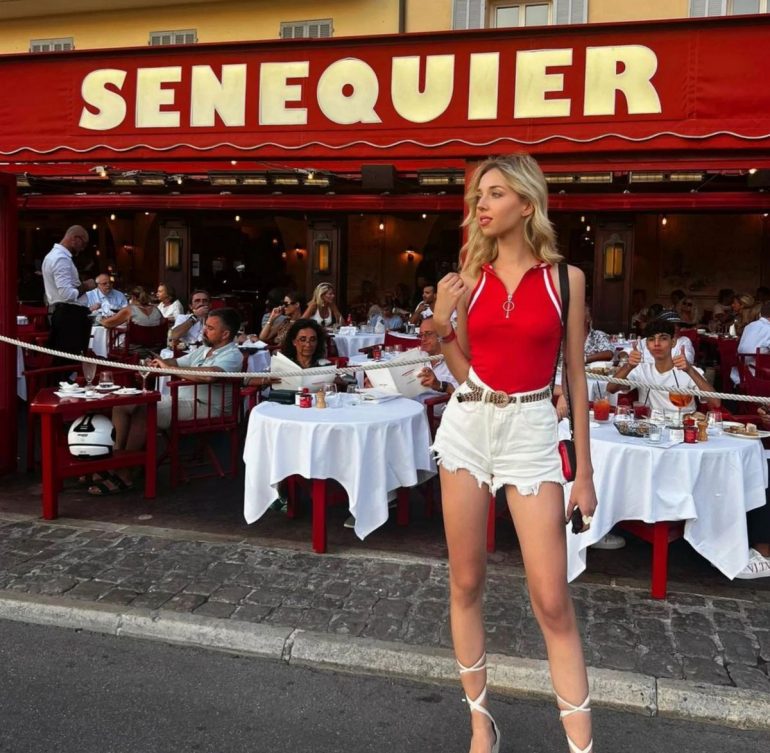 Princess Maria Chiara of Bourbon Two Sicilies has been flying under the radar until recently. From making her debut at the Cannes Film Festival to attending red carpets for films like Elvis with her sister, this 18-year-old Italian blue blood's real-life fairy tale is only beginning.

And it's off to a strong start, with her undoubtedly making plenty of incredible connections along the way. So much so, in fact, that she's now rumoured to be dating Prince Christian of Denmark, 17, the nation's future king.
So, what do we know about this rising royal – and if they are indeed dating, could they be the next Kate and William?

Princess Maria Chiara's royal lineage
Princess Maria Chiara of Bourbon Two Sicilies, Duchess of Noto and Capri, was born in Rome on January 1, 2005 and currently lives between Paris, Monte Carlo and Rome, according to her family's official website.

She is the daughter of Prince Carlo and Princess Camilla, aka the Duke and Duchess of Castro, and has one elder sister, Princess Maria Carolina, 20, who she's very close with. The girls' father Carlo succeeded to his dad's claim as head of the former House of the Two Sicilies.
This branch of the Spanish royal family hails from the Capetian Dynasty. It ruled over Southern Italy and Sicily during the 18th and 19th centuries. While the kingdom no longer exists, the family title is still used today.

She speaks, reads and writes six languages
Maria Chiara was brought up with the best education. She had private lessons with personal tutors and followed the International Cambridge Educational system and the CNED course before graduating in March 2020 at the age of 15, states her bio.
She's also a polyglot, speaking, writing and reading six languages fluently (English, French, Italian, Spanish, Portuguese and Russian), per the same website.

Jet-setting across the globe
This royal sure likes to travel and it seems, unlike many other popular blue bloods, she does it for pleasure rather than business. From trips to Saint-Tropez, Côte d'Azur in the French Riviera and Budapest to Madrid and Morocco, it seems like Maria Chiara is constantly on the go – and she does it ever so fashionably.
She also showed up wearing Giorgio Armani at this year's Cannes Film Festival for the premiere of Jeanne du Barry. It was back in 2018 when Maria Chiara first made her red carpet debut with her mother at the 75th edition of the Venice Film Festival, states her bio.

The "Barbie" princess
#Barbiecore is in full force this summer, but Princess Maria Chiara has long been donning the trend as seen on her Instagram. Bright colours (especially pink)? Check. Bold accessories? Check. Girlie handbags? Check. It's no wonder this stylish Gen Zer has been dubbed the "Barbie" heiress to watch, as per New York Post.
With her golden blonde hair, blue eyes and flawless features, we'd go as far as to say she could even be considered as "stereotypical" Barbie, like Margot Robbie's titular character in the film.

She's a philanthropist
As a royal, you're often expected to fulfil your philanthropic duties – and this duchess is no exception. And she's achieved plenty at just 18. Not only is she an ambassador for the Passion Sea Project, but she also takes part in Monaco's Prince Albert II's No Finish Line charity event, and supports the Ocean 1 project, Unicef and the Italian Association Salvamamme, as per her bio.

She might be dating a future king
When Maria Carolina posted a photo of her sister cosying up with Prince Christian of Denmark at the Monaco Grand Prix, it sent the internet into a frenzy as fans wondered if the two young royals could be dating. A source seemed to suggest to Woman's Day that they are in a romantic relationship, but neither side has officially confirmed anything yet.

More recently, this month it was reported that Christian introduced Maria Chiara to his grandmother, Queen Margrethe II of Denmark, the only female monarch after Queen Elizabeth's death. The young duo were even spotted together in St Tropez, states British media, only adding to the rumours of their romance.
Prince Christian of Denmark is the eldest son of Crown Prince Frederik and Crown Princess Mary. Christian, who turns 18 in October, is second in line to the throne, meaning if or when he becomes king, Maria Chiara would become a queen if they ever got married, per New York Post.
Note: This story was originally published on SCMP and has been republished on this website.