The Mean Girls star set our weekend on fire with a man and a ring in her latest Instagram post, after years without any news on either her career or love life.

So who is Bader Shammas, the lucky guy that Lindsay Lohan just said "Yes!" to and captioned as "My love. My life. My family. My future" on November 29?

A non-celebrity (but moneyed banker)
Shammas is apparently Lohan's dream man. The child star once revealed that she "wanted someone who hates the spotlight, doesn't have Instagram and [is] a smart businessman", according to NZ Herald.
Shammas is not an actor, doesn't work in the entertainment industry and he keeps his Instagram private. Like Lohan, he is based in Dubai – where its believed he was born – and today manages wealth funds as the assistant vice-president of global investment bank Credit Suisse, where he has worked since 2018, per his LinkedIn profile.
Previously, he worked for BNP Paribas Corporate and Institutional Banking, part of the largest banking group in the world, in different positions in Bahrain and Kuwait from 2013 to 2017. Then he was promoted to the group's wealth management wing and relocated to the UAE.

Double university graduate
It seems that Shammas may have changed his original projected career path, studying two distinct disciplines at two different universities in Florida, US. He studied mechanical engineering at the University of South Florida from 2007 to 2010, and then entered the University of Tampa in 2010 for a bachelor's degree in science in finance, according to Harper's Bazaar Arabia.

Closet rock fan?
An early hint of his romance with Lohan dropped on the star's Instagram in February 2020. In a since-deleted post, the pair were pictured standing next to each other, alongside Lohan's sister Aliana and members of pop-rock band Bastille, backstage at Dubai music festival RedFestDXB. Lohan initially captioned the photo "@aliana lovely night with sister and my boyfriend bader such a magical night", followed by a heart emoji – although she quickly changed the caption to just a smiling emoji and later deleted it altogether.
The couple are believed to have met in Dubai. Lohan left her infamous Hollywood life for the Middle Eastern city in 2014, seeking a respite from the spotlight. "There's no paparazzi, no cameras; that's a big deal for me," she told W Magazine. "I never considered people taking a picture 'bothering' me, but I don't want people to misinterpret who I am as a person if they see me sneezing and they say I'm crying. I do really appreciate having the life where I can just go outside and not have to worry."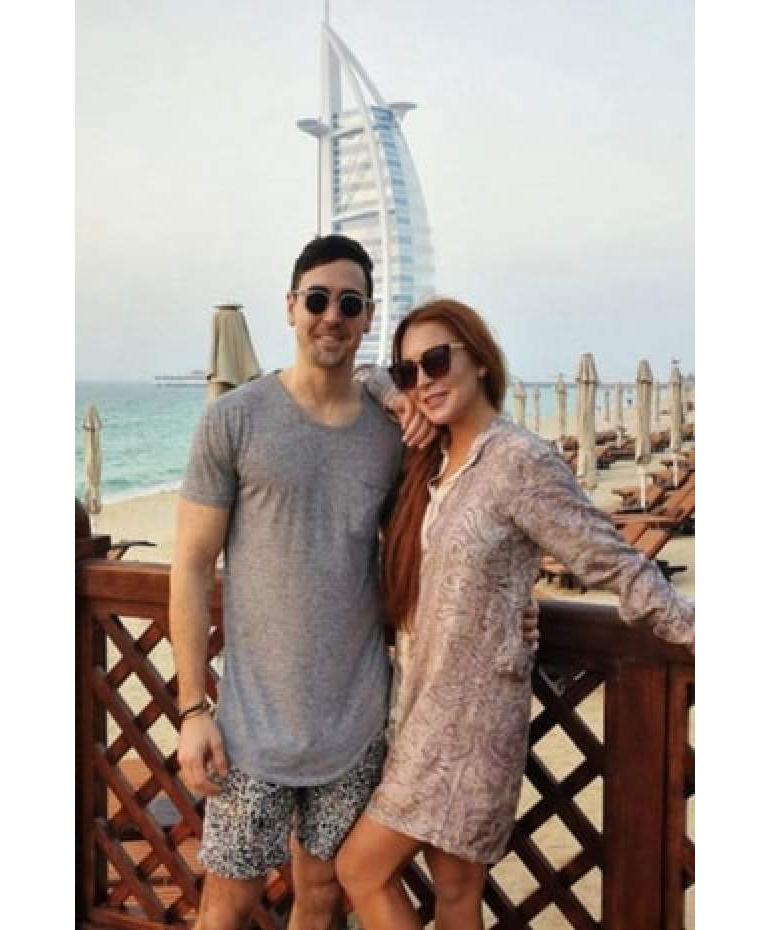 A stabilising influence
The move also gave Lohan a chance to reset her social scene, she told Emirates Woman. "Well, at first … I didn't really see anyone. And it's not like I'm going out at night much, it's a very different lifestyle for me," she said, "I moved here for that purpose. I don't have to be publicly seen all the time or discuss what I'm doing."
This year, the 35-year-old actress returned to the US to film an untitled Christmas Netflix romcom in which she somewhat poetically plays a "newly engaged, spoiled hotel heiress" who gets amnesia after a skiing accident and "finds herself in the care of a handsome, blue-collar lodge owner and his precocious daughter in the days leading up to Christmas", per Variety.

A sharp shopper (for diamonds, anyway)
In the UAE, Lohan found not only peace, but love. Her apparent Mr Right made his big move with a Harry Winston-designed ring sporting a weighty rock estimated to be around six carats, and valued at a cool quarter of a million dollars thanks to its high colour and clarity, according Page Six.
The best bit might be that she (probably) didn't have to pay for it this time – the star once claimed she had to fork out for her own US$300,000 engagement ring to Russian business heir Egor Tarabasov before their acrimonious split in 2016.
Note: This story was originally published on SCMP and has been republished on this website.