If you think Pharrell Williams' appointment as the head of menswear at Louis Vuitton is a gimmick or a move that came out of the blue, you likely haven't been paying attention.

Ever since the death of Louis Vuitton menswear designer Virgil Abloh in 2021, billionaire LVMH owner Bernard Arnault has needed a replacement to continue his vision for the house. And while the appointment of singer/producer Williams may have surprised some, LVMH watchers would know better.

In recent years, Arnault has talked about Louis Vuitton not just selling luxury handbags and clothes but "selling culture", per CNBC. And Williams' place at the heart of fashion and street style over the last two decades clearly made him a great candidate for his current role.
In fact, from his just-announced Tiffany partnership (also an LVMH brand) to his own labels BBC and Ice Cream, Williams has actually been quietly defining men's fashion for years.

Even Kanye West gave credit to Williams' pioneering work during a speech in 2015, saying that "Pharrell had always been my fashion idol" and that "without Pharrell, there would be no Kanye".
Let's take a look at Williams' best and most prestigious luxury fashion collaborations to date.

1. Nike Dunk trainers
In 2004, the idea of Nike collaborating with sports stars like Michael Jordan and Serena Williams was one thing, but musicians like Williams – then with the Neptunes – quite another. The singer made "sneaker history" when he added his take to the high-topped Nike Dunk trainers.
According to an interview he gave to Complex's Joe La Puma last year, he had been inspired by a De Grisogono watch that had a band made from stingray leather. "I just thought the texture of it was so cool and so when[Nike asked did 'we wanna do a Dunk', I was like, 'yeah, let's do it with that'," he said.

However, he admitted that the finished product – which had the N.E.R.D logo embroidered on the heel – didn't turn out the way he'd wanted. "We tried as hard as we could and I think the closest we came to the execution was something that I personally wasn't happy with because it felt more like a basketball's texture," he reflected.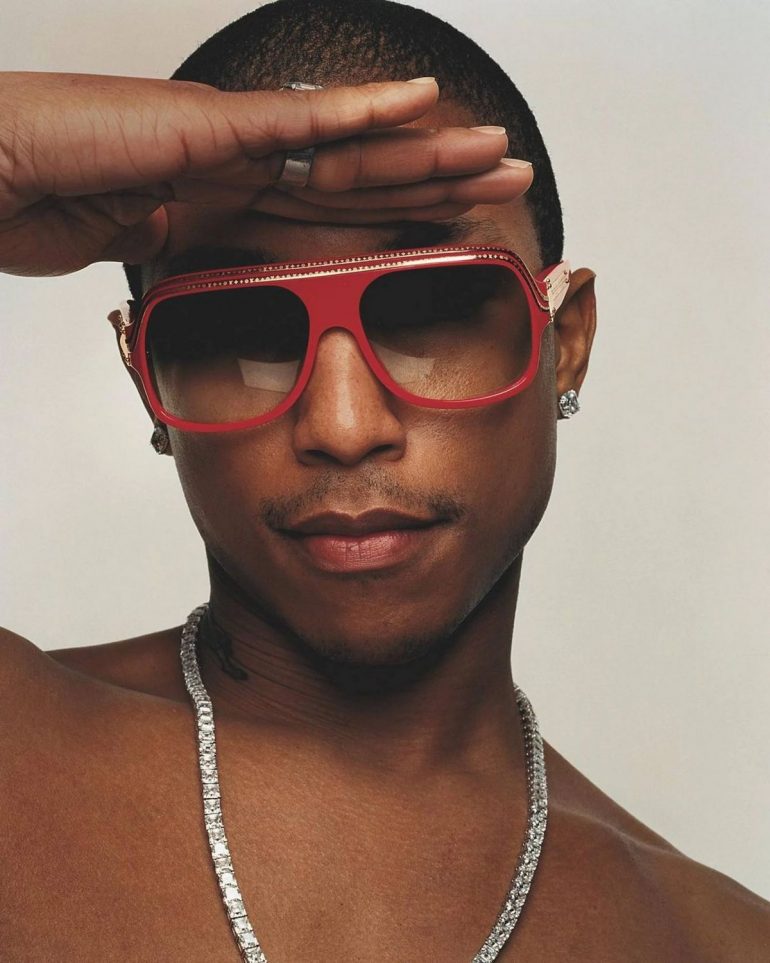 2. Louis Vuitton
As far back as 2004, Louis Vuitton's then creative director Marc Jacobs tapped Williams to help design several accessories for the brand, including the original "millionaire sunglasses" reintroduced by Abloh a decade later, and a collection of jewellery under the Blason brand in 2008.
Working with LV's jewellery designer Camille Miceli, Williams quipped to WWD that it had been a pleasure to indulge his costly bling habit on "Louis Vuitton's dime" since it made it "fun for once".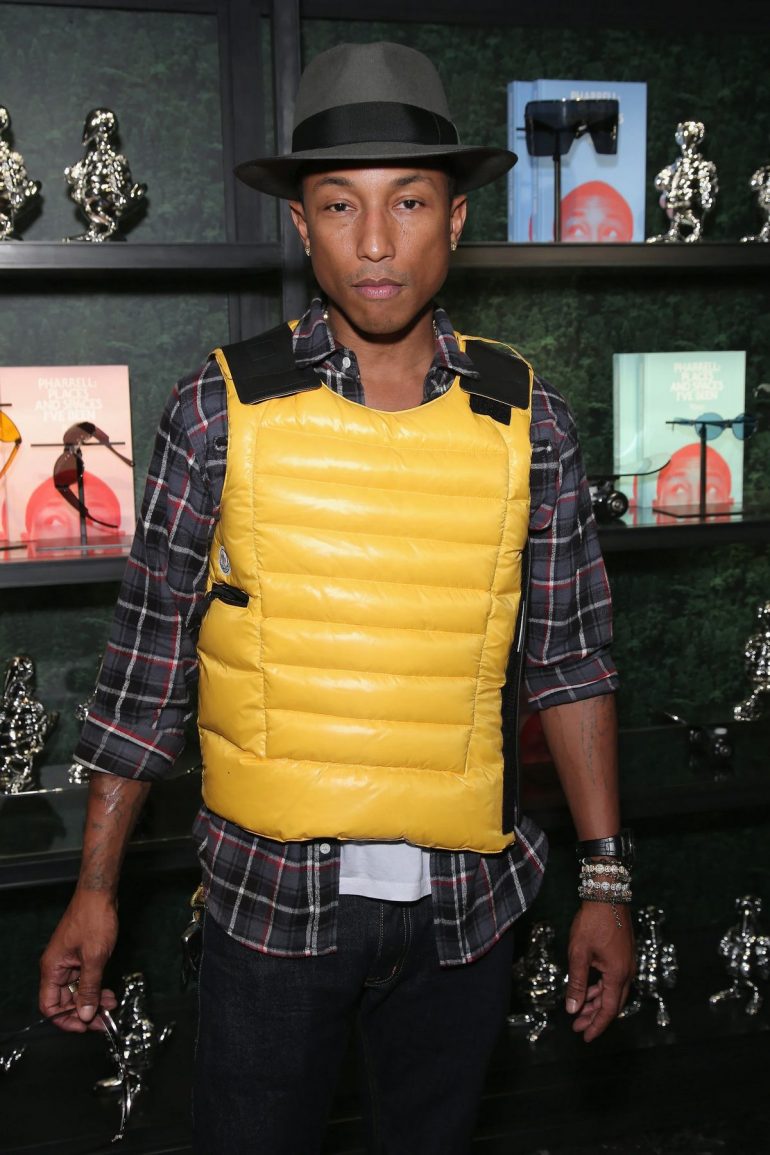 3. Moncler
In 2010, Williams partnered with Moncler on a handful of outerwear pieces, including a jacket that looked more like a bullet proof vest. It ticked all of the boxes fans had come to expect from a Pharrell collab: it was made of recycled bionic yarn plastic, had a Japanese influence (courtesy of artist Keita Sugiura providing the pattern), and had a distinctly urbanite vibe.

4. Billionaire Boys Club (BBC)
It's no secret that Williams helped Japanese streetwear brand A Bathing Ape (better known as Bape) make it big in the US after becoming friends with its hip-hop loving founder Tomoaki "Nigo" Nagao. And once America had cottoned onto the look, Williams and Nigo partnered to create a fresh new brand of their own: Billionaire Boys Club, or BBC.

With sister brands including Ice Cream, Bee Line and Billionaire Girls Club, Williams first wore clothes from the line in his "Frontin'" music video with Jay-Z, who later invested in the brand himself. As for its aesthetic, think colourful print hoodies, baseball caps and socks with graphic dollar signs printed on them.

5. Adidas Stan Smiths
Not long after Williams was seen at the Grammys in his now-iconic giant Vivienne Westwood hat and red Adidas jacket, the "Happy" singer announced his official partnership with the sportswear brand.
The series of hand-painted Stan Smiths – that looked as though Williams had scrawled on them with a marker pen – were followed by a "Supercolour pack" of 50 different coloured Adidas Superstars. By the end of 2015, the brand had sold over 15 million pairs, according to Sneakerfreaker.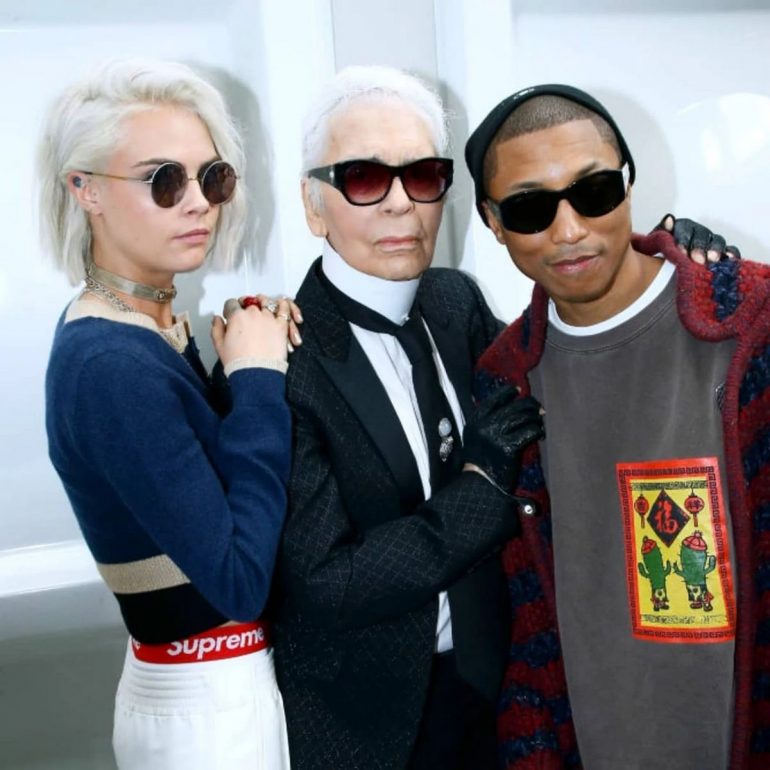 6. Chanel
In 2019, Williams created an urban capsule collection for Chanel that the brand said highlighted the rapper's "long term relationship with the house".
According to CR Fashionbook, Williams and Chanel's creative director Karl Lagerfeld had a mutual admiration for each other, evidenced by the fact that Williams became the first man to feature in a major campaign for the brand in 2015, and also appearing in the Gabrielle bag campaign two years later.

According to Vogue UK, the resulting collaboration between the two creative minds was a hit with critics, as they reimagined the CC and N°5 logos as graffiti and embellished motifs, featuring everything from bucket hats to hoodies and trainers.

7. Richard Mille RM 52-05 Tourbillon
Williams often works with brands he's championed for years and luxury watchmaker Richard Mille is no exception. Known for wearing the brand's most fun watches on the red carpet – think the RM 88 Smiley and Alain Prost RM 70-01 – it wasn't until 2019 that he got to create his own.

And it was some watch! Coming in at just under US$1 million, per GQ, the timepiece featured a hand-painted astronaut on Mars, with Earth reflected in their helmet. "I think we're bringing something new to the category," Williams told Wallpaper at the time. "Because of our tastes and the things that stimulate us, I feel that we're adding a pop."

8. The Moynat train-inspired collection
Oh, to live inside Williams' mind. The singer reportedly took one look at a model train sitting on one of the vintage trunks in Moynat's Paris atelier in October 2013 and was inspired to create this collection.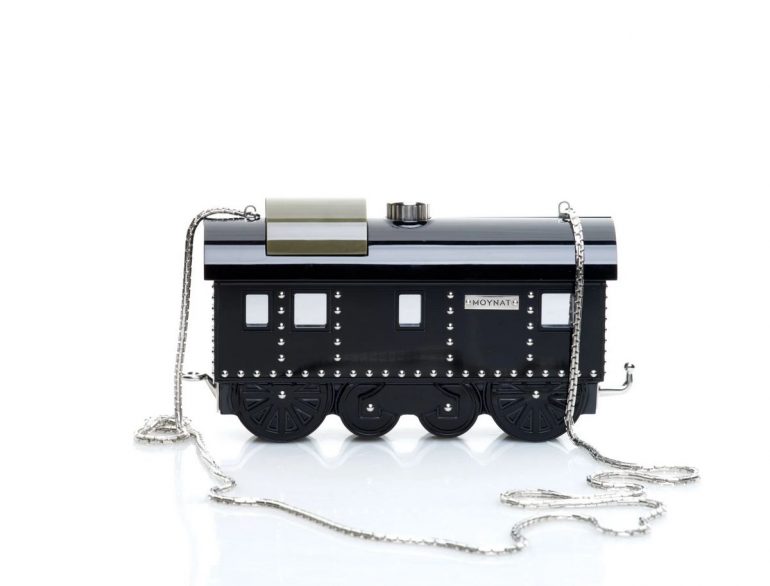 Comprised of a train pouch, a train bag and a train clutch made of hand-carved ebony wood, the singer and the brand's artistic director also added silk scarves featuring railroad graphics.
Note: This story was originally published on SCMP and has been republished on this website.