As the host of Saturday Night Live's recent Mother's Day episode, it was only fitting that SpaceX founder and Tesla CEO Elon Musk invited his own mum Maye Musk onto the show. And what a glamorous treat she was!

Maye's SNL appearance introduced the 73-year-old to millions around the world, but it was surely only a matter of time. Yes, she's the mother of the second-richest man in the world, but she's also been a star in her own right for many years. And as she's grown older, her star has only risen.

Elon may be the famous one in the family now, but it's all thanks to his superstar mother who set the stage for him.
Born in Canada in 1948, Maye's family moved to South Africa two years later, where she was raised, and then eventually raised her own three children – Elon, Kimbal and Tosca. But during her forties, after her divorce, eldest son Elon moved to his mother's native Canada to study, and he soon convinced Maye and his siblings to follow.

After dazzling both South Africa and Canada with her beauty, charm, wisdom and knowledge, she finally made her way to America's international stage as Elon's Silicon Valley journey took off. So when Maye finally stood centre stage alongside Elon on SNL, we got a warm tingly feeling. She's played an integral part in Elon's journey all along – it was only right to have her there.
Here's why Maye may just be our favourite Musk.

Supermodel of the world
As her almost half a million Instagram followers already know, Maye is a glamorous supermodel and cover girl. Yes, in her seventies. We're already sold.
Her runway to stardom started way back in 1969 when she was a finalist for Miss South Africa at only 21 years old. That's when she met Elon's dad Errol and got hitched.

She continued to model on and off over the years, and then in 2017, at the age of 69, she became an ambassador for CoverGirl, the oldest brand ambassador in the beauty company's history.
"I think it gives hope to women as they age they can continue to work and be relevant and confident and comfortable with themselves," Maye told Forbes.

Maye continues to work as an in-demand model for high-fashion campaigns and shoots, and has featured on a string of magazine covers, including the likes of Time and Vogue.

She's the ultimate showbiz mum
Elon Musk is more billionaire businessman than true Hollywood star – his mum is the only Musk we need to see on the red carpet.

Maye can often be seen at red carpet events, and thanks to her chic style and beauty, and bubbly personality, she's risen to fame in her own right. Of course, she can also often be spotted on Elon's arm at iconic events like the Vanity Fair Oscars party and Met Gala.
In fact, Maye is so cool she even made a cameo in the video for Beyoncé's Haunted. Our mums barely know who Beyoncé is, so respect.
She created a new life in Canada in her forties
Thanks to Maye being born in Canada, her children were able to obtain Canadian passports after their schooling and relocate. At age 18, Elon was the first to make the move after graduating from high school. His teenage siblings Tosca and Kimbal wanted a change of scenery too, and slowly convinced their mother to join them on their new family adventure.

By then, Maye was divorced, following a tumultuous marriage and accusations of domestic abuse. "I was too scared to tell anyone [about the deeper violence]. Like every abused woman, I was embarrassed," she told Harper's Bazaar. "He told me over and over that I was stupid, ugly, boring. He was very rich, but he made sure I had nothing."
Maye sold her belongings, waved goodbye to her legacy of work and life in South Africa and started a brand new hustle in Canada in her forties. At one point she was working five jobs, telling Forbes, "I was a research officer at the University of Toronto. I was teaching two nights a week at a nutrition college and two night weeks at a modelling agency. I modelled and I gave talks, and I had a private practice."

So no, she hasn't just hitched a ride on her very rich son's coattails. In fact, she is now worth an estimated US$20 million herself, Elon's billions aside.
7 things we learned about Angelina Jolie in 2021

It's all about healthy eating
She's not just a pretty face, FYI. Mother Maye holds two master's degrees, one in dietetics and the other in nutritional science. She owned her own successful dietitian practice in South Africa and then slowly rebuilt it again in Canada in her forties. Being a dietitian provided the Musk matriarch with a stable income over the years when modelling work was slow.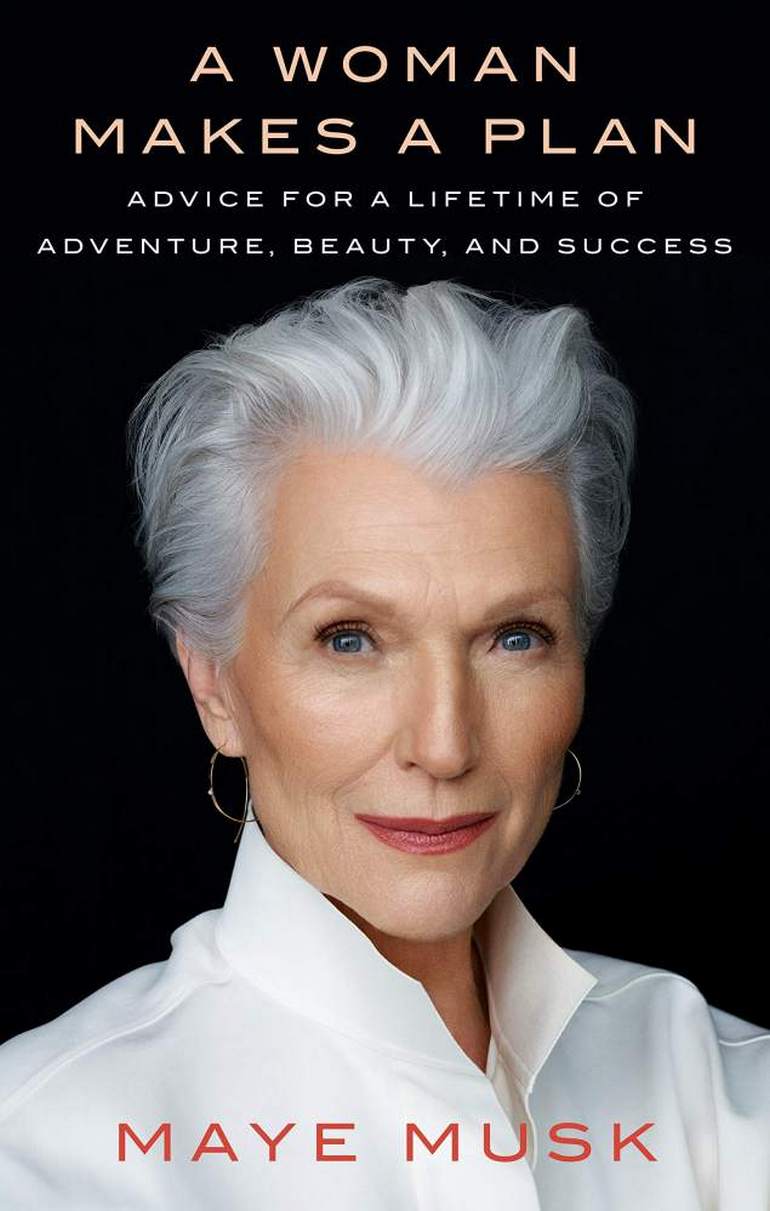 She's shared her wisdom in books
Fortunately for us, Maye has shared plenty of her wisdom in books. She published a nutrition guide in 1996 called Feel Fantastic, Maye Musk's Good Health Clinic, in which shared her dietary insights. But we had to wait until her 2019 memoir to get the real juice behind her fascinating life story. A Woman Makes a Plan: Advice for a Lifetime of Adventure, Beauty and Success, became an international bestseller with releases in the US, Russia, the Netherlands, Germany, Japan and, of course, South Africa. The Chinese edition was so popular it sold out instantly and had to be immediately reprinted.

Don't expect a retirement
At 73, Maye shows no plans of slowing down any time soon, even telling The New York Times, "I will never retire. My mum never retired. I'll work until no one wants me any more, and then I'll find something else and I'll still be a dietitian doing nutrition research, which I love."

And that folks, is the woman behind the world-famous billionaire that is Elon Musk. Just wow.
Note: This story was originally published on SCMP and has been republished on this website.