Be it the first September Sunday for Australia's Father's Day, your brother's promotion, or your beau's upcoming birthday, no day is too small for a Burberry day. Especially not if the day includes alligator leather holdalls or animal print. If those words just made you jump in your chair, then you are reading the right set of words, my friend. If not, read on! Burberry's latest leather accessories for men are jump-tastic, and yes, you can totally treat your own fashionable selves to these magnificent masculine marvels too.



Polished Alligator Leather Holdall
This alligator holdall with hand-dyed leather is a dark sartorial delight. Rolled leather handles dole out a comfortable decadence and the metal hardware oozes vintage elegance. The fine scales of the skin have been polished to stand-out-perfection and an equally fine price tag stands out at $37,000.

The Boston in Spotted Animal Print
In a cool clash-of-the-prints, between side and front, Burberry's trademark check meets specked animal calfskin. The nouveau contrasting patterns combine with a vintage allure in shape and grosgrain lining. Handles come rolled and hand-stitched with hand-painted edges for that rare refinement. And attached comes a shoulder strap, leather tag, and $2,795 price tag.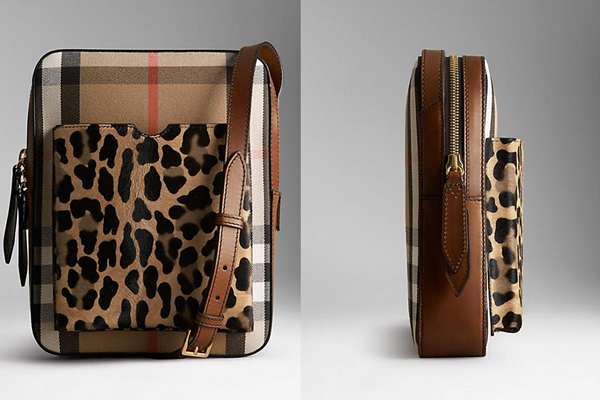 Small Animal Print Check Crossbody Satchel
Animal print? Check. Check? Check! If either or both ring a bell for you but satchel is more your (or 'there,' are you listening gift tippers?) style, then 'bag' it, I'd say. Calfskin and cotton twill combine in this clean design that houses an external pocket molded for an iPad mini too. Priced at $1,250, nothing says cross-body-chic better.

Spotted Animal Print I Pad Case
If you love prints as much as the next leopard and 'gadget' is your middle name, this is the ideal accessory. Camel calfskin on the outside, black leather on the inside, this book-style IPad 2 case is the coziest home for your battery-operated apple companion. It features an invisible magnetic closure besides its much-visible appeal, accessible camera, audio, and charging points, all for $850.