Last week in the Côte d'Azur looked something like this- golden sunlight glinted off the lurex, Marion Cotillard beamed through retro sunnies, models were sun kissed perfection (no, really, they were wearing Dior Lip Maximizer in Sunkissed). The Dior brigade bustled about backstage. And when we say 'backstage', we mean somewhere within the PalaisBulles, which played an extraordinary Dior Cruise 2016 Fashion Show setting.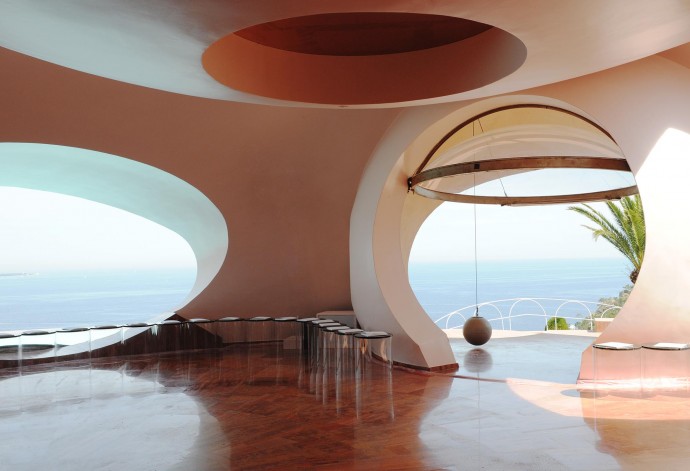 Who'd have guessed Antti Lovag's path breaking architectural marvel would one day become the source of inspiration, and eventually, backdrop to one of Raf Simons' most exciting collections, in which even the Bar jacket acquires a fluidity and lightness. Combiningmacramé, mesh and embroidery, the collection was a turn from last year's Cruise collection. Cruise 2015's 'hard and soft' theme metamorphosed itself into lurex fabrics and raw edges that evoke the rough rocky strata of the Mediterranean landscape.

And speaking of the Mediterranean, the serendipitous setting attracted a high-powered turnout, most of which found it self by the magnificent portholes even as models glided through labyrinthine walkways and terraces of the PalaisBulles. "It is a place that I have been fascinated by for a number of years and I am so happy to be able to show here," the designer confessed. Marion Cotillard, Pierre Cardin, Dakota Fanning, Zoë Kravitz, Chiara Mastroianni, Aymeline Valade, Lucie de la Falaise, Caroline Issa, among others, showed up in support of Simons.

Our favorites from the collection include the looks that revisit Gingham;the way structured jackets have been paired with silk shorts is absolute brilliance. And the more risqué net tops offset against dark pleated skirts. "I wanted an idea of freedom, playfulness and individuality to come to the fore in this collection, especially in consideration to the Dior archive," said the designer.Constantly seeking new avenues of inspiration and reinventing tradition, with this latest Cruise collection, Simons stuns,in a way that only he can.

Get the look-
The Dior Cruise 2016 line was complimented by a slew of eye-popping accessories, and a largely neutral sun-kissed beauty look developed by Peter Philips, Dior makeup's Creative and Image Director. And we all know that when the former threatens to burn a hole in our silk-lined pockets, the latter can be a huge savior. To create the Mediterranean mood with make-up, Philips sought the following:
Complexion
Dior skin Star Fluid Foundation
Dior skin Nude Cosmopolite Edition (Fall 2015)
Dior Skinflash primer
Dior blush Cheekstick Rosewood n°765 (Fall 2015)
Eyes
Eye Reviver palette
Dior show Brow Styler n°002
Dior show Brow Gel pencil
Mascara Diorshow
Lips
Dior Contour Universel n°001
Lip Maximizer n°006 Beige Sunrise (Summer 2015 limited edition)
Nails
Dior VernisMuguet n°108
Dior VernisSunkissed n°239 (Summer 2015 limited edition)
Dior VernisSunwashed n°319 (Summer 2015 limited edition)
[Via – Diormag]