Louis Vuitton is synonym to high-end fashion as well as most innovative window displays. The latest window to get a taste of LV's grandeur is located at Parisian department store Galeries Lafayette. To celebrate their 100-year anniversary and Christmas, the store has teamed up with Louis Vuitton to design the Ball of the Century windows. The windows feature French brand's luggage collection along with animated dolls and animals that are hand-painted and dressed in Louis Vuitton. The highlight of the evening was none other than an elephant named Dumba who was carrying model Loulou Robert. The majestic animal switched on the lights at Galeries Lafayette.
Roll over to read more about Louis Vuitton's former window displays….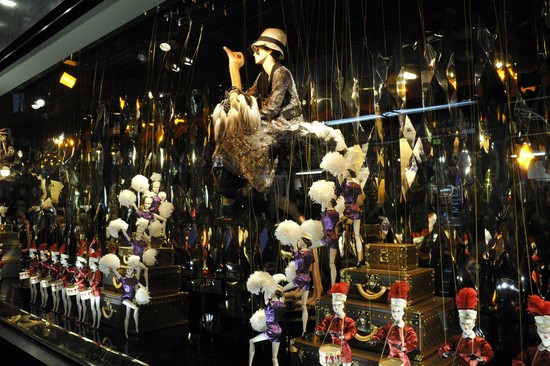 The Diwali-themed Louis Vuitton windows must have charmed all Indians world-wide as much as the stylish conveyor belt at Louis Vuitton's window display at 5th Avenue flagship store must have wooed all New Yorkers.
We were also bowled over by Louis Vuitton 5th Avenue flagship store that displayed LV-stylized creatures and Louis Vuitton bags must have had a smooth ride on a roller coaster at Champs-Élysées store. Also LV's window at South Coast Plaza in Costa Mesa, California was swarmed with golden bees and golden honey.
[WWD]