Last month we gave you a sneak preview of Louis Vuitton's color filled Summer Collection, now we're picking out a few of our favorite accessories from the Monogram V and Ramages collections. Both ranges are filled with bursts of high voltage color, perfect for a tropical vacation or to brighten up a dreary day in the city.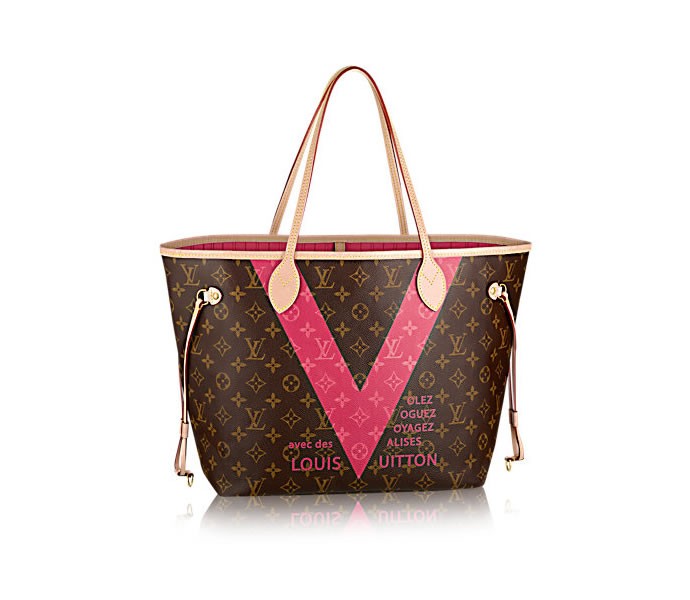 Neverfull MM Monogram V, $1,620
Even though the Speedy is usually a favorite with LV fans, we couldn't take our eyes of the Neverfull MM. Its tapering shape is a better complement to the bright pink "V" splashed across the front and the "Volez, Voguez, Voyagez avec les Valises Louis Vuitton" really makes us want to pack our bags and head to the beach!


Lockit Bracelet, $405
This leather bracelet combines the iconic monogram print with bright splashy colors from the summer collection. Its clasp is inspired by the locks of historical Maison trunks making it a perfectly travel ready accessory.


Ramages Dot Square, $485
Our first pick from the Under the Sea collection is the Ramages scarf that features an orange and coral print against a white background. The silk scarf is a bright and fun addition to summer outfits.


Keepall 45 Ramages, $2,220
A fresh and colorful take on classic LV luggage, the Keepall Ramages offers sturdy leather handles and shoulder straps and golden brass hardware against monogram printed canvas overlaid with the Ramages print. A cool companion for all your summer getaways.


Voyage Sandal, $970
With a bold block heel and neutral ankle straps, the Voyage sandal is ready for all your seasonal adventures. A pop of color on the front keeps the sandal flirty and cool. A metallic golden plaque engraved with the LV logo, on the heel reminds us that LV travelers are always chic!