United Nude has been at the cutting edge of footwear design for a while now. The brand's sculptural and architectural pieces are heavy on futurism and are a far cry from standard red carpet fare. Taking the label a few steps further is the newly announced range of 3d printed footwear designed alongside a host of notable architects and designers. Architects Zaha Hadid, Ben van Berkel and Fernando Romero and designers Ross Lovegrove and Michael Young were enlisted by United Nude founder Rem D Koolhaas to create a collection of women's shoes solely using 3D printing. Each designer's offering is something unique and artistic.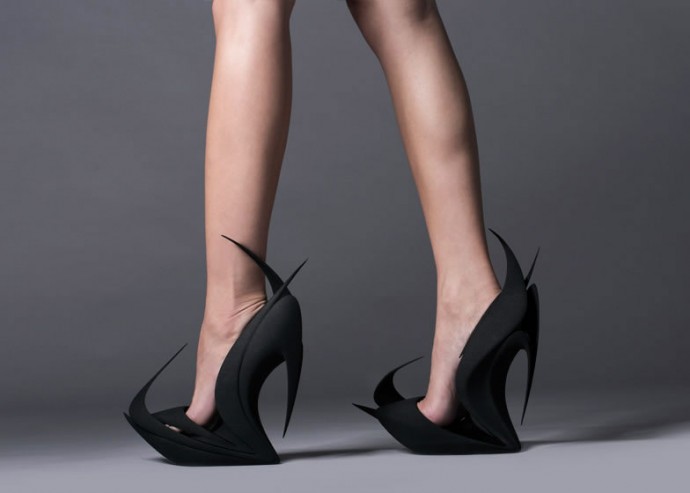 Flames by Zaha Hadid
Zaha Hadid's second shoe for United Nude is a stylized variation of a classic pump, but looks like something out of a gothic fairytale. They feature an elaborately curved spikey detailing that makes your foot look like it's been engulfed in black flames.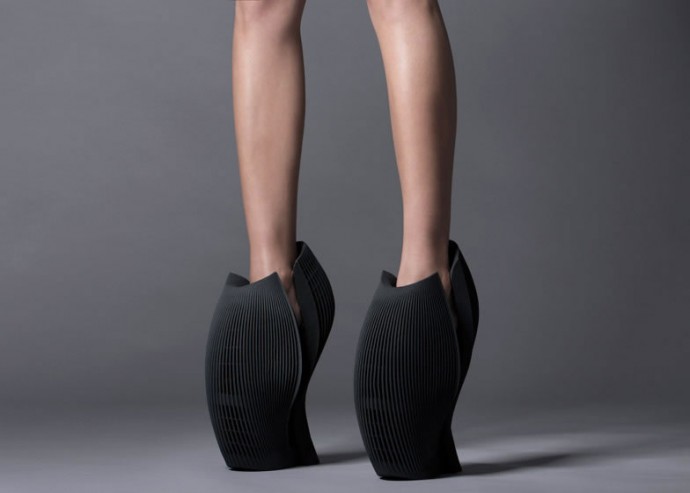 UNX2 by Ben van Berkel
"We started off by thinking about how we could work with the idea of verticality and how you can extend the length, especially if you see it from the back," Van Berkel told Dezeen about his UNX2 shoe which is a hoof-like construction characterized by an all-encompassing curved shell. "They are very easy to walk in," Van Berkel added, "We made a strong construction inside the shoe so that whenever you walk on it you feel stable."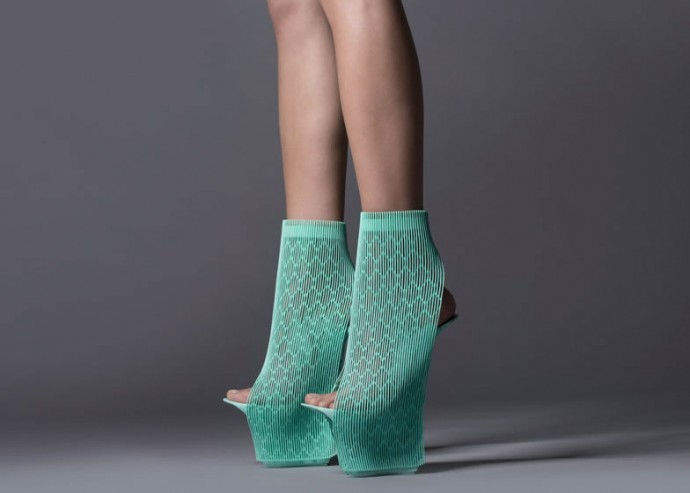 Ilabo by Ross Lovegrove
Ross Lovegrove worked alongside Grasshopper software expert Arturo Tedeschi to create linear mist-like mesh that falls almost like a curtain from the ankle, parting only at the toe and heel. "I've gone for extreme verticality," said the British designer "I'm interested in the idea of de-materialism and minimum material and I also wanted to see the foot, I wanted the ladies' anatomy to participate in the design." We love that he chose a color reminiscent of seawater for his shoe.
Young Shoe by Michael Young
This Hong Kong based designer's contribution is a shoe consisting of a solid black platform topped with a latticed block positioned at an angle to the ground. "It's actually comfortable to wear although it doesn't look like it," Young told Dezeen, "I just wanted to take a completely different approach to the way we normally work and just embrace that sculptural aspect."
Ammonite by Fernando Romero
Inspired by the spiral shells of fossilized sea creatures, Mexican architect Fernando Romero's red Ammonite shoes have an incredibly detailed geometric profile. These shoes look like they belong in Atlantis as even the color reminds us of sea coral.
Each shoe took about 24 hours to make using a sPro 60 selective laser sintering (SLS) machine from 3D systems. They will be displayed at the Teatro Arsenale in Milan until 19 April.
[Via – Dezeen]