Vertu is, for all intents and purposes, a symbol for the affluent who would insist that even their technology be a reflection of their status in society. As much as it can be used to 'show-off' one's exclusivity, Vertu has also managed to produce devices that are quite capable of getting all of one's communication jobs done and then some. They've never wavered from their principal offering which is the production of technology that meets users' needs while being packaged with exclusive services and ensuring that only the best and most luxurious materials are meticulously put together inside a shell that is just as hardcore as it is beautifully hand crafted.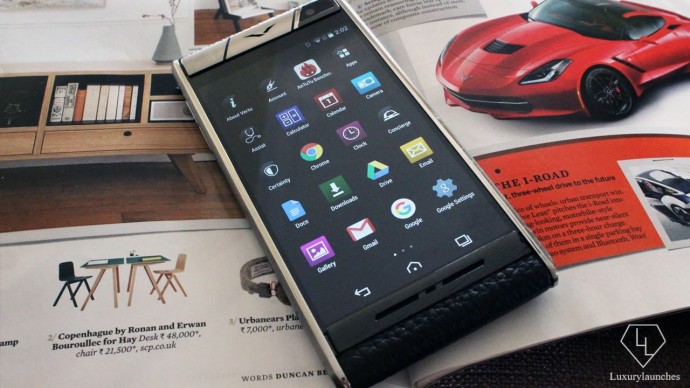 The elegant and very stylish Vertu Aster made it to our test center recently and we was quite eager to see just what the handset could do knowing full well that in some ways it is almost the absolute equivalent to the Signature Touch in terms of specifications; nonetheless we put it through its paces and here's what we can tell you about the Vertu Aster, Onyx Calf edition:-
Hardware and Design
As we mentioned earlier, in terms of specifications, there's nary a difference between the older edition Signature Touch and this, the Aster. Both units feature a 4.7-inch Full HD (1080 x 1920) display that's encased behind a Sapphire Crystal screen with an oleophobic coating keeping all scratches and smudges at bay. The same Qualcomm processor i.e. the Snapdragon 801 with the Quad-Core CPU running at 2.3 GHz and 2GB of RAM is used to power the Aster that is unfortunately still functioning on Android 4.4.2 (Kitkat). Memory is supposed to be locked-in at 64GB without the support of a memory card being available, however, the unit we received only showed a total 43.5GB of user memory available. We're attributing this to the fact that it's a test unit. The lack of expandable memory on a device in this price range is something a few might find hard to contend with. That being said, the Aster does support USB OTG (on the go) that allows you to plug in a thumb drive and access data off of that.
The design is just as exquisite as the Signature Touch, the Grade 5 titanium that's used in the Aster's build adds to its weight putting it at a slightly heavy 193g; however, it's nonetheless a very balanced handset and the heft does make it seem a little more robust. While the design of the Aster is clearly not identical to the Signature Touch, the placement of keys is the same – the hand-polished ruby key that functions as a quick access button to call on Vertu's exclusive services, is located above the power/screen-lock button and just under the micro USB charging port. On the other side of the 11.2mm thick handset is the 3.5mm earphone socket followed by the Volume keys. All the screws on the handset, whose visibility only adds to the device's aesthetic appeal, are hand crafted and hand-turned. The ergonomics of the Aster are so very precise that handling the handset i.e. access to all the keys etc. is always within reach.
The 'Pillow' or earpiece is also made of titanium but features a brushed finish to highlight the very prominent company logo. A 2.1 MP front camera is adjacent to the earpiece; although the company website states that it's "Skype compliant", ironically the free app is not pre-loaded onto the handset. The laser-blasted, Black Polished, hand-brushed PVD (Physical Vapour Deposition) titanium sound bar is located below the display. It's the concentric 'race-track' detailing of the brushed titanium that gives the Aster its sleek look.
On the rear panel is where you'll find the 13 megapixel, Hassleblad certified primary camera that also comes with a Dual LED flash. To access the Nano SIM chamber, Vertu has gone with a push and slide, spring operated panel. The Onyx Calf Leather paneling around the handset gives the Aster a rich and refined finish.
According to the company, the Aster has been rigorously tested for strength by dropping it on concrete, freezing it to -45°C, baking it at 80 °C, and has also survived being pummeled with ball bearings, it's a pity we couldn't quite do all of those things, but it did withstand basic wear and tear and being tossed around inside a ladies handbag; it came out unscathed. Without the slightest hint of being sexist, that's a test that can matter quite a bit.
Software
The KitKat version of Android is quite minimalistic and one could even say that it almost seems like a stock edition of the operating system. Save for the stylized app icons, Live Wallpapers that include artwork from Tate Gallery's famous masterpieces and ever preset Vertu-centric apps, the Aster is bare minimum in terms of extras. Let's start off with the preset company installed applications:-
First things first, post setting up your Android account you'll need to create or login to your Vertu account to access the various services that the company offers –
Vertu Life is an all-access service that gives you updates on the various special offers their customers can avail of based on their location on the globe. From sports to fine-dining, cooking, tours, wine tastings etc. there's plenty to go around. You also have the option of presetting the services based on your interests. Some, if not most, of these "events" are by invite-only.
Vertu Certainty has been especially designed to provide users with a host of integrated security features and services. The company has tied up with providers like Kaspersky (12-month subscription with remote wipe capabilities) to keep your data protected. Other partners include iPass WiFi (access to over 13 million global hotspots; new users get a 6-month complimentary subscription), a free 12-month subscription to Silent Circle that also includes Silent Phone and Silent Text for secure calling and communications and a remote assist service.
And last but certainly not the least, is Vertu's famous Concierge service that is also complimentary for the first 6 months. This is a 24/7 service accessible from all corners of the planet with a dedicated group of people who would put you at the top of any waiting list be it for tickets or any other priority bookings. They're service boasts of being able to find you the perfect gift or even providing you with access to those extra exclusive 'money-can't-buy' events and experiences.
Something that's worth mentioning is the fact that Vertu has included specially created ring and alert tones, that have been composed by those renowned in the field and all of which are performed by the London Symphony Orchestra. While it may not seem like a big deal, this is quite exclusive to Vertu devices.
Another very relevant partner that helps enhance Vertu's value for their customers is Dolby Digital Plus, who provides the back-end capabilities for the Aster's audio functions. Preset options that boost the device's audio to help make movies sound better with virtual surround and rich sound enhancements for music. Audio profiles are easily accessible via the customized volume interface to switch modes. AptX helps enable clean and powerful audio streaming via Bluetooth as well as for smoother videos and gaming. One of the better features, but not one that isn't available with most high-end smartphones and others, is active noise cancellation that helps provide for clear tones while on calls.
The performance on the whole was just a tad disappointing as the interface felt a little laggy and sluggish. One of the biggest issues we faced was with the camera where it took quite a while to capture images and a few seconds more to save them. Again this could be because it's a test unit, but if you've had any issues with this, please do let us know via our comments section below. Benchmark scores don't really put the Aster anywhere at the top of the list, but purely from the specifications perspective, it's no slouch either. We did however encounter a problem of the handset heating up quite a bit when apps or functions like games, video playback and the camera were in heavy use, not that newer handsets with upgraded processors haven't been reported to get warm too.
The 13 megapixel Hasselblad certified camera is one of the Aster's assets and performs extremely well in most conditions. Image quality is quite solid and colors and details remain quite accurate throughout. One tiny issue we faced was the overexposure in backgrounds when shooting in broad daylight conditions. Although adjusting the Exposure levels manually did help to an extent, sometimes one doesn't have the luxury of waiting and simply assumes the Auto feature will do the trick, and it does, but this unit did seem to have a minor hiccup.
What was quite impressive was the camera's reproduction if images taken in low light locales. In Auto mode or using HDR (that takes too long), image details, lighting and other intricate aspects are quite visible. The Dual LED flash also comes in very handy to light up those darker regions.
The camera comes with plenty of handy features that include Face Detection, a countdown timer and manual options like controlling ISO levels, Exposure, White Balance and metering which are quite commonplace among the smartphone camera genre. Scene modes are also available as presets and also include a Burst mode.
Video capabilities comprise 1080p video capture, a Time lapse mode, Video HDR, manual White balance and a slow motion option.
The front facing 2.1MP camera is about average as that range goes, but one would expect a little more in terms of image size for the weight of the price tag.
The 13MP camera sensor is, incidentally, protected by a Sapphire glass to ensure you're always capturing crystal clear images.
The Vertu Aster packs in a 2275 mAh battery which doesn't quite make it a handset that could be used for over 24 hours. On a day with average use, we got it to run for a good 9 hours (give or take). Usage included a few calls, messages, mails and photos.
The Bottom Line
There's no denying it, the Vertu Aster is a gorgeous looking handset, but with a set of features that are a little ho-hum. There's plenty of potential here which Vertu could easily cash in on and we have no doubt newer models will take things to a new level. Its 'hand-made' tag gives it that exclusive edge it warrants and Vertu's various services makes their handsets akin to an all-access, VIP card that will get you what you want and where you want to go without much of an effort.
The Aster's price tag is a whopping $6,785 (INR 4,75,000) which can make the average smartphone user's heart skip a couple of beats, but do keep in mind, these handsets have been designed to cater to individuals who have made it to the top and want the world to know it. Besides the Onyx Calf leather, the Aster is also available in a slew of chic options that include Lagoon Calf, Blush Calf, Caviar Karung, Tangerine Karung, Raspberry Ostrich and Cognac Ostrich.
Note: The review unit was a demo phone with nil functionality for Vertu apps.