A bar is as a bar serves. But with everyone (and their neighbor) tipping into the neighborhood watering hole for their favorite tipple more often than they'd like to admit, bars have taken on a whole new relevance. A culinary revolution is now a thing of the past. Mixology is making the latest and lasting statement. That said, we also know that mixology by itself wouldn't suffice for the opulence loving. So, we're striving to go beyond that and taking a look at what makes a bar besides its cocktail list. Say, for instance arty décor or its 'after-party place' tag following an adrenaline-pumping Miami Heat game. After sneaking a peek inside America's top-5 best-designed restaurants, lets take a look at five such bars in the United States.

5) Virgin Atlantic JFK Clubhouse, New York


"Just like every Virgin Atlantic Clubhouse, there's no mistaking which city it lives in." And its uptown style and sensibilities are perhaps what bring it to number five on our countdown. Its 10,000 square feet of New York-ness is all thanks to Slade architecture and Virgin Atlantic Design.


"A world of graceful elegance, with cascading, shimmering golden ceilings of lighting, and soft, decadent textures" welcome you as you enter the lush lounge. Metallic hues and neutral tones meet modern interiors, while the sultry bar serves up signature cocktails. The eyeball-grabbing red ball sofa is designed to amuse and serves as an architectural marvel made to bask in a mellow bliss.
[Virgin-Atlantic-JFK-Clubhouse]
4) W Living Room Bar, San Diego


A quirky place with a quirkier creator, the W Living Room Bar is the (alcoholic) design-child of Mister Important, no kidding. The eclectic setting masters the art of drinking within striking décor that features an eye-in-the-sky DJ booth showcasing "famed mix-masters on any given evening".


"Eclectic" here includes floor to ceiling mirrors, well, mirroring the bar's myriad imagery. Think neon meets metal meets tradition. It encapsulates all things imaginable, from tall lamps and elegant upholstery to flaming (no pun intended) red chairs forming a bonfire-centerpiece.
[W-Living-Room-Bar]
3) The Bourbon Room, Las Vegas


Bellini Bar and Lavo nightclub being its luxurious siblings, The Bourbon Room at the Vegas Venetian is unsurpassed to say the least. Owing to its musical proclivity perhaps. Joshua Zinder does justice to this "Rock of Ages" inspired space by going all out in depicting it as the real-life Sunset Strip club.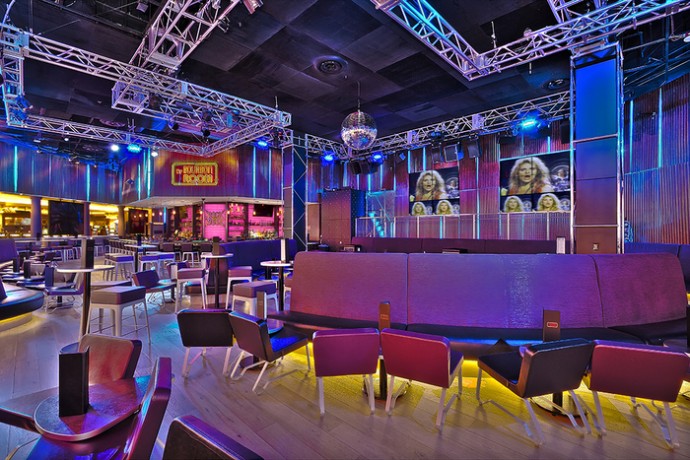 Besides offering posh patrons a menu of sixty different kinds of bourbons, some of which are made specifically and exclusively for the Bourbon Room, the space evokes a "backstage-meets-back-alley" feel very reminiscent of the '80s yet in sync with modern sensibilities.The guitar-pick-shaped tables and chairs made with faux leather and metal studs are all specially designed by JZA+D. In tandem with the aesthetics is the service. A crew of leather and lace-clad cocktail servers completes the "room's" old-fashioned revelry.
[The-Bourbon-Room]
2) The Living Room, Seattle


Taking libations to the living room yet again is W hotel, Seattle. Exuding a laidback luxe (and how), the place possesses one level that glints metal wherever it meets the eye, so much so that even colors contain that distinct gleam. This plush zone leads to a second level that takes the place from lair-like to one of muted beauty.


Skylab Architecture has seemingly succeeded in converting the client description of, "a redesign (of W Seattle's public spaces) that melds together layers of the past, present and future that represent the Emerald City" into an ultimate, timely reality. The walls, the furniture, the flooring, all carry a homogenous quality that brings them together to create a space of great rarity.
[The-Living-Room]
1) Hyde Lounge, Miami


Hyde in the American Airlines arena is home, albeit an exclusive one, to the hottest nightlife of Miami. And while that unspeakably ushers it to the top spot on the 'most luxurious bars' list, it even has interiors to match its glamorous clientele glory.


Splayed with life size Oscar-esque statuettes, its ambience is decadent to the point of being stage-worthy. Dark interiors invite intrigue courtesy Gulla Jonsdottir. The sculptural space being contemporary yet dramatic reflects an artistic integrity.


Its multiple bars, an array of lounge seating and a private dining room scream chic. Located court-level on the south end of the arena with an exclusive VIP access point and valet, the lounge offers award-winning mixology, cuisine, events and hospitality.
[Hyde-Lounge]