Gourmands in the house – here's a list of that you simply cannot miss! We're talking about chefspencil.com's latest list of the most expensive Michelin Starred restaurants in the world. Yes, that's right!

After rolling out a list of the most expensive cities and countries to dine in, the portal has now collated names of restaurants with the highest-priced full-tasting menus. After researching close to 500 Michelin-starred restaurants to reach the results, the team has come up with the top 15 names. And Listed below are the 11 most expensive Michelin Starred restaurants in the world as per the study:

9) Ciel Bleu (Amsterdam, Netherlands) – $574 per head:
Located in Amsterdam's Zuid district, the two Michelin star Ciel Bleu presents exclusive dining along with panoramic views of the city from the 23rd floor of the Okura hotel. Those in the mood to indulge can book the "chef's table," a U-shaped marble slab, where they can witness their meal being prepared right before their eyes. It is best known for its king crab with Baeri caviar and Beurre blanc ice cream, as well as the exclusive Ciel Bleu Caviar menu.

8) Piazza Duomo (Alba, Italy) – $580 per head:
When it comes to the best dishes, how can Italy be left far behind! The first entrant from the country is Piazza Duomo, based out of Alba. The restaurant grows its own vegetables and leafy greens in a "biodynamic" garden situated on the same premises. It is the epitome of local cuisine and a standout in Alba's Piedmont region.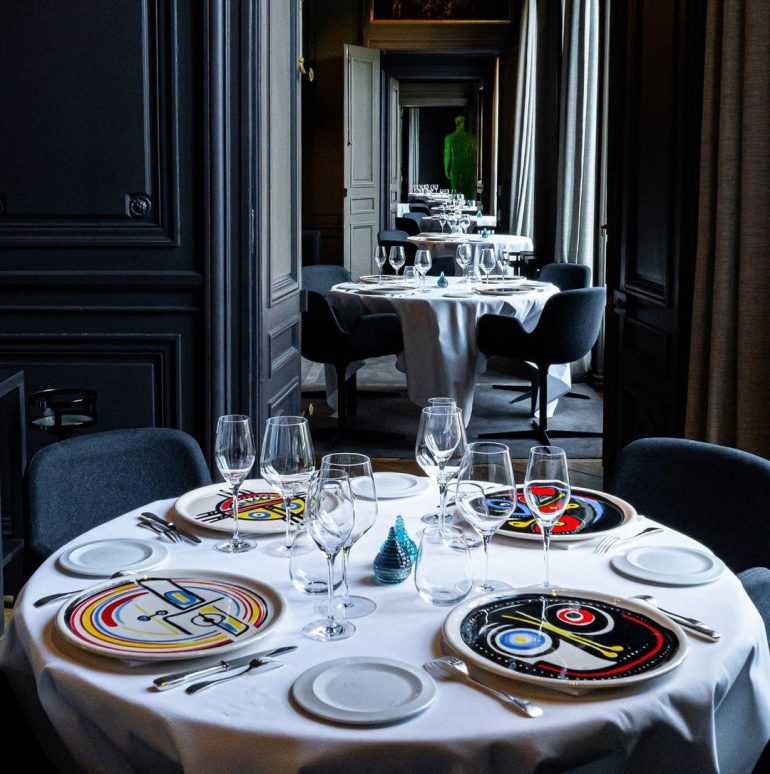 7) Guy Savoy (Paris, France) – $615 per head:
Complete with six rooms, Guy Savoy is a sensory delight thanks to its colorful dishes and contemporary art that adorns its walls. It is beautifully located on the Seine river and provides diners a rich dining experience with foam droplets and edible flowers adorning the plates.

6) [TIE] Joël Robuchon (Tokyo, Japan) – $637 per head, Kikunoi Honten (Kyoto, Japan) – $637 per head, Gion Maruyama (Kyoto, Japan) – $637 per head:
On the sixth spot, we have three restaurants in Japan. The Joël Robuchon in Tokyo presents an unparalleled flavor of French with its château design, crystal chandeliers, and fine European cooking with hints of Japan on the plate.

On the other hand, Kikunoi Honten offers a delicious fusion by blending western elements with traditional home-based cooking. It further doubles as a museum of Japanese culture that is situated inside a quaint ancient temple offering delectable dishes by chef Yoshihiro Murata.

Lastly, we have Gion Maruyama in Kyoto that focuses on natural flavors and ingredients with a seasonally shifting menu. On a rotating basis, guests can savor bamboo shoots and pregnant grouper in spring, hamo pike in summer, matsutake mushrooms in autumn, and snow crabs and pufferfish in the winter months. The only sort of culinary riot we love is this!

5) Masa (New York City, United States) – $800 per head
In moving away from Asia but not from Japanese cuisine, we have Masa in New York City. Inside the culinary gem, head chef Masayoshi Takayama creates magic with exquisite sushi creations on plate ware personally designed by him. Each dish includes a unique spin on Japanese cooking and is a must-to-be-experienced.

4) Azabu Kadowaki (Tokyo, Japan) – $825 per head
Another gem in Japanese cooking, Azabu Kadowaki in Tokyo, is a delight for those craving a unique gastronomical experience. It houses a six-person hinoki wood counter for guests to sit at and watch the chef cook their meal on an open charcoal grill. The kitchen is headed by world-class chef Toshiya Kadowaki with each meal served in intricately crafted Japanese ware to further notch up the experience.

3) Kitcho Arashiyama Honten (Kyoto, Japan) – $910 per head
Providing diners an exclusive insight into traditional Japanese food and architecture, the Kitcho Arashiyama Honten in Kyoto is a spectacle of sorts. It houses seven dining rooms, each overlooking an traditional Japanese garden.

And keeping close to its natural theme, the offerings at the restaurant also include a generous use of fresh seasonal ingredients, ranging from wild radishes to ise-ebi lobster.

2) Ultraviolet by Paul Pairet (Shanghai, China) – $1,422 per head
Walking into the footsteps of Sublimotion, Ultraviolet also provides a unique culmination of virtual technology and dining. Each table is surrounded by walls of moving pictures, with diners being called to enjoy small plates of delectable meals, including foie gras cigarettes and moon cakes baked with traditional French ingredients.

The menu is mainly western-influenced with a touch of Asian goodness.

1) Sublimotion (Ibiza, Spain) – $1,740 per head
Located in the plush lanes of Ibiza, Sublimotion offers diners a truly unexpected dining experience. A cyber chef concocts lovely meals in front of guests, giving them an opportunity to walk through the entire gastronomic process step by step.

And although the restaurant is not Michelin approved, it is the restaurant's Head Chef and one of its founders – Paco Roncero, who creates all the magic with two Michelin stars under the belt.
Well, if it's the finest of dining, it's got to be at one of the above places!