The Ritz Carlton, Hong Kong has had a longstanding high-tea tradition. They collaborated with Italian jewelry brand Damiani over luxurious afternoon tea treats and subsequently Graff Diamonds. This time they're teaming up with French gourmet chocolatier Jean-Paul Hévin for an afternoon tea tribute to the 2014 World Cup. What that means for patrons is a unique selection of savouries, and sweets that use some of the world's most exceptional and refined cocoa beans at the hotel's Café 103, from June 1 to July 31.

"At Cafe 103, we are very loyal to chocolate. We only use best quality chocolates for our renowned afternoon tea. Each item in this tea set is created with an element of one of the origins of chocolate—South America—in mind, creating a set of unique southern flavors for chocoholics," said The Ritz-Carlton, Hong Kong's Executive Pastry Chef Richard Long. These flavors crafted by the renowned chocolatier Jean-Paul Hévin would be making their first ever entry into Hong Kong.
They include crusty chocolate tart, Brazilian chocolate bonbon in honor of the World Cup hosts, Peruvian 'piura' chocolate macaroon, "Macae" strawberry pepper verrine – and coffee hot chocolate combining both of Brazil's most noble ingredients. Two French pastries – Madeleine and Religieuse, get a Brazilian twist as the melt-in-your-mouth Madeleine pastry comes flavored with orange, Brazil's most popular fruit. And the traditional French pastry La Religieuse is filled with cream and topped with chocolate made from the finest South American cocoa.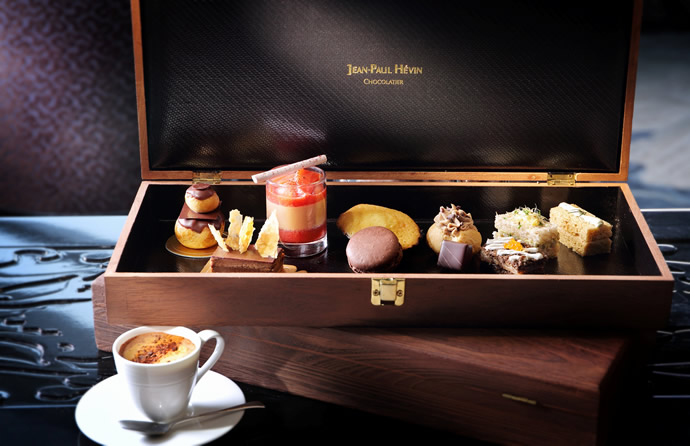 Macaron Piura chocolate ganache is meanwhile made with cocoa beans from Piura, the birthplace of white cacao from northern Peru, we hear, with a distinctive flavor of freshly roasted hazelnuts and red berries with soft acidity that leaves a lingering, generous taste of dark chocolate on the palate. "I visit South American cocoa plantations almost every summer sourcing finest cocoa beans, and this collaboration showcases the finest fruits of my journeys with an extraordinary afternoon tea voyage," said Hévin.
Along with Hévin creations, Chef Richard Long presents indulgent savouries of duck foie gras pate mini puff with Cuba cocoa nibs, smoked salmon marinated with vanilla cocoa oil on rye bread, Brazilian coffee bread sandwich with seafood and dill cream, and truffle egg mayonnaise on brown bread. The South American-themed twinning of savories and sweet treats will be served daily at Café 103, The Ritz-Carlton, Hong Kong throughout June and July from 3:30p.m. – 6:00p.m.
The 'Jean-Paul Hévin Chocolate Afternoon Tea Set' is priced HK$318 ($40) for one and HK$538 ($70) for two on weekdays and HK$338/HK$558 ($44/$72) over weekends and public holidays. The price includes tea, coffee or signature hot chocolate – and the winning combination can be celebrated with a glass of Veuve Clicquot Champagne for an additional HK$220 ($28) or sparkling Moscato d'Asti la Spinetta for an extra HK$140 ($18).
Address :
The Ritz-Carlton, Hong Kong,
International Commerce Centre,
1 Austin Road West,
Kowloon,
Hong Kong
Phone: (852) 2263 2263
[Ritz-Carlton-Hong-Kong]