Wish to taste the Guinness Book of Records recognized – most expensive cognac sold at auction? Here's your opportunity. Log on to the FinancialDistrict Wine& Liquor website and order your bottle of Cuvee Leonie by Cognac Croizet (750ml) for $157,000. The cognac hails from a single harvest batch that dates back to 1858 (Cuvee Leonie). Two years back, a bottle from this unique batch sold at an auction in Shanghai, China, for approx. $156,760. Moreover, buyers, you must know that this exclusive bottle has a history to it. Sources reveal that according to author Joseph Scott "Winston Churchill and General Eisenhower plotted the allies victory in World War 2 over an 1858 Croizet that had been secreted out of France by the French Underground."

The Cuvee Leonie by Cognac Croizet is one amongst a handful of bottles that the Croizet family have carefully preserved in their "Paradis" – a unique room housing pre-phylloxera eaux-de-vie dating back to 1858. Adding to its exclusivity is its taste and aroma, one that can never be recreated.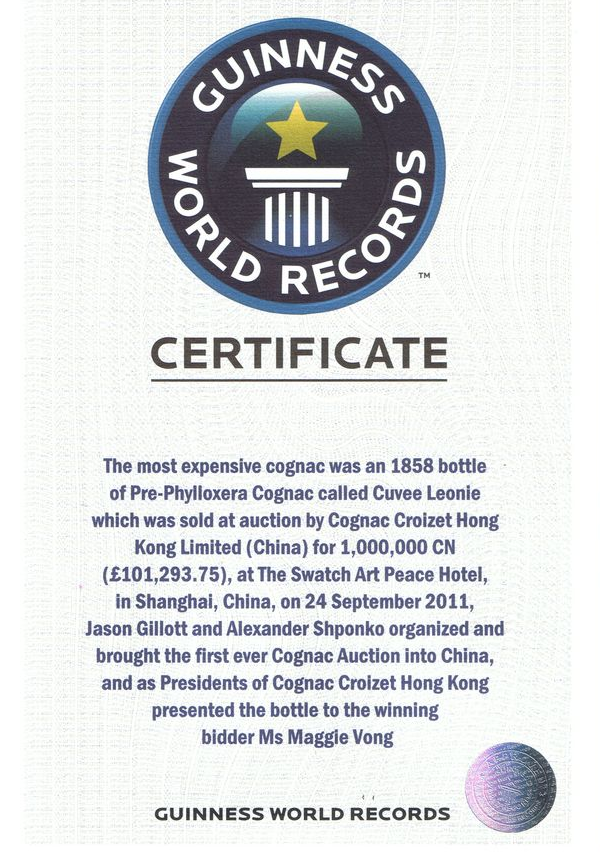 Special shipping options can be arranged.
[Via – Fidiwine]