Ordinarily, people are obsessed with the contents of their vaults. In the case of the Bugatti x Buben & Zorweg hyper-safe collection, the mini vault becomes the cynosure of attention. This limited edition collection of safes was designed to resemble the Bugatti hyper sports cars. "Buben & Zorweg shares our ethos of creating unique masterpieces," said Wiebke Ståhl, Bugatti International's managing director. "By working closely with their team for more than 18 months, we have developed a range of limited edition high-security safes that embody the spirit of both of our brands. Timeless design, ultimate craftsmanship, and technology that pushes boundaries."



The Hyper Safe Collection comes with a C-Line, akin to the Chiron, and a "shark-tail" line on top of the safe evokes the Type 57 Atlantic, a motif synonymous with Bugatti design. Constructed using a high-strength steel core and carbon fiber, Hyper Safe Collection offers unmatched high-security safe technology. The units' meticulously crafted front and door handles require 3,000 milling steps to complete while a Light-Arch-Protection Coating (LAP Coating) makes it more resilient to scratches. The safes are available in three colors. As the name suggests, the "Hyper Light" model looks subtle yet striking in Napa leather in Pearl Beige and Shadow Gray. Those who like their accessories and furniture dark may opt for the "Hyper Dark" model in mocha Brown and Powder Gray leather.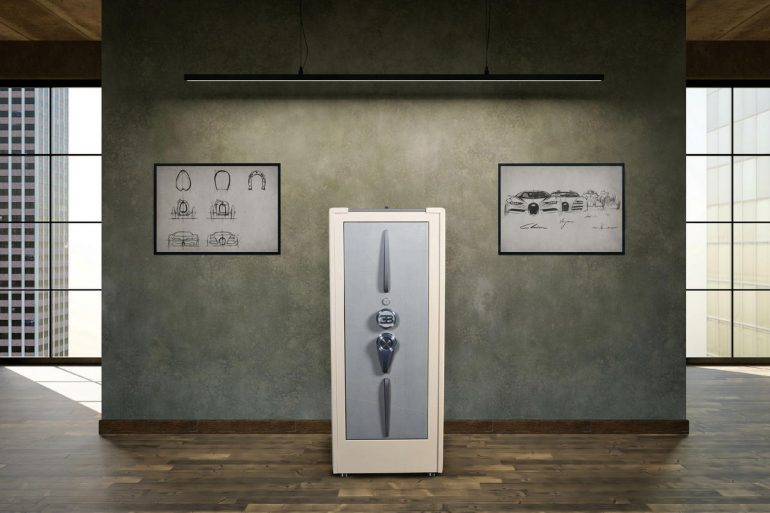 The third iteration, dubbed "Hyper Track," flaunts a Track High-Tech carbon fiber finish on the door, the side, and the top, paired with Pace Blue leather and stainless steel elements. The all-new Bugatti x Buben & Zorweg Hyper Safe Collection is limited to only 25 models available through Buben & Zorweg's website.