A bedroom is an essential space in any home. It is, after all, the place where you spend the most amount of time when home. Most people like their bedrooms to be an extension of their personalities, and we have come across some bedrooms that genuinely have an essence of their own; they might as well be a person! Listed below are 25 such rooms placed in different natural environments and each stunning in its own right:



An artsy loft bedroom in Mumbai, India
This artsy bedroom was made in the attic of an old colonial-style building in Mumbai, India. It uses ample wood and art to add oodles of personality to the space. An artsy room is not one with standard windows. It's flanked with unique arched windows that are eye-catching and pass enough natural light to add to the cozy ambiance.

Minimalistic room, big on view in Jiangsu Province, China
When the exteriors are stunning, one should make it part of the interiors and this room shows us how! It brings the outside bamboo scenery like a traditional scroll painting into the room. The otherwise minimalistic room disregards the divide between indoors and outdoors and seamlessly fuses them as one. A perfect example of balance!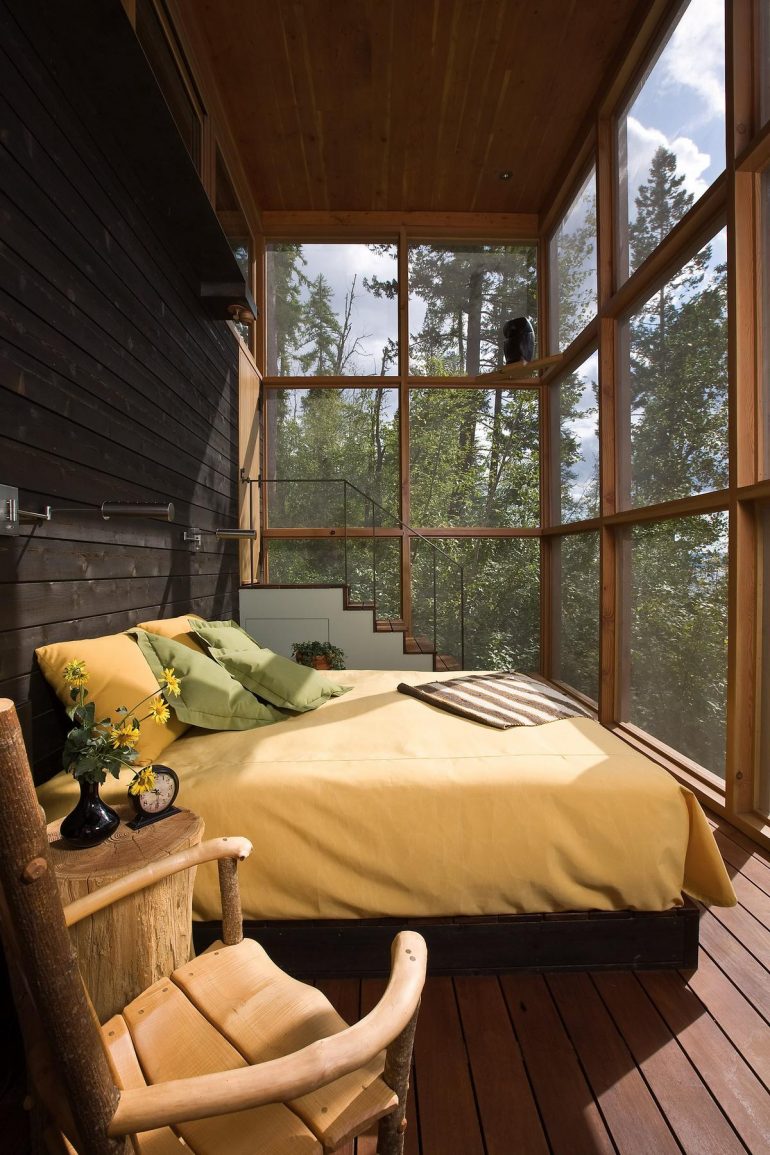 All wood wonder in Flathead County, Montana
For the nature-lover, it doesn't get better than this wood bedroom in a retreat in the wilderness at Bigfork. The ceiling-to-floor windows give uninterrupted views of nature and bring in ample light.

Room with magnificent mountain views, Wasatch Mountains, Utah
The Wasatch Range is home to a high concentration of ski areas, and this great room is the best way to enjoy the unmatched scenery. The circular window holds a small door that takes you to the outdoor fireplace amid the greenest green. The estate is on the market for $14.9 million

Trendy loft bedroom in Pennsylvania
This eclectic home in Pennsylvania is on the market for $2.9 million, and we already know its USP. The room is excellent on so many levels, pun intended; it comes with a loft, a lounge area, a modern electric fireplace, walk-in wardrobe, and the most eclectic decor.

An enchanting, elfin room in São Paulo
If fairies ever designed a room, it would look like this unusual bedroom at Casa Atibaia. A dreamy, ethereal villa made entirely of glass on the Atibaia River in São Paulo. The fictional setting, inundation of green plants, and transparent ceiling-to-floor windows render it a garden-like appeal.

See-through sea-view room in Belize
Belize is a Caribbean paradise in Central America with the most stunning barrier reef and the bluest blue waters. This room in enchanting Cayo Espanto Island features a window on the floor so you can see the sea beneath.

Circular room in the mountains of Turkey:
This picturesque room is located between the snow-clad mountains of Turkey and is designed by Selami Bektaş. It includes a bathtub inside, perfect for dipping in warm water while enjoying the frigid scenic view of the outside.

Japanese-style bed and bath in Kapalua, Maui.
This multi-faceted room offers a lot in its well-planned space! From a giant cauldron-style bathtub, a commodious balcony, and island-type interiors, it looks like a room where one can live forever.

Octagonal cabin in the woods, Washington
This unique bedroom in the forest flaunts ample sunlight due to its triangular windows' most attractive feature. Waking up to a reinvigorated forest feels is incomparable at this rustic cabin in Washington.

Unusually cosy room in Vancouver
This room is located on the lower level of Eppich House II in West Vancouver. It's unusual encompassing glass ceiling over the bed makes for a terrific factor that's further amped by the see-through windows that reveal a soothing reflecting pond and the guest house. The house was started in the 1970s and completed in 1988.

Cozy fireplace room in Wyoming
This cozy bedroom with a stone fireplace is situated near Jackson, Teton County, Wyoming. It's all sorts of comfy with neutral hues, a hide rug, and comfortable seating.

Bedroom inside a glass cabin with panoramic views of Iceland countryside
In a country as scenic as Iceland, a glass cabin is a treat in itself. This cosy bedroom offers stunning 180-degree views of the gorgeous Icelandic countryside.

Monochromatic room of Eppich House in Vancouver
Arthur Erickson's Eppich House 2 has some very striking bedrooms. This room is a beautiful example of creating decor glam using one vibrant hue that ultimately elevates the space

Detailed Moroccan bedroom:
This looks like the bedroom of Arabian dreams. Immense detailing, synchrony of colors, and not overbearing, with the most incredible and detailed ceiling, make it a inimitable example of a bedroom. The designer has undoubtedly done a splendid job at this one.

Ornate Gold Bedroom in England
The room is indeed the picture of luxury and sits inside Burton Constable Hall, located in Skirlaugh, Hull, Yorkshire. Complete with an ornate poster bed, full-length mirror, gorgeous chandelier, and an old-school palatial vibe, this room got pulled out of a fairytale.

OTT Master Bedroom in Fort Lauderdale
Some people make bold choices, and while it's not everyone's cup of tea, they are still here for perusal. This OTT master bedroom uses the most unusual elements like UFO-type lights, yellow pop, and loads of textures and treatments.

Dapper, dark bedroom in Ukraine
This stunning dark bedroom design comes alive even with muted hues. Located in Lviv, Ukraine, it displays clever space and squeezes in an intelligently scooped walk-in wardrobe.

Victorian bedroom in New York
Nestled inside an 1878 Victorian mansion in Duchess County, New York, this bedroom brings out the old-school charm one would find at a palace. Dated wooden molded furniture, plush rug, and a perfect setting for tea with prince charming.

Floating bedroom in Singapore
If isolation is on your mind, this floating house with a floating bedroom should be your permanent address. Surrounded by serene waters on all sides, the floating palace and room are designed by Singapore-based architect Myitr Malcew for H2ORIZON, a French developer specializing in floating structures.

Curved corner bedroom in Nevada
This classy Clark County bedroom has all the makings of a beautiful space. The square window design contributes to the room's allure that stands out with statement-making yet straightforward pieces like a pendant light, planter, and plush rug.

Ultra-luxe bedroom in Toronto
This shot of the opulent bedroom gives you a peek into its grandeur. It is a stunning bedroom with breathtaking city views, a walk-in wardrobe at the back, and fabulous gold accents with a hanging chandelier centerpiece that immensely add to the luxury. The room is part of a $32 million penthouse suite in one of Toronto's newest luxury residential buildings

Breezy bedroom in Nova Scotia
Elaborate ceilings make attractive bedrooms, and this bedroom indeed rides on the fabulousness of its web-of-a-ceiling. This bedroom boasts 180-degree views of the ocean and is found inside The Lodge at Strum Island.

It's not accommodated inside a mansion but a refurbished shipping container that makes space limited. The room has a lovely resort-like feel with wooden canopy, massive glass doors, and a lush environment.

Wall-less bedroom of Harmony House, California
This tremendous and airy room is part of Wallace Cunningham's masterpiece in California, flaunting 360-degree panorama and environment. Owing to its open aesthetic, it almost gives one the feeling of living outside

Debonair bedroom in Ukraine
If we had to imagine James Bond in his pad, this would be it! The room pictured is built by the Ukrainian architect Sergey Makhno for his family and is located in Kozyn, a village in the suburbs of Kyiv. Some say the floors are made of 500-year-old oak, which lends this room its character and the dim decor and subdued treatment.