There are many reasons to fall in love with the Wynn Las Vegas. From the first moment you set sight on one of the majestic flower arrangements orchestrated by a team of 120 florists, to the moment you check-out of your well-thought out room – more on this in our complete review of a Wynn Tower Suites, the Wynn Las Vegas casts a spell on you. Here's what made my heart sing.

SERVICE, SERVICE, SERVICE
Service at Wynn Las Vegas is excellent. Staff appear beautifully groomed, friendly, and attentive at all times without ever being intrusive. Here, you can expect to be greeted by name and by people who genuinely care for your wellbeing. It is no surprise that Wynn Resorts have received the most Forbes 5 Stars (13 total) of any independent hotel brand, a distinction heavily weighted towards service.
GLAMOROUS POOLDECKS
The resort offers 6 beautifully landscaped outdoor pools that will remind you of an elegant Mediterranean garden. The vibrant colors of the vegetation subtly complement the turquoise, yellow and orange fabrics of cabanas and towels, creating an opulent décor straight from Alice in Wonderland.
The poolside playlist showcases all-time favorites and catchy tunes that will instantly make you pull out your phone and start Shazaming – good thing WIFI is complimentary in public areas.
HONEST DINING
Dining has been one of the major elements when designing the Wynn. 24 acclaimed restaurants and 11 bars are available in the resort. You won't find celebrity chef establishments unless the chef is in the kitchen every day to make sure guests receive the perfect experience. Wynn prides itself on sourcing only the best produce, which includes flying seafood in daily from Hawaii.
EXPERIENCE THE DREAM
Voted "Best Production Show in Vegas" for 7 years in a row, Le Rêve – The Dream is the water-based super production you must see. It explores the intricate universe of our dreams. It is poetic, dangerous, sensual, unpredictable. In our dreams, nothing's impossible; no one's here to tell us otherwise. For 90 minutes, dancers, acrobats, and technicians defy gravity, set water on fire, and inspire us to push the limits of our dreams.
There is no bad seat at the circular Wynn Theater: performers make sure to distribute their act all across the central stage so everyone can feel the thrills of the show. Book top row VIP seats to enjoy private monitors and watch live behind the scene video footage during the show.
GAZE AT THE IMPRESSIVE ART COLLECTION
Walking inside the resort or relaxing in your guestroom is an invitation to contemplate original pieces of art: an Eiffel chandelier, the uber-famous Popeye by Jeff Koons, and Picasso sketches to name but a few. To keep things interesting and to inspire, Mr. Wynn makes sure his art collection rotates regularly. "Taste of the Arts" brochures will help you locate art pieces across the property and are available at the Concierge desks.
WYNN AND ENCORE SPA & FITNESS
Both Wynn and Encore towers boasts fabulous Forbes 5 Star Spas and fitness facilities. While the Wynn Spa will remind you of a British Club, the design of Encore Spa will transport you in Extreme Orient. Located on Floor 2, the spaces are well-designed, beautifully appointed and as luxurious as the rest of the resort: textured floors, walls, and even ceilings create a premium cocoon for your workouts. Wynn even splurged on custom designed Cybex equipment.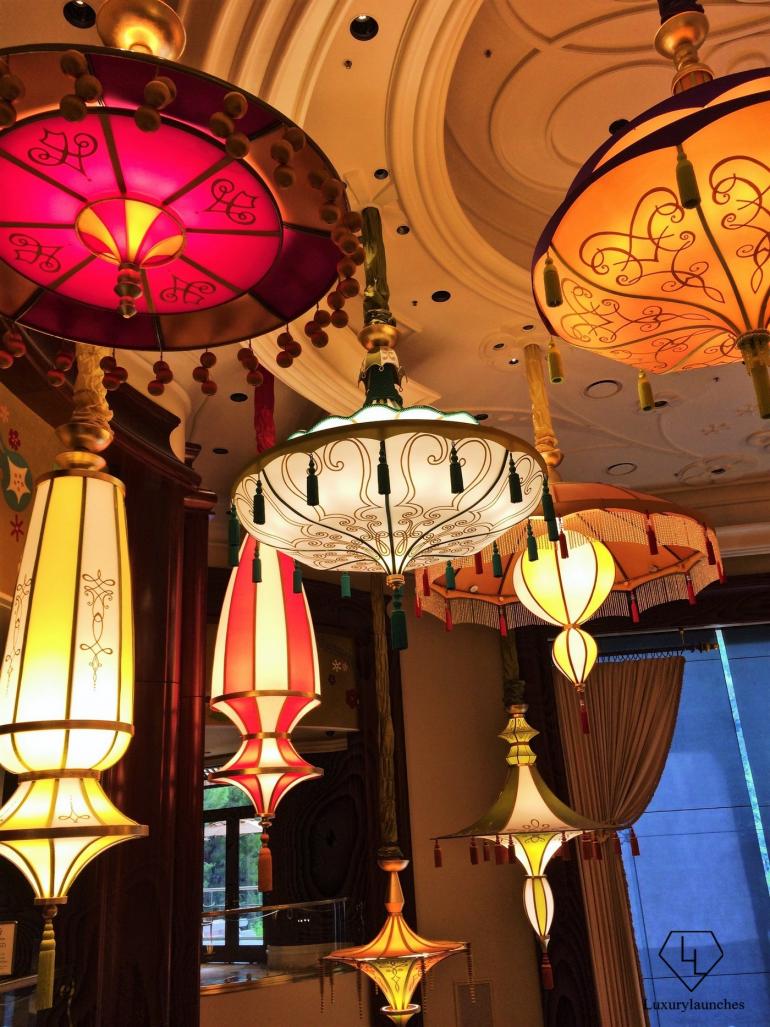 EVENING DRINKS AT PARASOL DOWN
Every half hour after sun down, enjoy a different show centered around the romantic Lake of Dreams. From animated flamenco dancers, to the singing frog, laugh, sing, and instagram beautiful shots of this protected outdoor venue. Hard to remember that behind the waterfall and stunning pine trees are the bustling Strip and the Fashion Show Mall. Specialty drinks are truly delicious and every connoisseur will dream of the cigar menu ever after.
DELUXE SHAVE AT CLAUDE BARUK BARBER SHOP
Claude Baruk is a Saint Tropez celebrity stylist who relocated to Las Vegas to pamper guests of Wynn and Encore. While on vacation, why not indulge in a Deluxe Hot Lather Shave? Not only working on your beard with pre-shave oil and hot lather, your therapist will nourish your hands with hot paraffin and apply a southing purifying mask. Purchasing a service of $75 or more grants you full-day access to the spa facilities.
XS NIGHTCLUB
XS is the Las Vegas reference for local and international DJ's. In the time of a week, this extravagant space welcomes David Guetta and The Chainsmokers, among others. Summer Sunday nights are especially building momentum with their Nightswim events where partygoers can show off their best bathing suits and dance, drink, and gamble by the glamorous Encore pool. The crowd is mainly 20s to late 30s, on the dressier/trendier side.
SHOPPING ON THE ESPLANADES
Shopping is a big part of any Vegas trip. Discover the latest fashion, new watches, and lavish treats along the Wynn and Encore Esplanades. To ensure it caters to all your desires, Wynn is expanding its luxury shopping offering by over 7,000sqm with the upcoming opening of Wynn Plaza.
PERFECT UPKEEP OF THE PROPERTY
The décor, materials, and furniture are of great quality and extremely solid and sturdy throughout the resort. The maintenance is also consistently impeccable: you won't find a stain, a chip, or anything damaged in the resort. Mr. Wynn and his team of professionals make sure appearances are always perfect, a real challenge at a Vegas scale.
Where: Wynn Las Vegas
3131 S Las Vegas Blvd, Las Vegas, NV 89109, USA
Phone: +1 702-770-7000
Note– The critic was invited by the Wynn Las Vegas. But all the opinions expressed herewith are his own.
Geoffrey Ravoire
Founder of UNITIATE, Geoffrey is a Marketing Expert, Luxury Specialist and Hospitality Enthusiast. Wherever he goes, his early career and personal interests have always helped him nurture and cultivate a passion for the Travel and Leisure industries. French born, Geoffrey has accumulated an extensive experience abroad, thanks to regular visits to foreign countries but also thanks to years of expatriation. Currently based in Chicago, Geoffrey has already lived and worked in New York, Shanghai, Singapore and Monaco. You can meet Geoffrey on Twitter and Linkedin.