The Hotel Café Royal and Parfums Givenchy are joining hands again for a fresh cocktail collaboration. In the past, the hotel's Green Bar has served up aromatic drinks inspired by Givenchy's iconic perfumes and this time we will see ten new cocktails inspired by L'Atelier de Givenchy fine fragrances and, the latest perfume in the collection, Iris Harmonique. This exclusive cocktail collection will be available in the hotel's Green Bar, debuting from 22 August to 30 September 2016, priced at £15 per cocktail.



The cocktails have been developed by Bar Manager, Derren King and they range from fresh, floral and summery concoctions, to headier, full-bodied cocktails. Combining scent and flavor, these drinks promise to be a unique sensory experience complete with fitting garnishes and glassware. Each cocktail will have its own distinct color and unique personality and taste, reflecting the key perfume notes which are unique to the renowned Parfums Givenchy. The perfumes will be placed behind the bar so guests can sample them and pick a cocktail accordingly.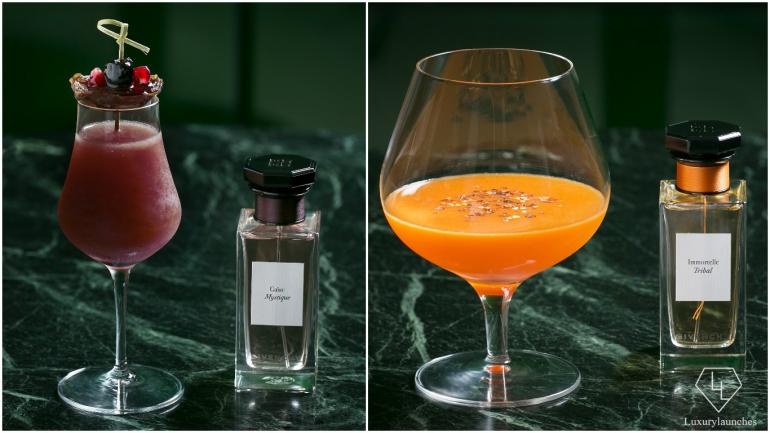 Cocktails on the menu include Chypre Caresse, a mix of Slingsby London Dry Gin with the aromas of freshly squeezed grapefruit, agave syrup and Peychauds Bitters, topped with Prosecco and Maraschino; Oud Flamboyant, displayed with light smoke and honeycomb, with woody hints of Nikka Coffey Grain whisky, coconut noir iced tea, Manuka honey and flash flamed cinnamon. Iris Harmonique will be a refreshing concoction of coconut-infused Ketel One Vodka, kumquat liqueur and lemon zest. All cocktails are also available alcohol-free.


To try any or all of these exquisite cocktails you can make reservations at the Green Bar by calling +44 (0)207 406 3310 or via email [email protected].