India is a beautiful country, and what beckons each one of us here is its vibrant and lively colors. Taking a cue from this mesmerizing cultural display, ITC Gardenia, Bengaluru, India, successfully attempts to beckon guests from far and wide by decorating its Presidential Suite in the exquisiteness of the country's national bird – the Peacock. Wrapped in fascinating hues of royal blues, green, and ivory, the room seems fit for royalty. More so, when it has to its credit a private helipad. The Presidential Suite at ITC Gardenia is considered the largest among business hotel suites in India. It sits at the highest point in the hotel and is spread across two floors, offering the best in facilities and services.



The suite is spacious and boasts glass facades both inside and outside. It has heavily included peacock motifs within, including a stunning glass mural that adorns an entire wall of the grand dining room, vibrant peacock feathers that stretch grandly across the softly piled beige carpet, color themes in each room, and the aquamarine infinity pool on the top floor of the suite, among others elegant features. Every space is an ode to the grandeur of the peacock.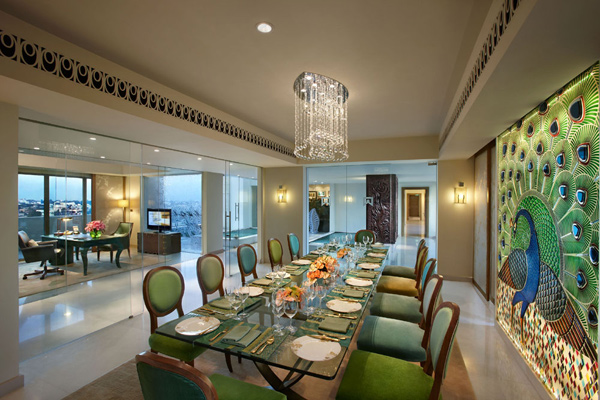 Other presidential privileges one can avail of are a complimentary buffet breakfast in a coffee shop, cocktails at Towers Lounge every evening, complimentary usage of board room at Towers Lounge for 3 hours (subject to availability), and butler service.