From JFK's pet terminal in progress to American Airlines paving a way for first class pet cabins, one can certainly conclude that pet travel is the hottest new fashion! Now, hotels are picking up on this trend! Most hotels especially the uber-luxurious ones are quite sceptical about entertaining your little pets! I mean we totally believe that it is unfair to leave your perfect tots at home while you are globe-trotting! Luckily for those visiting New York City this fall, there are a bunch of fancy hotels that have enhanced their amenities to make your pets feel just as loved!

Here are the top ten hotels in the Big Apple who are pet-friendly!


Loews Regency New York
Room service may be a mandate for us globe-trotters but a room-service menu for cats and dogs certainly grabbed our attention! Our beloved ones are entitled to an extensive menu specially prepped up by the hotel's executive chef! That ensures your loved ones feast on nothing but the best! The fancy hotel near Central Park also provides special beds, lip-smacking treats, maps of interesting dog-walking routes and of course pet walking and sitting services! This all ensures you enjoy every bit of New York!


Mandarin Oriental, New York
Frankly, I've always been a fan of Mandarin Oriental… The class, the sophistication and the service has always made it quite a favourite! Considering you and I get such fancy treatment, your pets are assured of nothing less! Each four-legged companion gets a gold tag inspired by the hotel's fan-shaped logo! Then of course there's a bit of treats, toys and a bed. Also, a special (on request) room-service menu waits!


W New York – Downtown
When one has a PAW (Pets program, you can safely assume your tots are in for a treat! Step into a lap of luxury and be treated to a welcome kit with a W Hotels tag, toys, treats and a bed—all the way up to vet and grooming services, walking and dog sitting. If you're celebrating his special day, a birthday cake will be waiting!


Hyatt Union Square New York
Welcoming pets with their individual beds and organic treats is a privilege and one that the Hyatt Union Square New York sure knows how to bestow upon. Located a few minutes away from Union Square, this hotel has surely scooped out the perfect location – the popular hot spot has a busy dog run! The Hyatt hotel also offers food bowls for our beloved pets! The Hyatt Union Square is on the edge of Greenwich Village and about equidistant from Fifth Avenue shopping and SoHo; it's also convenient for parents visiting NYU students who might be missing their pets.


The Towers at the Waldorf Astoria New York
Any movie buffs will immediately recognise this glamorous hotel – one that hosted the shooting of Godfather Part III and the Great Gatsby! And if that got you excited, you'll be even more keyed up to know that you can get your pet to pose in the art deco backdrop used in the movies! The Waldorf Astoria is yet another pet-lover and provides pet beds, bowls and even throws in a complimentary walk for her! Your precious tot can be pampered in their spa or receive a new wardrobe, courtesy of the concierge! What we loved in the Canine Culinary room service menu are the pet-friendly dishes like German Shepherd's Pie and Pekingese's Duck (puns intended).


DoubleTree by Hilton Hotel Metropolitan
Perched on Lexington Avenue, this four star hotel has recently revamped their interiors to make way for our little pets! The hotel has crafted a "Pampered Pet Package" where pets are treated to a travel bowl, a pet collar, an animal-print gift bag and above all, a fleece blanket! The recently-renovated 764 room hotel is a stone's throw away from the much renowned Bloomingdale and Park Avenue, as well as touristy hot-spots such as the United Nations and Rockefeller Centre.


The Muse Hotel
Dressed in Greek attire, The Muse Hotel's decor is one to impress! Wiht regards to pets, this Kimpton boutique hotel indeed takes care of the usual – bowls, bed and a leash. Not many hotels are generous enough to throw in a no-restriction policy! I mean this hotel allows pets with no size or number restrictions! Concierge services entail pet-sitting, grooming, massage and even acupuncture! Clearly your little tots will be well taken care of!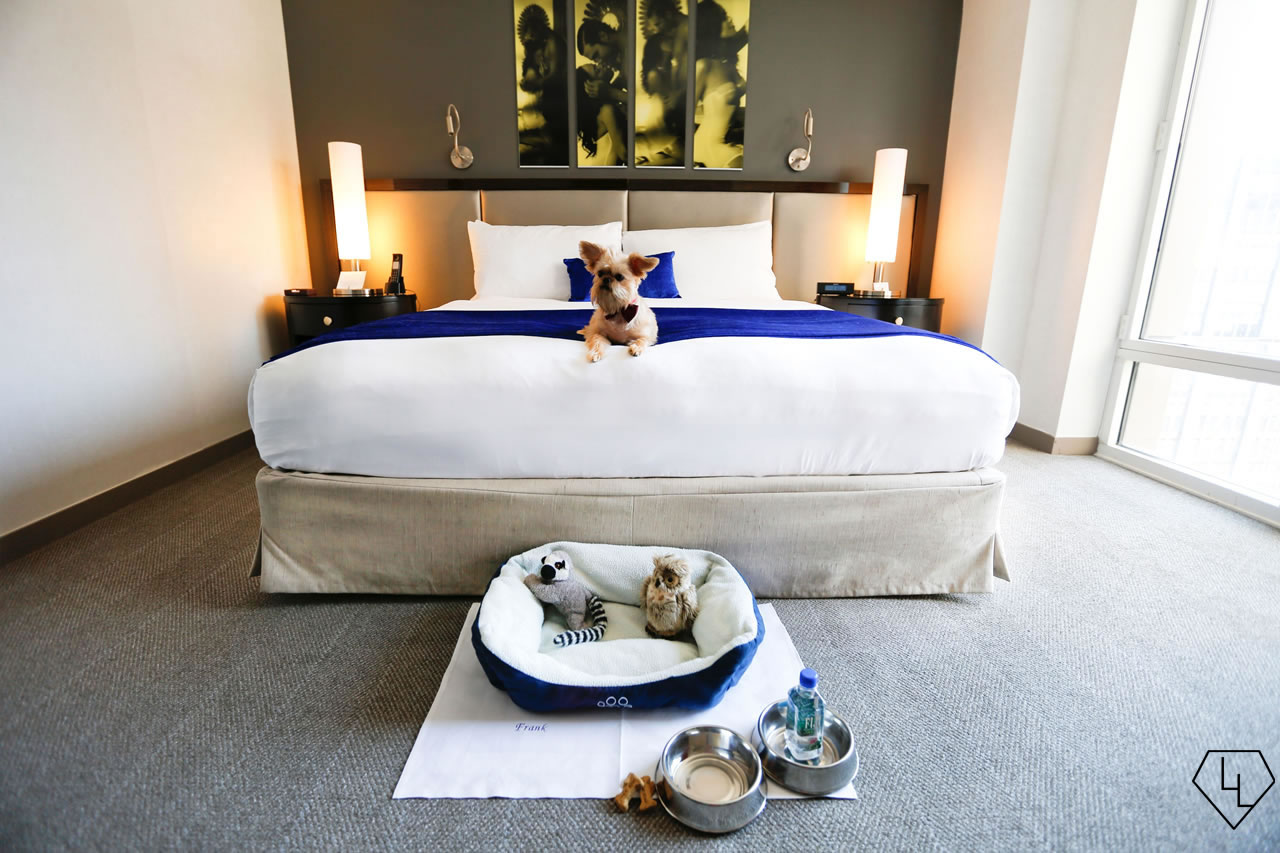 Gansevoort Meatpacking NYC
The fashionable Gansevoort in New York's Meatpacking district is certainly one of my favourites when it comes to taking your pets. Think collar tags, lip-smacking treats, a monogrammed mat (how cute is that?!) and a bed! The fancy hotel entails 186 room and suites ranging from your standard queen to some luxurious two bedroom penthouse suites! If you've spoiled your pooches a little too much, opt for the hotel's puppy purses!


Renaissance New York Times Square
If we enjoy and cherish the hustle and bustle of Times Square, who says our pups won't?! The 26 storey hotel duly welcomes guests! The fabulous hotel provides pets with an individual bed, a food bowl and of course, some delicious treats!


Trump International Hotel & Tower
Featuring 176 rooms and suites and perfectly located in Central Park, the Trump International Hotel & Tower offers fabulous views from its 10 feet windows in each room. Well for one, the five star hotels offers very luxurious sleeping areas for our tots, complete with beds, bowls and toys! I mean what more could one want for their precious ones?
[Via – NYC Go]