When you are staying at a former residence of the Maharaja of Jaipur, you are cannot expect anything less than pure Rajasthani royalty. Now, of course that the royal palace has been taken over by the Taj Group of Hotels & Resorts, the Rambagh Palace is a perfect blend between traditional Indian architecture yet surpassing the demands of a modern traveller.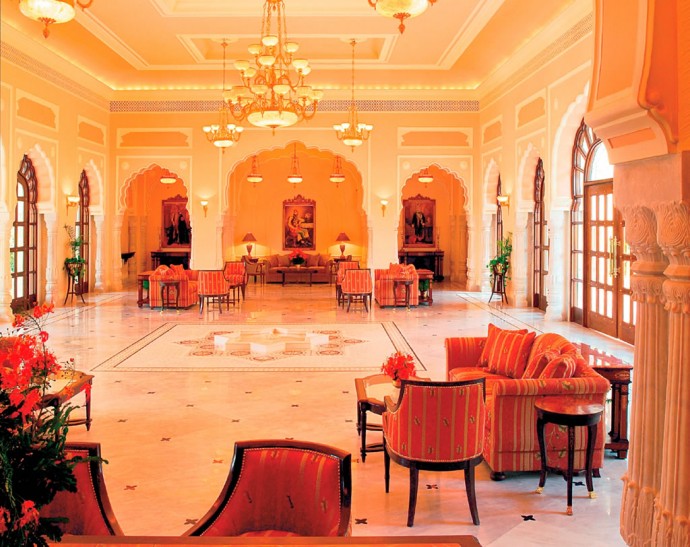 Immaculately manicured gardens and lush green landscapes surround the well-maintained heritage property. While the younger lot like you and I can laze by the outdoor and indoor pools, the golden lot can rejuvenate at the Jiva Grande Spa.
Set in a majestic golden hall, Suvarna Mahal serves an interesting array of Indian delicacies. Resonating the rich heritage of Rajasthani rulers, the dining hall with its high ceilings and gilded mirrors is an opulent venue for every occasion.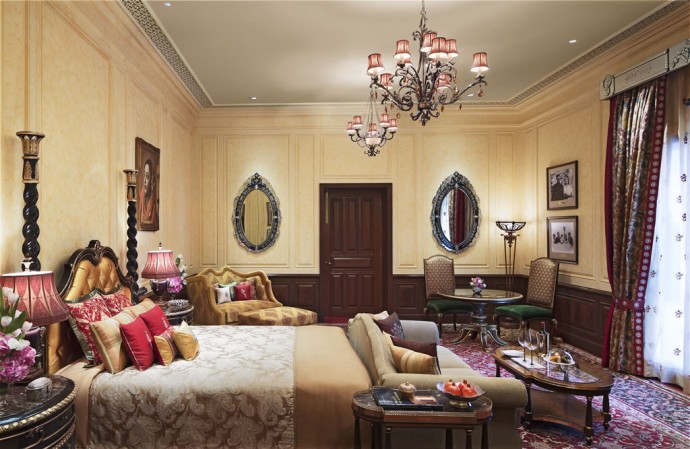 Staying in a palace is a truly unique experience of its own. Each room entails opulent interiors featuring unique themes, embedded with hand painted wall motifs. Many of the basic rooms have been renovated and are nothing if not comfortable — but if you're really after the full effect then you'd be well advised to move up to the Maharani suite.
Beautifully designed by London's Hammond, the Maharani suite was in reality a gift from The Maharaja to his beloved Maharani Gayatri Devi. The one bedroom suite is a testimony to fusion décor of contemporary design with royal flourishes and features a royal four poster bed.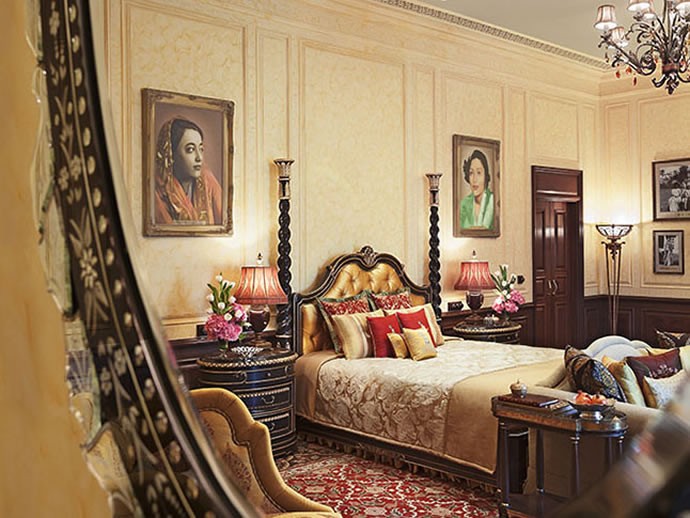 In comparison to the rest of the suites, this particular suite flaunts a rather different look; with intricately finished textured wood panels and hand painted Rajasthani art, the Maharani suite is a one-of-its-kind suite.
The 1600 square feet suite entails a luxurious seating area, a majestic dining space and a remarkable oval four fixture mirrored bathroom. While the palatial French windows open out to a beautiful vision of the serene Mughal Gardens, the on call butler gives in to every royal whim and fancy.
Cost: $6,400 per night
Occupancy: 3 persons
Area: 148 sq m/ 1600 sq ft
Location: Bhawani Singh Road, 302005 Jaipur, India
Why should we splurge on it?
A suite that was once home to Maharani Gayatri Devi is indeed a luxury by itself. Adorning exotic fabrics, royal embellishments and traditional art, the Maharani suite is definitely worth splurging on at least once-in-a-lifetime.
Address:
Bhawani Singh Road
302005 Jaipur
India