How many of you remember Thomas and Friends? As a kid watching the cartoon on TV, not those plastic trains that you see from your local grocery to every single toy store and mall in town. I am talking about the fun adventures of Thomas on the railway tracks. Back in the days, when things were still 2D.

Anyway, *snapping out of 1995*, Mattel has signed up with Hilton hotels to come up with an exclusive limited-edition package for this summer, for its New York Hilton Midtown and The Waldorf's London properties.
The hotels will welcome families from all over the world from August 1, to an exclusive themed limited edition suite package. The offer runs until September 4 and prices start from $550 pretax.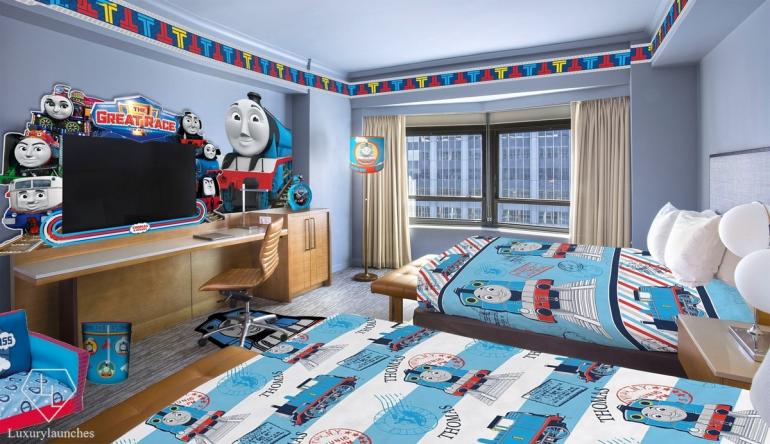 Its features of the suite include iconic faces and landscapes from the Island of Sodor as well as the forthcoming premium Trackmaster™ Sky-High Bridge Jump toy and an exclusive preview of the yet-to-be-released DVD, "Thomas & Friends: The Great Race" feature-length animation. This time Thomas is preparing for a competition – the best-decorated engine contest on the mainland. As always he gets into a bit of a knot and hence runs the adventure. Interestingly, there is a newcomer to Sodor named Ashima – "a multicolored bombshell from India with eyes like Aishwarya Rai". A love interest perhaps? It would be such fun!
With such a package, guests are sure to be room-bound with their children and enter a magical world of fun and adventure. The city's most-famed attractions like Rockefeller Center, Central Park, and Radio City Music Hall, may not be as appealing this summer it seems. Or perhaps the parents could explore the city while the children remain engaged inactivity, with a caretaker.
Oh, why didn't they have these when we were little? #sojealous.
Where : New York Hilton Midtown
1335 Avenue of the Americas, New York, NY 10019, United States
Phone: +1 212-586-7000