Unilever is ready to launch Magnum's latest Gold Ice cream bars in the US. They are made from vanilla-bean ice cream with a swirl of sea-salt caramel and a gold-colored Belgian chocolate shell. Unilever is known for collaborating with fashion since it first brought the Magnum brand to the US in 2011. This time for the launch, they have collaborated with Designer Zac Posen sponsoring him to create a rich 24-karat gold gown. The ice cream may have the surreal color of gold, but what would you say to the launch idea. A result of more than 10,000 paillettes hand cut from gold sheets. It took the design team two weeks to hand-embroider the sequins into place. The dress is estimated to be worth 1.5 million dollars.

It will debut at the premiere of the Magnum Short film 'As Good as Gold' during the Tribeca Film Festival on 18 April 2013, where Brazilian model and actress Caroline Correa will wear it when she walks down a golden carpet arranged by Magnum.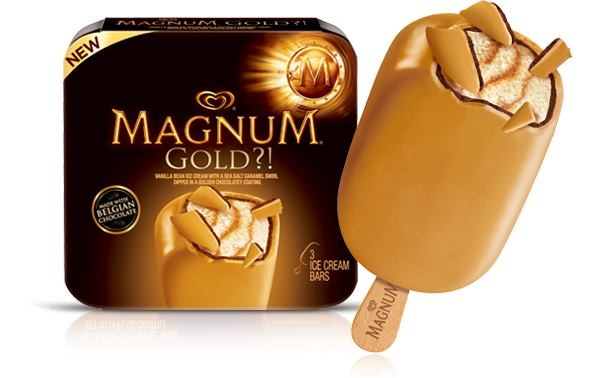 The association between the ice cream and the dress seems unusual. Alfie Vivian, vice president of U.S. refreshments for Unilever, answers," It's part of the intrigue we are trying to generate." To add to the intrigue is the brand having punctuation—the label says Magnum Gold?!—to call more attention to itself. For Magnum Gold, Unilever says it was drawn to the "glamour and sophistication" of Mr. Posen, who is known for his red-carpet eveningwear. Designer Zac Posen above says both dress and ice cream represent '"decadence, sensuousness, and luxury. The dress "mimics the liquid, and sensuous quality of how ice cream melts," Mr. Posen adds.
[Via – Magnumicecream and Wsj]